Fewer schools think Ofsted's new inspections are accurate and clear, full survey results finally released by the watchdog have revealed.
Ofsted has today published the full responses to it post-inspection surveys, which includes those dating back to 2015 under the old framework.
It follows a Freedom of Information request battle by Schools Week to get the data released after Ofsted publicised a "snapshot" containing just three findings in March, one of which was that nearly nine in ten schools are "satisfied" with the new inspection regime.
Ofsted's chief inspector Amanda Spielman claimed the selected findings showed dissenters of the new inspections were a "small and vocal minority".
But the full data shows a slightly different story. First of all, the findings pushed by Ofsted seem slightly skewed as fewer "inadequate" schools responded. Unsurprisingly, lower-rated schools were more likely to be unsatisfied with their inspection.
Confidence in accuracy of new inspection reports falls
It's not possible to compare satisfaction levels to previous frameworks as the question was asked for the first time this year. Many of the questions for this year are different to those asked previously.
But there does appear to be a drop in state-funded schools believing that inspection reports accurately reflect their provision.
In this year's survey, 87 per cent of respondents said they either strongly agreed or agreed that their inspection report reflected what it was like to be a child at the school.
This year's survey only includes schools inspected until the end of March, when Ofsted was stood down because of the coronavirus crisis.
But between September 2015 and August 2019, 93 per cent of schools strongly agreed or agreed that their inspection report accurately reflects their provision.

When asked if the inspection report was clear this year, 91 per cent agreed overall, down on 96 per cent in previous years.
The drop is clearer when broken down: only 56 per cent 'strongly agreed' with the statement this year, whereas 77 per cent 'strongly agreed' in the previous four years.
Meanwhile, 87 per cent of schools said their report this year was consistent with the oral feedback given.
A similar question in previous years, on whether the report accurately reflected discussions with inspectors, showed that 94 per cent agreed.
Satisfaction levels plunge for lower-rated schools
Just looking at this year's findings shows not everyone is totally on board with the new inspections.
On the new "deep dive" methodology, only half of schools strongly agreed that it allowed inspectors to understand the school's quality of education.
Another 34 per cent agreed, while 7 per cent neither agreed nor disagree and 8 per cent disagreed or strongly disagreed.
But just 54 per cent of the 3,222 schools inspected responded to the survey (which is a similar response rate to previous years).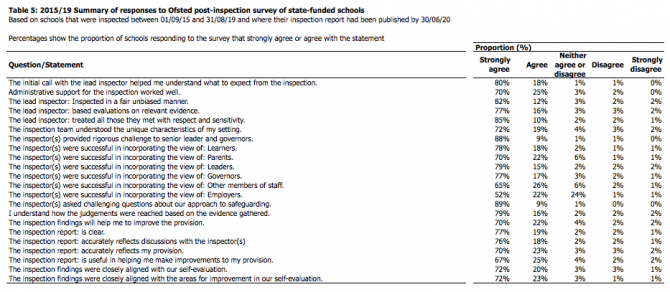 Of these, only 35 per cent of schools judged 'inadequate' and 44 per cent 'requires improvement" responded. That compares to 62 and 60 per cent of 'outstanding' and 'good' schools, respectively.
A breakdown of the finding previously promoted by Spielman, that 89 per cent of schools were satisfied with their inspection this year, unsurprisingly shows that 'outstanding' schools were more likely to agreed.
Every 'outstanding' school surveyed was satisfied with how the inspection was carried out, compared to 59 per cent of 'inadequate' schools and 69 per cent of 'requires improvement' schools.
Publication of the positive figures in March followed growing criticism of the watchdog's new curriculum-focused inspections.
But when Schools Week, under the freedom of information act, asked for the full survey results, Ofsted refused. It said releasing data for the first five months of the new framework would be "inappropriate" and "potentially misleading".
Ofsted also justified its refusal in April by saying it intended release a wider set of survey data "in the future", although it did not confirm when this would be.