A quick commute from home and having an influence on pupils' learning are the two top job draws for teachers, suggests a new report.
A study published today by education think tank LKMco and exam board Pearson uncovers the top job attractions for teachers across the country.
Its publication comes amid heightened concerns over teacher recruitment, with schools increasingly offering extra cash and, in one case, housing, to attract new staff.
The report reveals the two factors most affecting teachers' decisions about where to work were the ability to commute quickly to their workplace and feeling they could make a difference to pupil's learning in the school.
However, in the south west quality of life topped the tables.
Loic Menzies (pictured), LKMco director, says it is crucial schools understand what attracts and keeps teachers in the profession.
"If commuting is so important, and people are willing to go somewhere to make a greater impact subject to the condition it's commutable, then schools should be aware of areas around them that teachers can commute from."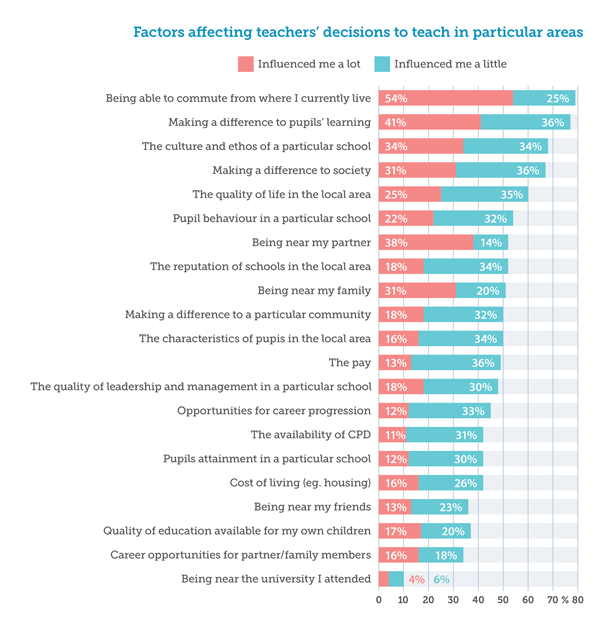 He said school leaders should consider mapping the commuting distances from their schools and target people from those regions.
Nadia Paczuska spent a month driving her own recruitment campaign before she became headteacher of Meadow Primary School, in Lowestoft, Suffolk, in June.
The area's isolation and high unemployment resulted in "dire" recruitment.
She put up posters in coffee shops around initial teacher training providers in London, persistently plugged her vacancies on social media and pestered friends to pass her job adverts on to their friends.
Her methods seem to have worked and after more than 30 good applications she has just appointed her ninth new teacher, including an older yoga teacher who now teaches mindfulness part-time.
She told Schools Week: "The biggest thing for me was leaning on my network . . . I just kept harping on about it. The perception was it was a project rather than just a job."
Seventy-nine per cent of the 1,009 teachers surveyed in the report said commuting affected their decisions of where to teach.
But pupil and school-focused factors were also involved. "It is these factors that school leadership teams have the most control over, whereas other factors depend on policymakers' decisions about housing, infrastructure and community planning."
Concerns have previously been raised about the cost of living for trainee teachers after Schools Week revealed those in the south east faced paying up to 64 per cent of their monthly salaries in rent.

In outer London new teachers faced average rent costs of 59 per cent of their salaries – way above the 40 per cent that home letting experts deem affordable.
But the report found teachers living in the south east, south west and London were less concerned about the cost of living than their northern counterparts.
There was also variation about concerns of quality of life. It influenced more than three quarters of teachers in the south west, but only 45 per cent in the west Midlands.
Rod Bristow, president of Pearson UK, said: "The government is taking the issue of teacher supply and retention seriously. But the larger conversation about what inspires teachers to join – and stay – in the profession will require hard talking in Whitehall, in teacher training institutions, and in every staffroom across the country."