The government is facing pressure to introduce a "national funding formula" after 111 MPs wrote to David Cameron in protest over discrepancies between areas.
The letter to the Prime Minister, organised by f40 campaign vice chair and former education committee chair Graham Stuart, calls for funding to be "geared towards improving educational standards rather than perpetuating an inequitable system".
f40 has claimed that under the current system, the 10 best-funded areas of England will receive an average grant of £6,297 per pupil this year, compared to £4,208 in the 10 most poorly funded areas.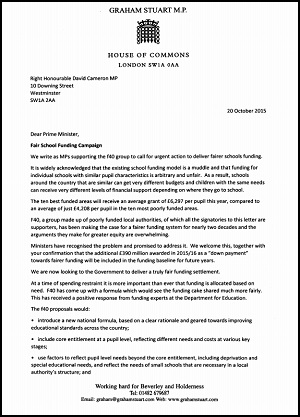 The amount a school receives for each pupil varies depending on factors including characteristics of a school and the number of pupils eligible for free school meals. f40 chair and Leicestershire County Council lead member for children and young people Ivan Ould described this as "irrational and unfair".
He said: "School funding has become more and more unfair over time, and the inconsistencies in funding for individual schools with similar characteristics across the country are too great."
The group wants to see the introduction of a new national funding formula, and has reported "significant agreement" between f40 and the government during recent talks.
He added: "We welcome the Prime Minister's fulfilment of his promise to baseline the £390m extra cash given to some of the worst funded local authorities to boost school budgets in 2015-16, and this will now be included in future years budgeting.
"That has always been viewed by f40 members and the government as merely a down-payment to help narrow the funding gap whilst a new national funding formula was agreed and implemented. We now need a commitment for the start of the introduction of that new formula."
Mr Stuart, the MP for the Yorkshire constituency of Beverley and Holderness said the cross-party support for the letter, which is signed by current education committee chair Neil Carmichael, former children's minister Tim Loughton and former shadow young people's minister Yvonne Fovargue, showed the "strength of feeling" on the matter.
He said: "This is about bringing an end to an arbitrary and unfair system – it's not about rural versus urban, or Conservative vs Labour, it's about bringing order from chaos.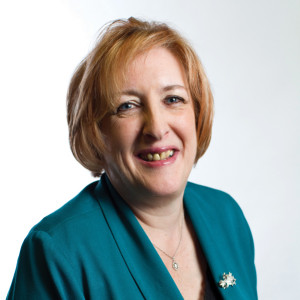 A Department for Education spokesperson said the government was committed to "making sure schools are funded fairly" so all pupils have "access to a good education", adding: "We have maintained per pupil funding and will make funding fairer.
"Despite the economic climate we have already committed an additional £390million to the least fairly funded areas in the country. It is down to councils to determine exactly how funding is allocated to individual schools."
Malcolm Trobe, deputy general secretary of the Association of School and College Leaders, said the letter reinforced calls he and others had been making "for a long time".