Education secretary Nicky Morgan will have to present her definition of "coasting" schools to Parliament later this year after it was left out of the new education and adoption bill.
The bill, tabled in the House of Commons by Ms Morgan this afternoon, seeks to amend the 2006 education and inspections act by creating another category of schools – those considered to be "coasting" – which are eligible for intervention and potentially forced academisation.
But instead of defining what progress outcomes would indicate a school is "coasting", the bill says that Ms Morgan may define the term "by regulations".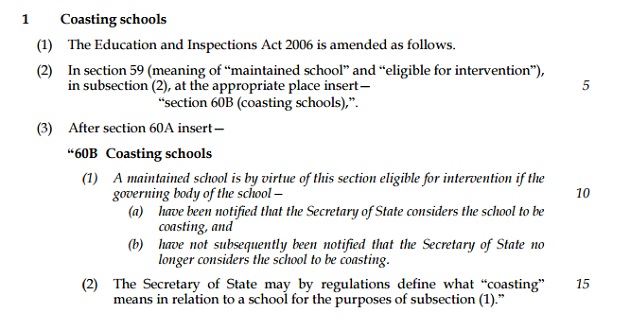 Education policy consultant John Fowler told Schools Week that a definition of 'coasting' will have to be made by statutory instrument, a piece of secondary legislation laid before both Houses of Parliament.
But Mr Fowler said it would be "incredibly challenging" to define a new category simply through progress measures.
He said: "She will have to have it in very precise regulation which isn't easy to do without using something like Ofsted. The benefit of using Ofsted of course is that Her Majesty's Chief Inspector is a statutory body.
"The worrying thing will be if they fudge it in the regulations and pass it back to being a so-called 'political judgement'."
The bill will have its second reading on June 22.