Clapton Girls' Academy learned all about entomophagy by tucking into mealworm burgers, crickets and grasshoppers in preparation for a new GCSE.
The menu of edible insects, which included black ant and cheese pâté on bread, and cricket and cauliflower pakora, was presented to students taking up AQA's food preparation and nutrition GCSE, which will be sat for the first time in 2018.
Also up for grabs were mealworm burgers, cricket and grasshopper tarts served with spinach puree, and cricket crepes in a chocolate sauce for dessert.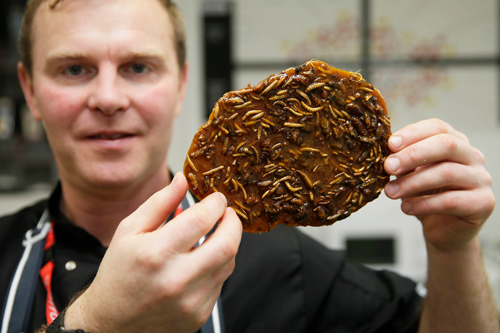 Part of the new GCSE exam specification requires students to learn about the environmental impact and sustainability of food, with insects considered an environmentally friendly and nutritious food source for their low-fat content, high levels of protein and the vitamins and minerals they contain.
"Our students will be some of the first in the country to take the new qualification, and we are keen for them to experience as many food cultures as possible," said Susan Gakunga, food preparation and nutrition teacher at the school. "It's great to help them learn how and why different insects are eaten across the world and we this will help them understand the benefits of alternative food sources."
Food was provided by pest control company Rentokil as part of their Pestaurant programme, which aims to encourage more people to indulge in insect-eating, with the dishes prepared by head chef Andy Holcroft.
"It's not difficult to make a tasty meal using edible insects," Holcroft said. "You can be really creative with the way insects are incorporated within a meal and they can be used to provide texture, crunch, and decoration or even used in the form of insect flour."