A PE teacher has been honoured by the English Schools Rugby Union for his work setting up an academy trust's rugby squad from scratch.
Matt Leek of Bristol Brunel Academy won this years Real Rugby Heroes Award for his work at the Cabot Learning Federation (CLF).
Set up with four players just over two years ago, the CLF squad now includes about 100 of the top players from the trust's five secondary schools in Bristol. The club has also developed links with the Rugby Football Union and Bristol Rugby Club.
"Fundamentally it was just me at the start," Mr Leek says. "I had four passionate students who really wanted to push [the idea of a team] and so we created the joint club where most of the activities are now student-led."
Mr Leek says the squad has had a knock-on effect on student behaviour and the stature of those players in their individual schools.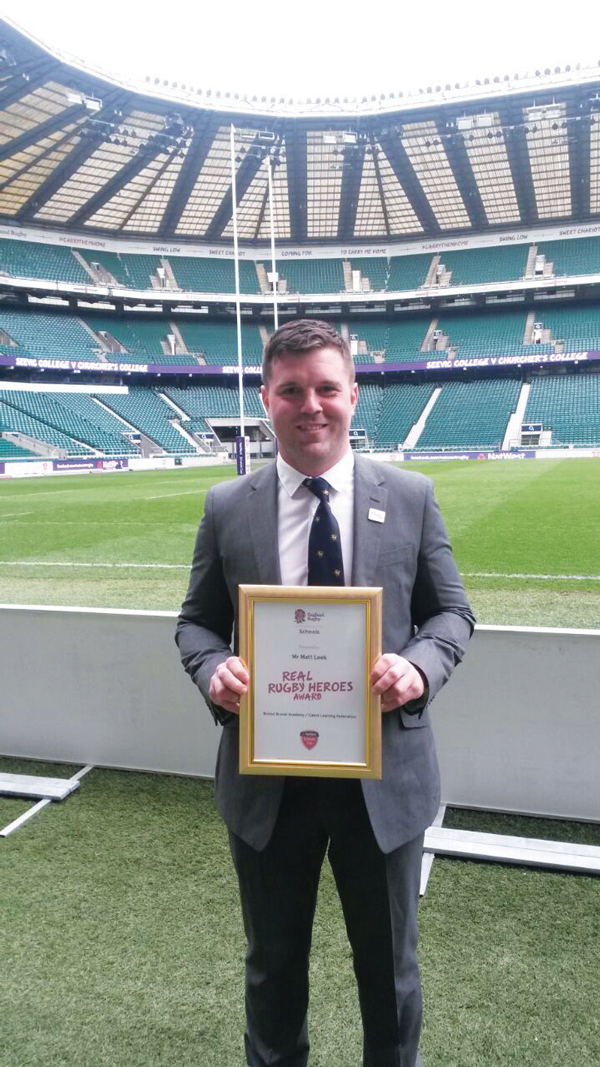 "We've seen huge differences in attitudes and attainment levels. They are now the sought-after boys."
He says that feedback from other teachers suggests that the players are now going "above and beyond" by attending after-school revision sessions and becoming more well-rounded learners, as well as excellent rugby players.
Year 10 Bristol Brunel Academy student, Tommy Adegbite, has since been selected to Bristol Rugby's player development group.
He says: "It was the CLF squad that transformed me from a novice into the rugby player that I am today, all of the skill and workmanship I display on the field can be attributed to the training I got from the rugby club Matt established. It has been a brilliant opportunity for me to be a part of his team."
Mr Leek now plans to extend selection, as well as set up a girls' team.
"We have about 20 to 25 girls turn up for training across the age groups so we are slowly getting there. This project is just at the start; we are excited to take it from strength to strength."
Mr Leek received four tickets to a Barbarian v England game at Twickenham, two certificates, one for the school and one for himself, and a Real Rugby Hero
pin badge.
He also received VIP hospitality and a pitch-side presentation of his award at Schools' Day on March 25 at Twickenham.
And two of the four original rugby club members took the long journey to support him, much to their teacher's delight. "The presentation was amazing. Most impressively, Sam and Mike made their way up to Twickenham off their own back to watch me receive the award. That was touching."
Main pic: Matt Leek (right) with student Tommy Adegbite during a Cabot Learning Federation Rugby training session