Education secretary Nicky Morgan said last month all schools will be required to protect children from harm online – with proposals to have "appropriate filters and monitoring systems" so no child can access "harmful content".
But Her Majesty's Inspector David Brown, Ofsted's national lead for online safety, told attendees at Bett today: "We can't check filtering. It's an expectation that schools will filter."
He later told Schools Week that filtering isn't a complete solution to stopping pupils accessing "harmful content".
"It's only going to stop what pupils are accessing in schools," he said. "Education is far more important."
"Ofsted's view is that teaching pupils, rather than banning things. Filtering is part of it, but the curriculum is the most important part and filtering is really an aid to that. But if someone wants to get round filtering, they will."
Ms Morgan announced in December schemes to help schools keep children safe online, including new online training for teachers. 
Mr Brown said online safety in schools had been a "real success story". But he offered up tips for listening school leaders to incorporate pupils in the writing of their safety policies and to ensure teaching online safety is shared by all departments, not just ICT.
He was speaking on the second day of Bett 2016 (our round-up of day one can be read here).
Schools Week caught up today with Colin Hegarty (picture right), a maths teacher at Preston Manor school in London whose new maths website was singled out by Ms Morgan yesterday as an "exciting education technology prospect".
(He told us he had "no idea" he was going to be mentioned – and wasn't even at Bett at the time).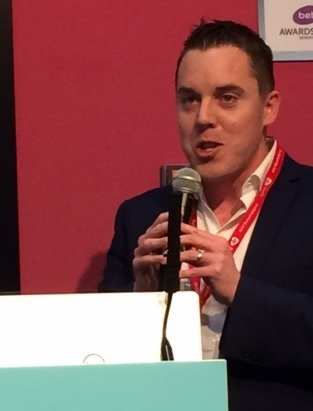 Mr Hegarty, along with fellow maths teacher Brian Arnold from Chessington Community College, have developed a website that combines maths tutorials with assessments.
Mr Hegarty told us the idea is to cut out the workload of marking books – allowing teachers to concentrate on teaching pupils.
"We know the pressures everyone is under to get results, and hopefully what we have got now can really help them."
Mr Arnold said: "We have built something we always wanted in the classroom and couldn't believe it didn't exist."
The pair found fame among education circles by posting maths tutorial videos on YouTube (they've been viewed six million times) and won funding for their new venture from the Shine charity's 'Let Teachers Shine' campaign.
Mr Hegarty was even invited to share his idea with schools minister Nick Gibb, who was apparently a big fan. "He thought it was awesome", we were told.
The website – developed by one of their former pupils – should launch in February.
Elsewhere, the British Educational Suppliers Association (BESA) and Naace, the education technology association, released a briefing paper in the use of ed tech in schools.
The main findings included nearly half of the 1,300-plus schools surveyed saying they are unable to maintain their ICT investments next year, with "planned digital content provision one of the first casualties" in budget cuts.
Also 45 per cent of primary schools think by 2017 they will be spending more than half their time using ICT to teach pupils.
We also dropped into a session in the School Leaders Summit stage on 'innovative uses of technology to support SEN'.
All four SEN school teachers agreed technology had made a huge impact on their pupils. But James Winchester, ICT teacher at Oak Grove School, stressed: "It is the teacher that has to drive the technology. We have to think 'what is the purpose behind using that bit of technology?'".
Lastly we heard about the future of ed tech. Ian Fordham, co-founder of The Education Foundation and chief executive of Edtech UK, said the big challenge for the sector was to work what works.
He said there are "too many fairy godfathers" who say they know what the future holds. He said the sector needs to find a way to support teachers coming up with great ideas.
"If we don't use ed tech to tackle the inequality gap then it's not going to be a revolution at all."