Education secretary Nicky Morgan has urged school leaders to embrace new technologies to reduce the "paper trail" workload.
Speaking at the 2016 Bett Show in London, Ms Morgan said the government is "excited by the possibilities of education through technology".
She told attendees that teachers should be using technology as an aid, such as programmes to capture data for class registers, attainment and pupil progress.
"The paper trails that create work for teachers already rushed off their feet and we are keen to see what innovations the sector can come up with on this."
She also said the exciting advancements in online and computerised testing has "obvious potential to lighten teacher workloads".
Adding: "The analysis of that data can be invaluable to teachers and system leaders in their pursuit of excellent educational outcomes. Informing them which parts of the curriculum they are teaching well and signaling where there is room for improvement."
Front-row seats for Nicky Morgan's keynote speech @BETT_SHOW #BETTCHAT #bett2016 pic.twitter.com/kUbH4FmUiW

— Schofield & Sims (@SchofieldSims) January 20, 2016
Ms Morgan also reiterated her commitment to implementing a set of common data standards, adding the department intends to prototype new systems this year.
"This will make it easier for schools to share data with us. It will reduce our data burden on the sector and provide, and enhance both what we know, and how quickly we know it.
"Better system integration should allow education technology firms to enable easier data movement within and between schools."
Thousands of visitors – including the technology sector's biggest names, officials from foreign education ministries, and school leaders – attended the opening day of the 31st Bett Show.
join hands as a global community in driving this change
Anthony Salcito, vice-president of worldwide education at Microsoft, opened up proceedings on the main stage.
He praised teachers for using technology to achieve amazing things in the classroom, but urged innovators to press on and "join hands as a global community in driving this change".
He singled out the BBC's micro:bit – a handheld, full programmable computer due to be being given away to every year seven pupil in the UK.
Ms Morgan also appeared to support the scheme as she appeared on stage with one of the flashing devices strapped around her wrist.
The first robotics curriculum for GCSE students was also unveiled at the show. Creators VEX Robotics said their lessons will teach pupils theoretical and practical skills behind how robots are installed, programmed and maintained within a manufacturing environment.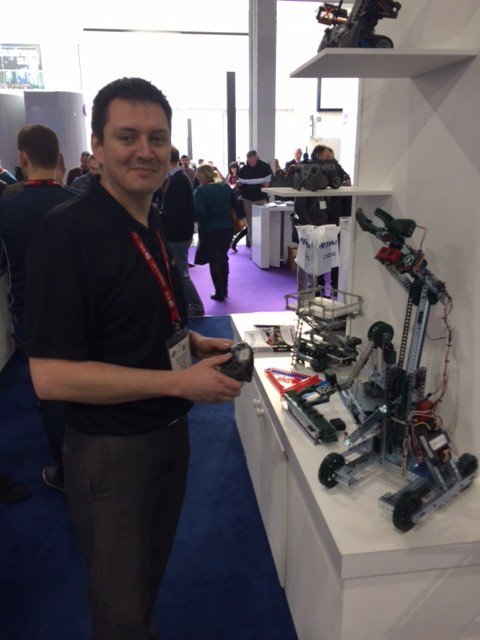 Paul McKnight (pictured right), head of operations for VEX Robotics, told Schools Week: "Pupils will be learning core programming skills. But robots are just cool and fun. Kids see it and they say 'it's great'. That's the hook – it's STEM by stealth."
Schools Week also caught up with Simon Humphreys, co-ordinator of Computing at Schools, to check on the government's master computing teachers programme.
We revealed last week the government has still not hit its target number – despite pledging to deliver 400 master teachers three years ago (and spending £3 million pounds).
We found the number of master teachers – set up to spread good practice on how to teach computing – has actually fallen in the last year.
But Mr Humphreys said the programme is still "alive and well". He said 56,000 teachers have now benefitted under the scheme, but admitted the next stage is to work with headteachers so they understand the importance of giving their staff time to get help with computing.
Schools Week also stopped by the stand for the United Arab Emirates' ministry of education, but was told to come back tomorrow for an interview with officials.
To wrap up an action-packed day, we popped into a talk by David Brown, an HMI and Ofsted's national lead for computing.
He mostly talked about the changes at Ofsted over the past six months – including moving all inspectors in-hour.
But he had one main message for teachers: "It drives me mad when you say people do that because of Ofsted.
"You should never do anything because of Ofsted. We are trying to remove that pressure [of preparing for Ofsted]."