Schools have now had a week to digest the GCSE league tables released by the Department for Education. But have they spotted what we saw?
Last week, the Department for Education (DfE) released data about the performance of secondary schools. But while some schools demonstrated high proportions of pupils gaining five A*-C GCSEs, including English and maths, the average grade calculated across eight grades looked suspiciously low.
So, what is going on? First introduced in 2013, the "average 8" grade is a precursor to the "attainment 8" grade, a new score that will replace the five A*-C (plus English and maths) measure and become one of the main school performance indicators from next year.
The change follows concerns that some schools have been securing a high pass rate on the five GCSEs measure by neglecting achievement in other subjects. If true, you would expect schools to exhibit high pass rates when looking at the five subject measure, but a low average grade when considering the broader eight range.
We therefore used the data to see if any schools matched this profile (see blue box below). Of the 12 schools listed, three are independent and five are sponsored academies. Schools Week contacted them to understand what caused the disparity between their high pass rate and low average grade.
The independent sector, generally, blamed it on their choice to enter pupils for international GCSEs (iGCSEs).
Results for Queen Elizabeth Grammar School in Blackburn showed that 76 per cent of pupils achieved the five A*-C GCSE pass rate, but that they only averaged a D+ grade across eight subjects.
Headteacher Simon Corns said his pupils took iGCSEs in science, excluded from the rankings this year, which had had a "major effect" on results.
"My preoccupation is to ensure that all pupils here do the best they possibly can; we will not be deflected from that by confected league tables that change without notice to schools in such a way that pupils' efforts can be made to look worthless when, clearly, they are not," he said.
"We had already changed our offer in sciences so, assuming the measures remain the same as this year, things will look slightly different in next year's tables.
"But our decisions have been and will continue to be taken solely for educational reasons."
Dominic Findlay, headteacher of Langley School in Norwich, where pupils also take the science iGCSE, said his school was similarly affected.
At the independent Denstone College in Staffordshire, headteacher David Derbyshire said a mistake in numbers had lowered his results. He said there were only 88 pupils in last year's year 11, but the published figure was 188. This then affected calculations and lowered the average grade.
Mr Derbyshire said the school was asked to check the data, but had little interest in the tables because pupils sat iGCSEs. "The tables make no difference to us, so we didn't check."
In the state sector, 83 per cent of pupils at Charter Academy in Southsea, Hampshire, this year achieved five A*-C grades, but only received an average grade of C-.
Rich Davies, head of data for academy chain Ark, which sponsors the academy, said: "There was a real focus on maths and English and we have seen a massive uplift in those results. However, there are several students who don't take eight qualifications so we get disproportionately penalised.
"Those pupils may have very challenging prior attainment. We would like to make sure they get good grades in English and maths, and perhaps get seven or six really good grades, rather than trying to stretch them to eight."
By contrast the Harris Federation did not believe the average 8 grade was an "effective measurement". It pointed instead to its value-added measure which it said was "significantly above the national average".
A Harris spokesperson said that while Harris Boys' Academy in south London had a high proportion of pupils receiving the pupil premium they still entered students for "aspirational" academic qualifications, foregoing the higher grades that could be achieved by using alternative qualifications.
In a statement, Ormiston Academies Trust pointed Schools Week to RaiseOnline, a portal for schools that is not publicly available. It said this website showed pupils at Ormiston Sir Stanley Matthews in Stoke-on-Trent achieved "an average of a C grade across all performance table-approved qualifications", while at Ormiston Bolingbroke in Runcorn pupils achieved a C+, not the C- and D+, respectively, that the DfE published.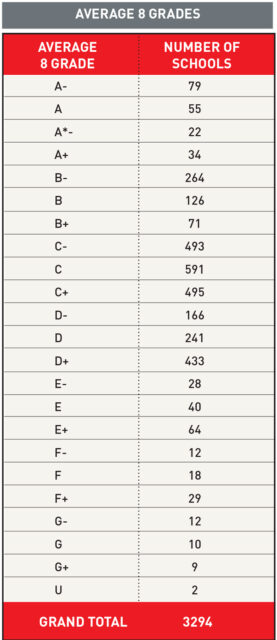 It therefore seems that high pass rates but low grades are more nuanced than may be expected – though the concerns raised suggest that the upcoming change in headline measures may not be welcomed by all.
HOW WE WORKED IT OUT
These grades go from an A*- to a U, with each letter having intervals from a "plus" to a "minus". 
To carry out this analysis, Schools Week first excluded special schools from the results, as well as any schools with fewer than 60 pupils in its cohort.
This narrowed our analysis to just under 3,300 schools.
By far, most pupils in these schools achieved an average between C+ and C- for their pupils. The number of schools per grade can be seen on the table right.