Alternative Provision (AP) headteachers are calling for funding to set up specialist sixth forms to stem the thousands of vulnerable pupils who become lost from education at age 16.
A new survey commissioned by The Centre for Social Justice (CSJ) and teacher training charity The Difference found 9 out of 10 AP providers said they would open 16 to 19 provision if the government would fund the provision.
AP schools are not funded to extend their work for pupils past the age of 16, despite the legal right for all children to be educated up to 18-years-old.
Leaders say the funding would be "a lifeline for the most vulnerable learners", as new figures show one in of pupils in APs are on track to be unemployed and without a school place this September.
Christina Jones, chief executive of the River Tees Multi-Academy Trust, said while APs support "many [students] into college or apprenticeships … every year there are some who are not ready for this step. Funding for post-16 alternative provision would be a lifeline for the most vulnerable learners."
The survey included 86 schools for excluded children, representing a quarter of England pupil referral units (PRUs) and AP academies.
Leaders said one in four of their vulnerable pupils (at least 2,500 pupils) were on track to be unemployed and without a school place from September, while around a third were vulnerable to criminal or sexual exploitation.
Earlier this month the government announced £7 million will be given to AP settings to aid pupils transition into post-16 work or training.
The one-off funding, which equates to £750 per pupil, can be used to pay for things like transition coaches and mentors to provide one-to-one support for young people in making decisions about where to go after they finish their GCSEs, and helping them stay in education or training in post-16 settings.
Two-thirds of AP providers surveyed already provide post-16 support of some kind, including; mentoring, career days and college visits.
Those who said they would open a 16-19 AP setting estimated 54 per cent of their pupils currently in Year 11 would want to stay on long term.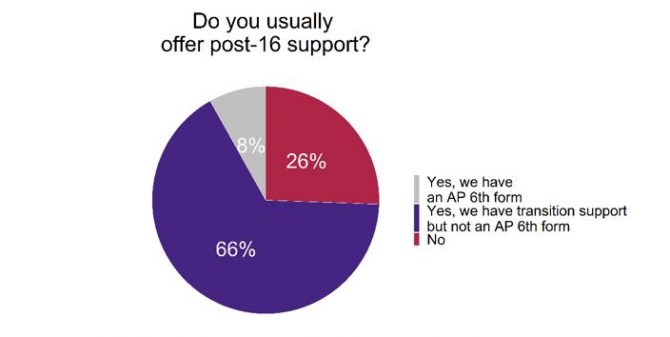 The calls follow the education select committee, under its 'forgotten children' inquiry, urging government to allocate resources so councils and providers can provide post-16 support for pupils.
The report stated: "These pupils are being denied access to post-16 education because the system is not designed or funded to accommodate their additional needs."
Just 59 per cent of young people who attend AP go on to a sustained post-16 destination, compared to 94 per cent of those attending mainstream schools.
Richard Cronin, head of Everton Free school, added the "legacy of the COVID-19 lockdown will be even more damaging for those learners who have already fallen through cracks in the school system.
"Now more than ever there is a clear need for high quality funded post-16 AP provision and pathways."
Some areas are well served by post-16 AP provision, while others trail far behind.
CSJ analysis found the North West has the largest number of pupils enrolled in AP at Year 11, at 1,352 but just three post-16 APs. 
Meanwhile, London has just 19 fewer pupils in Year 11 at AP but 12 post-16 APs. 
Aside from London and the South East which have 12 each, no other region has more than five post-16 APs. 
The government is still to reveal the action it will take following the Timpson review into exclusions, which was published over a year ago.
Timpson acknowledged the "dedication" of many AP settings, but warned there is "much variation in the quality of the offer within AP, with not enough support to attract high-quality subject specialist staff, invest in good facilities or remove the stigma attached to being educated in these settings".
A Department for Education spokesperson said leaving AP at 16 can be a "difficult transition", adding they will "rapidly improve the availability of good AP, so that permanently excluded children and children at risk of exclusion receive a high quality education suited to their individual needs and secure good outcomes."
The DfE also said it is working across government to protect pupils from gangs and other exploitation and is "investing into early intervention projects to divert young people away from violent crime".