Angela Rayner has a constituent named Dave who calls her "Boudicca" in his emails.
"It's because I'm fiery and tenacious and stand in the face of danger," the new shadow education secretary tells me, as she poses for a photo near the statue of the Celtic queen opposite Westminster's Portcullis House.
Rayner has been "squatting" here in the disused office of another MP after being appointed to Labour's front bench last September, just four months after she was elected to parliament.
Now the 36-year-old MP for Ashton-under-Lyne is in the shadow cabinet, and seems undaunted by the prospect of scrutinising government education policies with an incomplete frontbench education team after a string of resignations left the top slot open for her.
"It's about quality, not quantity," she insists, after suggesting that junior shadow ministerial posts could go unfilled. "It's about making sure that we do the job that we're meant to be doing, and I will continue to do that. I've got passion by the bucket-load. I did not come from a privileged background; I shouldn't be here, as the statistics say.
"I never saw a book until I went to primary school"
"I got here because I'm tenacious and I'm passionate. I will use every hour, every minute, that I can to ensure that I work with every possible available resource, including those who have chosen to go to the back bench. Because they have lots to give to our party and to the opposition."
Rayner grew up on a council estate in Stockport in the 1980s. She struggled at school and became pregnant at 16, and, while many of her political contemporaries were taking their A-levels at independent schools or studying politics  at Oxford, she got an NVQ in care and started work.
Perhaps understandably, it is these early life experiences that are the biggest driver for her desire to change outcomes for children.
Among other problems with aspiration, she says she wasn't "school-ready", even by the time she reached secondary school.
"My mum couldn't read or write – still can't – and also has bipolar disorder, so it was very challenging for us," she says. "I come from a council house and we were on benefits when we were kids, so we didn't have much money.
"But I didn't deserve not to have the same chances because I was born into the area that I was born into. It wasn't my fault that I never saw a book until I went to primary school. I didn't know that I was a disadvantaged child. I didn't know that I was a poor child, and the interventions that were in my life at the time, I just saw that as the norm."
These experiences have created in Rayner a profound sense that young people aren't being given the right message as they pass through education.
"I want to inspire the next generation of Angela Rayners to come in and be the scientists and MPs and world leaders, because they deserve to be," she says. "Every child, no matter where they are in the UK, or from whatever background, has an absolute right to do the best they possibly can."
Rayner, who followed up almost a decade in care work with a career as a regional convener for Unison, the public sector union, is the first to admit she lacks detailed education policy knowledge.
After pointing out that many of the 200,000 workers under her care in her union role worked in schools and colleges, she confesses that most of her expertise comes from being a mum.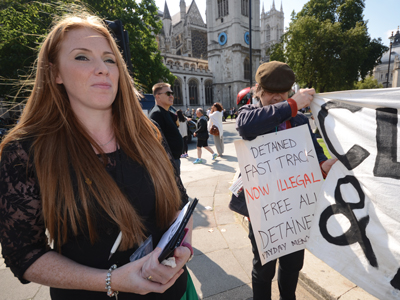 Of her three sons, both Ryan, 19, and Charlie, 8, have had help at school with special educational needs. Her seven-year-old, Jimmy, doesn't have SEN – "apart from having his mum as shadow secretary of state for education!"
But despite her lack of policy know-how, it's clear she has been talking – and, more importantly, listening – to teachers.
In a tirade worthy of the despatch box, she tells me that key stage 2 is a "nightmare", and accuses the government of "setting children up to fail". She also laments the
one-size-fits-all focus on academic routes – something close to her heart as both she and son Ryan studied in the further education sector.
She also believes local authorities have a bigger role to play in schools, especially in delivering central services, while admitting it would be difficult at this stage to reverse academisation.
Attacking the pace of change, she claims experience is disappearing as teachers leave the profession in droves.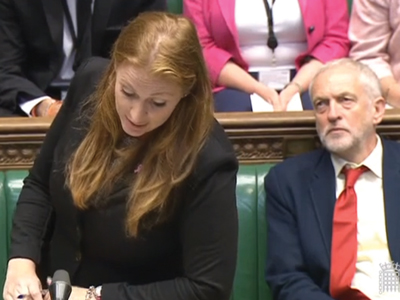 "The government should be listening to what teachers are saying, listening to parents, instead of forcing academies on to parents and on to teachers, and on to the governing bodies. It's unacceptable.
"Telling parents they're not wanted on governing bodies is ignorant – every single parent wants their child to do well in this country, and their motivation in that is about making sure that the school is the best it can be for all children.
"When you've got parents against you, teachers, the professionals, against you, then there's something you're doing that's wrong. You need to listen to that."
While Rayner clearly has passion and a lot of things she wants to achieve in this new role, she is undeniably inexperienced when it comes to policy, and will have to work hard to get the profession on-side, especially school leaders with decades of experience and training.
It is a relief, then, to hear her first priority is to find out more about what needs to be done.
She wants to speak to those involved in delivering education "across all the different key stages and sectors"
to find out "what the landscape is", and accepts she will need to do this in "much more depth" than she has
as an MP.
"Now I'm the shadow secretary of state, they deserve much more diligence from me in terms of forensically going through what the stakeholders are saying and then to come up with the alternative vision . . . to what this government is doing."
As our interview ends, I manage to find one final thing that sets Rayner apart from her colleagues – including many in the Labour party. I ask if she believes her party can win a general election with Jeremy Corbyn at its helm, and she is characteristically assertive and unflinching in her response.
"Absolutely," she says, without hesitation. And we leave it at that.
---
It's a personal thing
What's your favourite book? 
Stark by Ben Elton. Read it – and you will know why it's relevant at this moment in time.
What's your favourite thing about your constituency? 
People are down to earth, like me. They'd give you the shirt off their back if that's all they had. When I'm back at home, it's just lovely to be around friends and around loving, nice people.
What do you like about London?
Probably the fast pace. It's like going to university – although I never did – because a lot of the time you don't actually get to see the city. I get up, come here, and then when I leave it's often very late and I go back to bed. And that's it. The only friends I see are the local takeaway and the Houses of Parliament, to be honest.
---
Curriculum Vitae
Education
1984 – 1991 Bridge Hall Primary School, Stockport
1991 – 1996 Avondale High School (now Stockport Academy)
Career
Home care worker, Stockport Metropolitan Borough Council
North west regional convenor, UNISON
May 2015 – present Member of Parliament for Ashton-under-Lyne
September 2015 to January 2016 Opposition whip
January to July 2016 Shadow pensions minister
June 2016 to present Shadow women and equalities minister
July 1, 2016 to present Shadow secretary of state for education