Too many of the youngest pupils are still learning in oversized classes, Labour has said, after its analysis of official figures revealed almost five per cent of infants attend classes over the national limit.
Angela Rayner, the shadow education secretary, warned today that the proportion of pupils in classes of more than 30 remains "unsustainable".
She pointed to figures that show the proportion of key stage 1 pupils in oversized classes has risen from 2.9 per cent in 2011, to 4.9 per cent this year.
However, in its rebuttal to Labour's claims, the government highlighted that in more recent years the proportion of pupils in oversized classes has actually dropped from a high of 6.2 per cent in 2015 (see graph below).
A Department for Education spokesperson added the average primary class size – currently 27.1 – has also seen little change, despite an increase in primary school pupils.
But despite the recent improvement, Rayner said too many pupils are still being "packed" into classrooms.
"These figures confirm the Tories' failure to provide a high quality education for all of our country's children," she said.
"This situation is totally unsustainable. If ministers really wanted to give every child the education they deserve, they wouldn't pack so many five, six and seven-year-olds into classes of this size."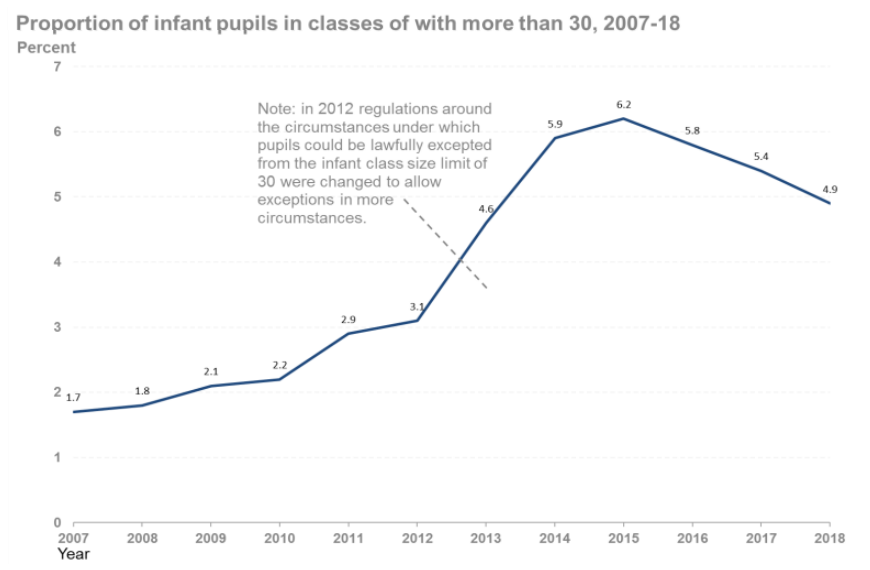 Under current government policy, infant class sizes are capped at 30 per teacher.
However, the rules were relaxed in 2012 to abolish a restriction on the length of time headteachers could keep the youngest pupils in larger classes. Previously, they were only allowed to do so for 12 months.
Labour has previously pledged to cap class sizes at 30 for all primary school pupils, and in the run-up to last year's election, party leader Jeremy Corbyn promised to halt the rise of "super-size" classes for pupils of all ages.
But a DfE spokesperson said: "The average primary class size has…seen little change and currently sits at 27.1, well below the statutory limit, even with the increases in number of children attending primary school.
"The number of pupils in overcrowded schools has actually decreased by over 43,000 since 2010 and we have also increased funding for school places, so that it has grown alongside the population increase, to meet local authorities' pupil number projections."