Ofsted's next inspection framework will promote a more "collaborative" approach to leadership, in a move away from the "male-dominated" culture of the watchdog's past, a senior inspector has said.
According to Gill Jones, Ofsted's deputy director for early education, Amanda Spielman has sought to steer the organisation's approach to rating school leadership away from the legacy of her predecessor Sir Michael Wilshaw since her appointment as chief inspection last January.
The leader does not necessarily have to be the knight on the charging horse going forth
The watchdog already puts less of an emphasis on getting rid of headteachers when schools are struggling, Jones said, and further changes will be reflected in Ofsted's next inspection framework, which will come into effect next September.
Speaking at the Teacher Development Trust's career progression summit today, Jones said Ofsted has in the past had "a fairly male-dominated leadership group", and that its current inspection framework is "very leadership focused".
"Sir Michael Wilshaw's view was very clear that the headteacher sets the tone, the headteacher drives the culture within the school," Jones told delegates.
"Amanda's view is very much that leadership is a joint thing, the leader does not necessarily have to be the knight on the charging horse going forth – hers is a much more a consultative style of leadership."
Jones described Ofsted as being "a bit like the titanic", in that "when it's set on its course, it's set on its course and we have to continue on that course until the end of a framework."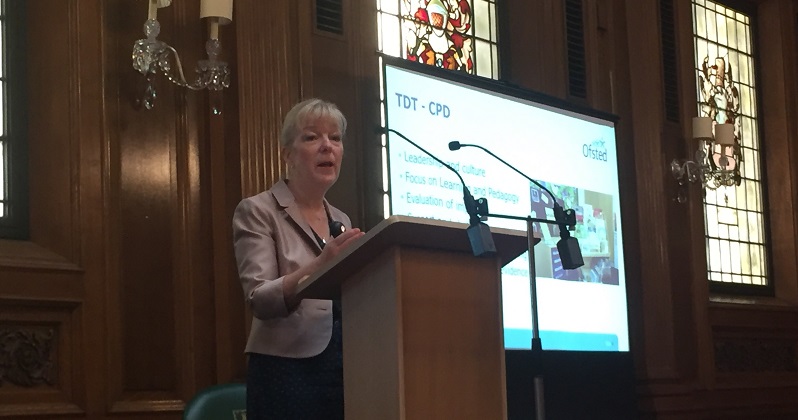 But since her appointment last year, Spielman has worked to change Ofsted's culture. For example, the watchdog is already less hasty in the way it deals with headteachers of struggling schools.
"In Ofsted we've been guilty of actually supporting the system that if someone isn't doing well enough then they have to go," Jones said.
"Five years ago we were congratulating governing bodies, leaders, if a school that was in difficulty, that the head went, that was step number one. We're a far more reflective organisation now."
The system must focus more on what has to be improved rather that just changing the person in charge, she argued.
"If something's not right it must be the system's job, and people within that system, to get it better, and getting something better isn't necessarily by chopping off the head."
She also challenged the watchdog's approach to pupil progress data, and suggested that it currently carries too much weight in the way inspectors make school judgments.
But Spielman's interest in "evidence-based inspection" is moving Ofsted "into a new place".
"Schools spend a long of time producing lots and lots of progress data for us to look to judge whether children are making sufficient progress, and if we judge that they do then the cards stack up to say well everything else must be okay then.
"Progress data holds an importance that may not be quite right. It's a driver in the system that currently, we at Ofsted need to look at really closely."
Last year, a survey of Ofsted staff found that approval of the watchdog's leadership has soared since Spielman took over.