Teaching schools and academy chain heavyweights are exploring a unique partnership to found a new higher-education institute that would train expert teachers to tackle the leadership crisis in challenging schools.
The collaboration comes as a new report, published today by the Institute for Public Policy Research (IPPR), a think tank, claims teachers working in disadvantaged areas need advanced training to ensure the most in-need pupils get the best education.
The report has issued a "call to arms" for schools to establish the Institute of Advanced Teaching – a school-led, independent social enterprise that would recruit high-potential, qualified teachers from challenging schools and skill them up with a master's qualification.
Schools Week understands the eight schools, and their sponsors, that funded the IPPR's report are now seriously considering collaborating to make the proposal a reality, from as early as next year.
They include Ark Schools and Oasis Community Learning, which between them run more than 80 schools.
The disclosure comes as the government launches a drive to improve leadership in the schools system and tackle underperformance in challenging schools.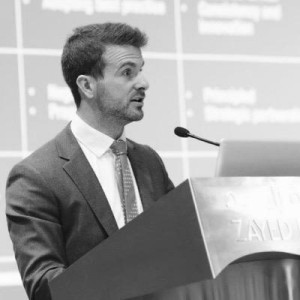 Matt Hood (pictured left), the report's author and assistant headteacher at Heysham high school, in Lancashire, told Schools Week: "This is a call to the profession. It is our best chance of substantially improving outcomes for pupils.
"Low-quality schools have a poor environment for learning, but that's where we need to develop learning the most. The gap we are trying to fill is the leadership requirement in educating teacher educators."
The report, Beyond the Plateau, claims that – despite £1 billion being spent on teacher development each year – the performance of the average teacher with five years' experience is similar to that of the average teacher with 15 years' experience.
Hood says this is because schools buy poor quality training, and he believes the new institute would incentivise good teachers to stay in the classroom, rather than move on to management.
Lucy Heller (pictured right), chief executive of academy trust Ark, speaking at the Academies Summit last week, said: "The biggest problem for everyone – [is the] quality of teaching. The central focus of our work on school improvement [at Ark] is around developing teachers.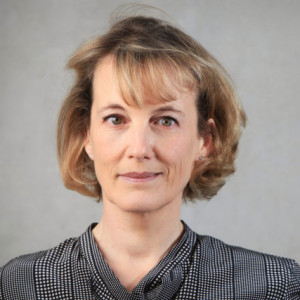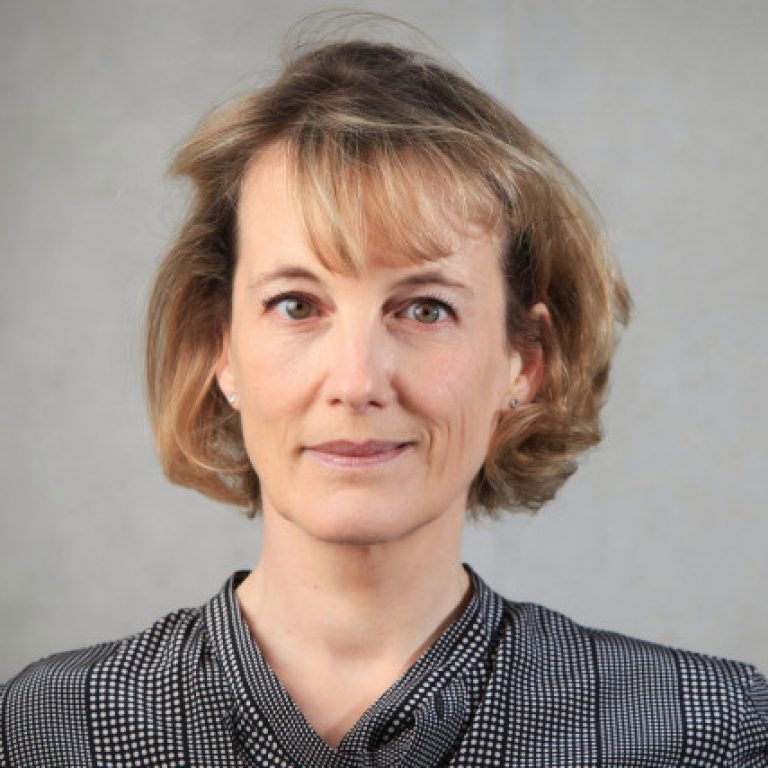 "I'm happy to say next year we are looking at develop an Institute of Advanced Teaching, in partnership with other groups and schools, which takes work we've done in initial teacher training (ITT) and takes that further out. Beyond ITT, how do you look to ensure they [teachers] maintain that same pace of development?"
Ark sponsors one of the schools that has funded the report, King Solomon academy, in London. Other chains that have bought into the project include Oasis, through Oasis South Bank academy, and the Dixons trust, through Dixons Trinity academy.
Others include teaching schools Lampton, in Hounslow, Mossley Hollins high school, in Greater Manchester, and School 21, run by Peter Hyman, a former advisor to Tony Blair when he was prime minister.
Hood described the partnership as the largest-ever collaboration between multi-academy trusts on teacher development.
Sir Steve Lancashire, chief executive of the REAch2 academy trust, told MPs on the education select committee last week that there "has not been enough learning from successfull multi-academy trusts".
"I think it is incumbent on use as a profession to support each other."
A Department for Education spokesperson said: "We want high quality professional development to be the norm in all schools and we trust schools to make decisions about training that are right for their teachers, pupils and the school community."
The department has published new standards for professional development, is helping found an independent College of Teaching and has funded the expansion of Teach First and the National Teaching Service, the spokesperson added.
Writing exclusively for Schools Week, Hood takes a closer look at the problem here.
How would the Institute of Advanced Teaching (IAT) work?
It would revolve around three main strands – recruiting high-potential, qualified teachers who work in challenging schools, develop them into expert teachers and build them into a "movement for change in education".
It would offer a portable masters-level degree in advanced teaching and offer a progression route for the most expert teachers to join a "prestigious faculty of experts".
The two-year, part-time course would take place across a network of "campuses", co-located within group of founding schools, and in time, other partner schools.
The report read: "It's essential that these campuses are dispersed around the country, and not solely concentrated in urban areas like London."
The courses would be run by a faculty of the UK's "most expert" practising classroom teachers, and specialists in particular areas of knowledge.
Schools would be compensated for time faculty members spend working for the IAT.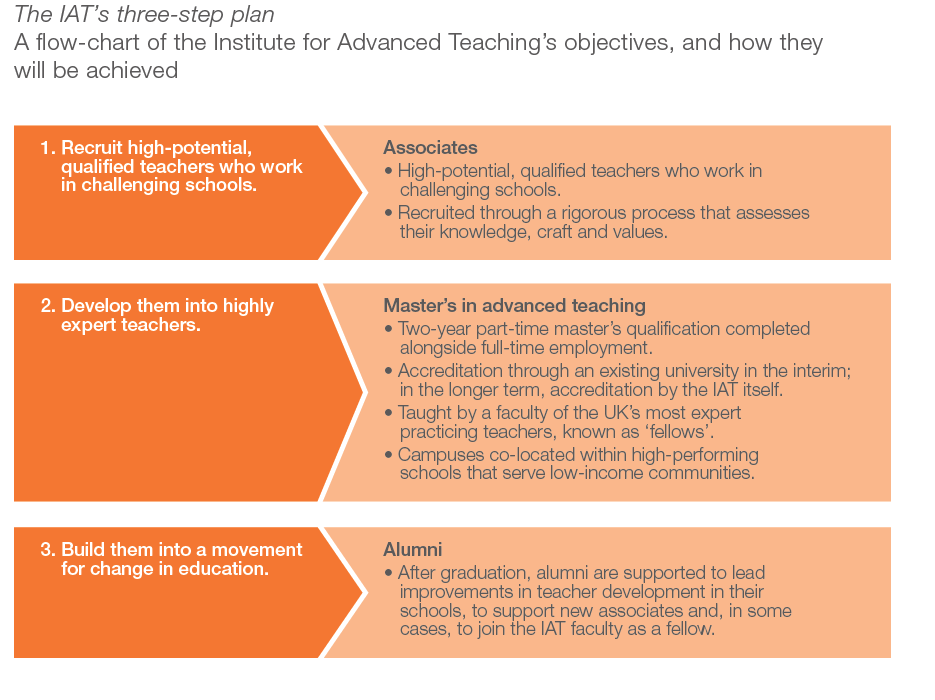 The next stage
Hood is now working on outlining more details about the practical elements of the institution, including for the content and composition of the course, the design of the social enterprise and the costs involved.