Academy results boost 'tapers away to zero', study finds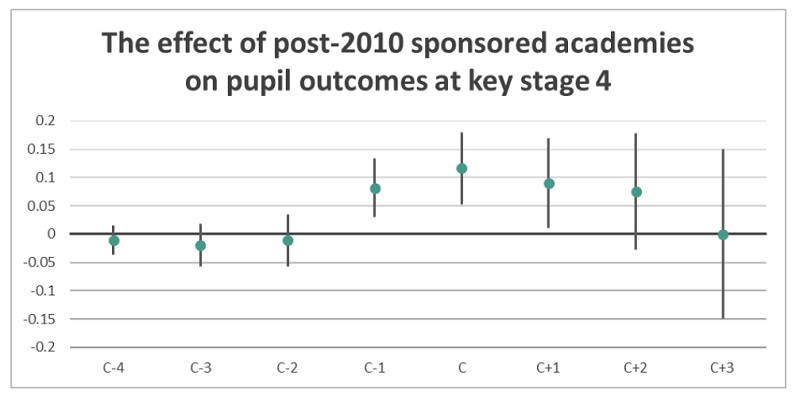 Improvements in schools' results after they become sponsored academies cannot be attributed to the actions of their sponsors, a key piece of research has claimed.
The Education Policy Institute (EPI) is demanding the government look again at research before continuing its planned expansion of the academies programme after analysis by the think tank and the London School of Economics yielded inconclusive results.
Using eight-year performance data, the two organisations compared outcomes between 205 sponsored academies approved after May 2010 and 49 schools which were not academies at the time.
It is one of the first major pieces of research to look specifically at sponsored academies opened during the coalition government, rather than sponsored academies opened under the Labour government.
The analysis found that results at academies increased more in the years immediately before and after conversion, but this boost appeared to "taper away to zero" within about three years.
The report said it could not be sure why there was a pre-conversion bump in results, but said it could be explained by an "intensive focus on key stage 4 pupils" in the year or years before conversion, either due to pressure from Ofsted and or a bid by schools to avoid being taken over by an academy sponsor.
"In conclusion, while we find an initial (and significant) improvement in the year prior to and after becoming a sponsored academy, we cannot attribute that trend to anything that may have been implemented by the academy sponsor.
"It may however be a result of the incentives generated by the academisation policy, which the government may well argue is a success in itself. Or, it could be that these schools were improving in any case (perhaps as a result of competition pressures or other interventions).
"Neither can we say, yet, that the improvements are sustained over a period of longer than three years. Further analysis is required to try and establish whether there is a direct impact of a school becoming a sponsored academy on attainment."
Natalie Perera, director of research at the EPI, said: "I think what the government now needs to do is look at all this new research as a whole and fully consider what that tells us about what might be working and why these Labour academies were as successful as they were and why we don't see the same improvement for some of the academies under the coalition government.
"They need to do this before they embark on expanding the programme and multi-academy trusts."
The report, which also assessed the performance of councils and academy trusts based on their schools' data, also warned that becoming a sponsored academy could risk damaging school outcomes.
It found that the lowest-performing school group, on both measures and at both primary and secondary, was a multi-academy trust, and that schools moving from the highest-performing local authorities to the lowest-performing trusts could risk a "significant decline in standards".
"The difference between the highest performing LA and the lowest performing large MAT is equivalent to just over 7 GCSE grades," it said. "Full academisation, especially when forced, could therefore risk damaging school outcomes."
The analysis found that at primary level, the Harris Federation was the highest-performing school group in England, while Redcar and Cleveland was the best-performing council. The Education Fellowship Trust and Poole were the worst-performing trust and council respectively.
At secondary level, the Inspiration Trust is the best schools group in England, Outwood Grange was the best group with 10 schools or more and Barnet in London was the best council.
Among those doing less well, the College Academies Trust was the lowest-performing schools group, the Greenwood Academies Trust was the lowest-performing large school group and Nottingham and Knowsley were the worst-performing councils.
A government spokesperson argued that converter academies "continued to perform above the average for state-funded schools", and claimed that sponsored academies were "typically schools that were previously poorly performing, but have been improving on average".