Two leading hedge fund managers have donated to the general election campaigns of schools minister David Laws and education secretary Nicky Morgan, while the chair and founder of the Harris Federation, Lord Philip Harris of Peckham, has targeted Conservative candidates battling to hold seats in marginal constituencies.
Jon Wood, director of privately owned hedge fund company SRM Advisers, has given £50,000 to Ms Morgan's campaign to retain her vulnerable Loughborough seat. She secured a majority of just 3,700 votes in 2010.
Mr Wood gave £500,000 to the Conservative party electoral campaign in 2010. His three donations to Ms Morgan, in September 2014 and in February this year, were made in an individual capacity.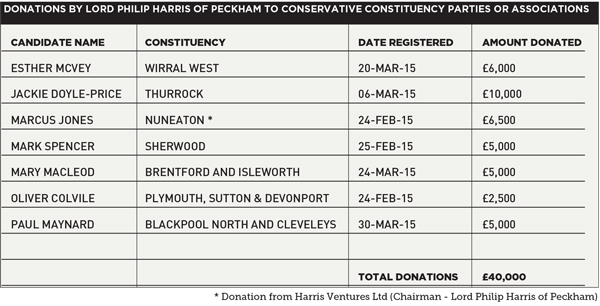 Ms Morgan also received a £5,000 donation from Quantum Securities, which quotes a London address on its website but says its head office is in Nigeria. The firm describes its activities as "stockbroking, funds management and financial consulting" and says it is a member of the Nigerian Stock Exchange.
Mr Laws' campaign to keep his seat as Liberal Democrat MP for Yeovil has been boosted by donations from Paul Marshall, chairman and chief executive of hedge fund group Marshall Wace, and a lead non-executive director (NED) of the Department for Education (DfE).
Mr Marshall, also chair of trustees for the academy chain Ark, has given £15,536 in an individual capacity to support Yeovil Liberal Democrats' 2015 local and general election campaigns. A dinner he hosted in April 2014 raised £49,000 for the campaigns.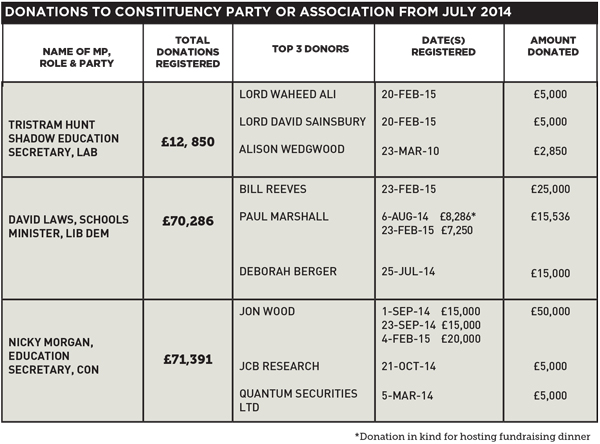 According to 2011 Treasury and Cabinet Office guidance on corporate governance in government departments, all NEDs should agree and document an "appropriate system to record and manage conflicts of interest of board members".
The guidance adds: "The board should publish in its governance statements how any identified conflicts and potential conflicts of interest of board members have been managed."
Summaries of DfE board meetings between July 2014 and January this year published on its website provide no details of board members' declarations of interest.
Registers of interest are available for viewing at the Department for Education's offices by appointment only.
Schools Week approached Mr Marshall about why he is supporting Mr Laws' constituency campaigns and if he saw any conflict between being a donor and his departmental role. He said he would not be commenting. The DfE said it would not comment on the NED aspect of the donation.
Mr Marshall and Mr Laws co-edited The Orange Book: Reclaiming Liberalism in 2005, written by a group of prominent politicians including Vince Cable and Nick Clegg.
Mr Laws is also on the advisory board of Liberal think-tank CentreForum, whose chairman is Mr Marshall. CentreForum says it is "seeking to develop evidence-based policy solutions to the problems facing Britain".
The Yeovil Liberal Democrat election campaigns also received significant donations from Deborah Berger and Bill Reeves, the US-based co-founders of The Learning Coalition (TLC). Ms Berger gave £15,000 and Mr Reeves donated £25,000.
TLC describes itself as a "non-partisan, not-for-profit operating foundation dedicated to excellence in Hawaii's public schools". Ms Berger formerly worked for JP Morgan in New York, Tokyo and London, while Mr Reeves was, until 2011, director and co-founder of an investment management business in London.
Donations to shadow education secretary Tristram Hunt's Labour constituency party in Stoke-on-Trent Central include £5,000 each from Lord Waheed Ali and Lord David Sainsbury. Lord Sainsbury has in the past been a major donor to the Labour party, and was made a life peer by Tony Blair. Lord Ali is a Labour life peer, multimillionaire and media entrepreneur.
Schools Week approached Ms Morgan, Mr Laws and Mr Hunt for statements on the donations. The latter two did not respond.
Ms Morgan's spokesperson said: "The donors recognise her hard work as an MP for Loughborough. None of the donors have links to education businesses."
He added that all donations were checked to ensure their legitimacy.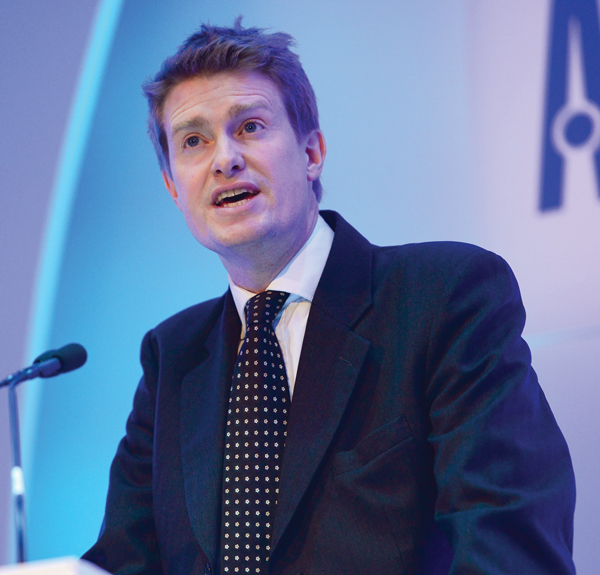 Lord Harris has given donations of £33,500 in an individual capacity to the constituency party or associations of six Conservatives fighting to keep their seats (see table).
In Thurrock, Ms Doyle-Price won a majority of just 92 over Labour in 2010, making it the fifth most marginal seat in the UK in 2010.
A spokesperson for the Harris Federation said: "As an active peer and former deputy chairman of the (Conservative) party, Lord Harris donates money to Conservative candidates' campaigns in a personal capacity as he does to many other causes.
"Obviously the federation, as a charity, is politically neutral and does not contribute to any political party."
All the constituency donations were recorded in the 2014/15 register of members' financial interests and details will be submitted to the Electoral Commission.