Fewer primary schools have fallen below floor standards this year, but more have been defined as "coasting", according to key stage 2 data released by the Department for Education today.
Just 511 schools (four per cent) dropped below the standard this year, compared with 665 last year (five per cent).
However the figure is skewed by schools that reopened as academies and were subsequently excluded from the floor standard measure as they are considered closed.
An additional 35 closed primary schools fell below the floor standard but were removed from the figures.
London schools were least likely to fall below the floor standard, with primary schools in the west Midlands, east Midlands, and south-west most likely to fall below floor standards.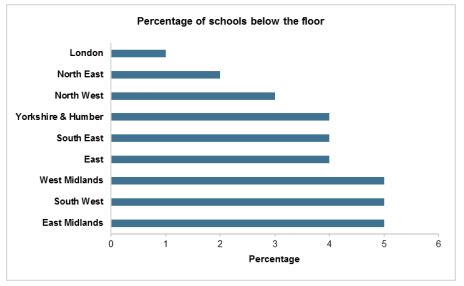 More schools fell within the coasting definition this year.
A coasting primary school is defined as one in which fewer than 85 per cent of pupils achieved the expected standard at the end of primary schools, and the average progress made by pupils was less than -2.5 in reading and maths, or -3.5 in writing, for three consecutive years.
This summer, 524 schools (four per cent) met this coasting definition, which is a 10-per-cent increase on the 477 (three per cent of schools) defined as coasting in 2016.
Five per cent of schools in Yorkshire and the Humber, the Midlands and the east of England were defined as coasting.
London had the lowest proportion of schools at one per cent.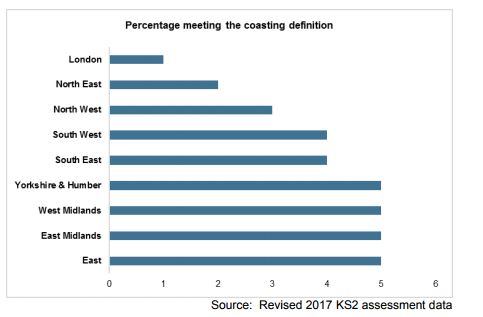 Where a school falls into the coasting category, a regional schools commissioner or local authority will contact the school to look at its context and consider what action, if any, should be taken. The school may be told to become an academy or take on a new sponsor.