Additional assessment materials provided by exam boards to help teachers award grades this summer will be published online after the Easter holidays, the government has confirmed, prompting fears the move could unfairly benefit more privileged students.
Ofqual and the Department for Education confirmed last month that use of the additional materials based on past papers and unpublished questions would be optional.
The materials will be sent to schools, along with guidance on how to award grades, at the end of this month.
But during a webinar on the plan for the summer, Rebekah Edgar, the DfE's deputy director for 2021 Qualifications, said the materials would also be published openly after Easter so "students and others can access them".
She added that the publication was being delayed until after Easter "to try and avoid students sort of cramming with them over the holidays which we didn't think was a healthy thing we wanted to encourage".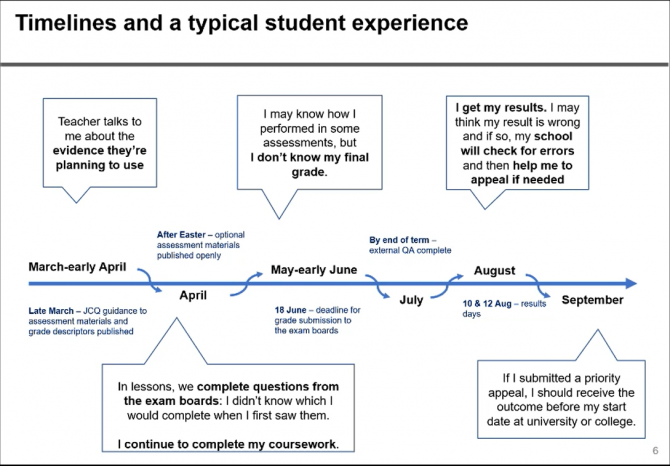 Cath Jadhav, from Ofqual, said the materials would be on "publicly available websites as opposed to behind the secure extranet that only teachers and centres can access".
The move to publish the materials, which was first mooted in the DfE and Ofqual's consultation on their plans, has prompted concerns.
Stuart Lock, CEO of Advantage Schools, warned the system would "maximally benefit those who are privileged".
"If you wanted to design a system that benefits those who already have advantages from birth, you'd start by cancelling exams and end by showing candidates the assessments they will take.
"I don't know many people, but I've spoken to people at (largely low levels) the DfE, two exam boards, Ofqual and Ofsted and none of them want to exacerbate the gap, so how has this happened?"
Sam Freedman, a former DfE adviser, said the "whole thing is a car crash".
The DfE and Ofqual's joint consultation in January proposed that if schools used the exam board papers or created their own, they should be used within a set period of time.
This was proposed because of a "risk that students taking the papers later in the window might be at an advantage, particularly if the content of the papers is leaked".
This risk could be reduced if exam boards created a menu of papers from which teachers would choose, the consultation suggested.
It also suggested the papers could be "deliberately published" shortly before the assessment window opened, although students would not know which ones they would be required to complete.
In response to a question on whether exam boards should publish all of their papers before the assessments "in order to manage the risk of some students being advantaged through papers being leaked", 39 per cent strongly agreed while 27 per cent agreed.
Seventeen per cent neither agreed or disagreed while eight percent disagreed and nine per cent strongly disagreed.
But in their decision document published last month, the DfE and Ofqual said teachers' assessment should take place as late as practicable but "not be confined to a specific window of time to give teachers as much flexibility as possible".
They recognised there would be "little to be gained" if materials that were largely based on past papers or questions that "are already in the public domain".
Today, an Ofqual spokesperson said they decided the materials should be published in this way as once they have been "made available to teachers it will not be possible to stop them being leaked, particularly once they start to be used".
"Some students would then have early access to the materials – giving them an unfair advantage while disadvantaging others."
They added that a "wide range" of questions will be made available, so while students will be able to access them all, they won't know which ones their school will use.
The DfE and the Joint Council for Qualifications have also been contacted for comment.