Nearly 1,200 schools would be judged as coasting under new plans to intervene where pupil progress scores are lower than expected.
Education Datalab has crunched the numbers – following Nicky Morgan revealing the scores that will define a coasting school.
The research group estimate that 1,179 schools would be classed as coasting if using the previous three years of data, and have blogged about it here.
Four Ofsted-rated outstanding schools – two primary and two secondary – would be classed as coasting, researchers believe.
A total of 405 secondary schools (13 per cent) would be coasting. A further 163 escape judgement because they are new or have changed to academy status so don't have three years of performance data available.
The data also shows school serving more affluent communities will be more likely to escape the coasting judgement.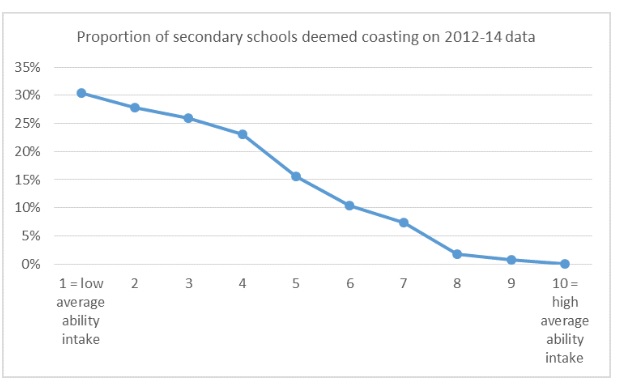 DataLab says this will not disappear as the measure is switched to Progress 8 scores.
The blog states: "Schools in more affluent areas will, on average, achieve higher Progress 8 scores and so will be less likely to be judged as coasting."
However it also found that coasting schools are likely to be more evenly distributed in primary schools.
Datalab found a total of 774 primaries (five per cent) would be coasting.
It added: "[This measure] doesn't display the same bias with respect to prior attainment. This means that some primary schools serving affluent communities risk being judged as coasting, though not as many as for schools with higher free school meals proportions."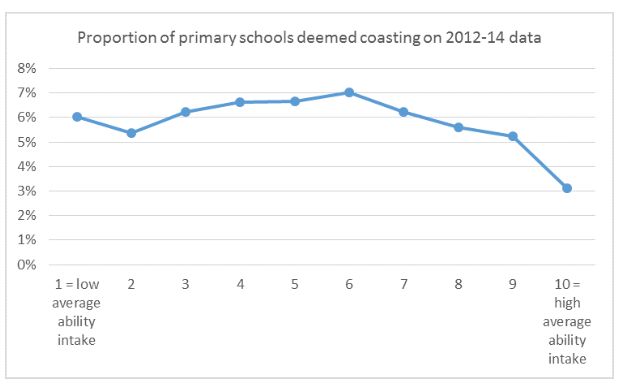 Education Datalab director Dr Becky Allen gave evidence at the education and adoption bill committee stage this morning, where she was asked for detailed numbers of schools which could be coasting.
Dr Allen said she needed 24 hours to crunch the data, but only received the first official definition of a coasting school at 10.30pm last night.
For a round-up of the morning session, click here.
We have also produced a detailed breakdown of the coasting school definition here.