The Department for Education (finally) published its annual accounts yesterday.
As expected, it wasn't good news. The government's spending watchdog said the accounts lacked "truth and fairness".
You can read the background on why they were submitted late here.
Schools Week has taken a forensic look at what the rest of the accounts tell us…
1. The DfE is having to write off LOTS of cash because of free school problems
The department has written off nearly £10 million this year alone – up from £2.8 million last year.
Any losses over £300,000 have to be documented in the accounts. And they show the DfE has taken a few big hits over failed new schools or site issues. The biggest – a £1.5 million write-off – was over this:
2. PFI obligations
Schools Week has led the way in exposing a raft of problems now being felt by the toxic legacy of paying private firms to build schools. (You can read our four-page investigation here)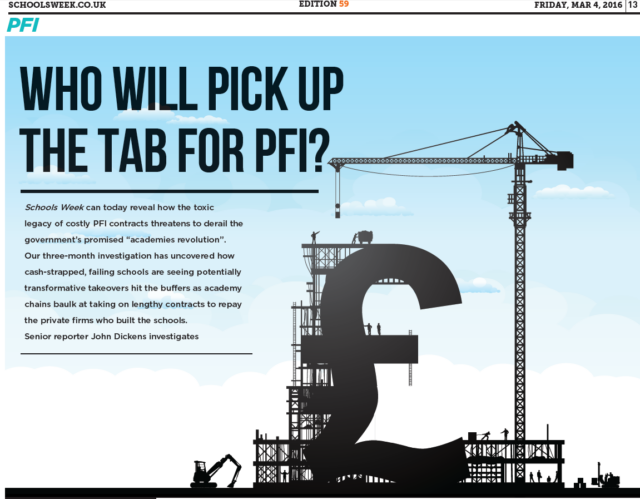 The accounts show the DfE actually paid local authorities less cash last year to cover their PFI costs (contract repayments to the firms that built or refurbished schools over 25 years).
The amount of cash passed on fell from £15 billion to £14.3 billion. This may explain why local authorities are making up PFI funding blackholes by cutting services – including swimming lessons for kids.
But the DfE's direct PFI costs have doubled, up from £891 million to £1.6 billion.
This is largely because this year, despite the previous PFI school problems, the government launched a new tranche of schools to be built under a reformed PFI model, called PF2. The first school of which opened in January.
3. Another financial blunder
In 2013-14, the Teachers' Pension Scheme for England and Wales breached its authorised annually managed expenditure (money spent in areas outside of budgetary control) by nearly £400 million.
The accounts show this was essentially because someone added the numbers up wrong: there was an "error calculating the non-cash interest charge on the pension liability".
The error did not cause a loss of cash or impact scheme members.
The DfE's finance director ordered a review of all their key financial spreadsheets and assurances were given to ensure "such a mistake could not recur".
4. And more breaches … this time over personal data
There were a total of 12 occasions last year where personal data held by the DfE or one of its delivery partners was lost.
The majority of these (12) were the loss of details from outside secured government premises. However one was the loss of personal data from secured government premises.
Only one of these was reported to the Information Commissioners Officer, when personal data of pupils – some sensitive – was included by mistake in a file sent to local authorities and their management information service providers, in January last year.
More than 4,000 pupils could have been affected.
The DfE said the potential impact was minimised by contacting the recipients and telling them to delete the files.
The affected schools were also notified.
5. £10k bonus for Gove's buddy
The only DfE director named in the accounts to get a bonus last year was Tom Shinner, who pocketed a tidy £10,000 to £15,000.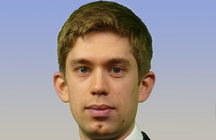 Shinner (pictured left) was appointed to the one of the department's most senior roles, at the age of 28, while Michael Gove was education secretary in 2014.
A DfE spokesperson told Schools Week Shinner was appointed by a panel chaired by permanent secretary Chris Wormald. The spokesperson said Gove was not involved in this process.
Shinner's previous experience included setting up a flagship free school in Greenwich and working for the Conservative party's implementation unit.
He's now on a £125,000 salary and, with pension benefits and his bonus, was paid at least £185,000 last year (more than Peter Lauener, the chief executive of the Education Funding Agency…)
6. Lauener's £1.6m pension pot
…But anyone feeling sorry for Lauener's lousy pay packet (a mere £150,000 last year) – fear not. The accounts show the career civil servant is sitting on a pension pot of £1.6 million.
The next largest is director general Andrew McCully with £850,000. The DfE's permanent secretary Chris Wormald has accrued £727,000.
7. Spend on consultants goes up

The department spent £2 million on consultancy last year, up from £1.5 million. The expertise was "mainly used to support the academies and free schools programme".
Importantly, this does not include the consultancy spend by academy trusts. Ofsted chief Sir Michael Wilshaw (right) is the latest to have raised concerns regarding this, with seven large multi-academy trusts found to have spent at least £8.5 million on consultancy last year alone.
8. Spend on communications also rises
The DfE spent £635,000 last year on its communications group – 43 staff responsible for delivering "highly effective news and social media, speeches, publications and campaigns in support of ministerial priorities".
The figure is up from 2013-14's £500,000, but considerably down on the staggering £12 million spend in the 2011-12 year. What on earth was Gove up to?!
9. Pay day for auditors
Academy trusts spent a total of £23.8 million on audit fees last year – around £7 million of this was on costs to validate part of their accounts as required by the DfE.
10. Boom for exit packages
The number of exit packages – cash given to staff for loss of employment – paid last year touched nearly £50 million (pictured below).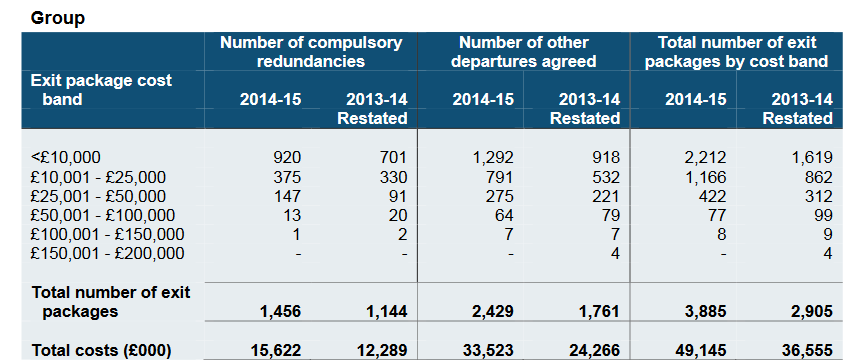 Only £7.5 million of last year's exit package cash for staff from the DfE or its agencies. That means that the remaining £42.5 million were staff from academies and free schools.
It is a considerable rise from the £37 million spent the previous year. The number of exit packages also rose to 3,885 from 2,905. Schools Week has also previously investigated these payments, revealing golden handshakes paid by the big academy trusts.
Although the highest pay-out for a compulsory redundancy was between £100,000 and £150,000 –paid to a departing staff member from one of the DfE's agencies. Which one, however, is not mentioned.