A year 8 pupil took over London's Highgate School for a day, swapping places with the school's headteacher who was sent to take up his place in classes.
A charity raffle gave Joe Lever the chance to become head at the independent school, while the incumbent Adam Pettitt went back to life as a pupil.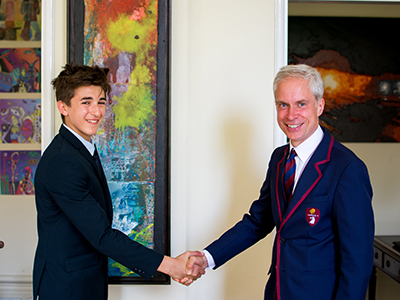 Joe attended staff briefings, observed lessons, wrote reports and lunched with teachers while Pettitt took part in a classics and PE lesson, and came second in a 1,500m race.
Joe was also interviewed about his day for the school's HighNotes newsletter.
"This was an eye-opening experience, as I was able to see behind the scenes of how Highgate is run," he told his interviewer. "I enjoyed meeting teachers, sitting in on my Friday classics lesson and working with the grounds staff, but I'm also excited to tell my friends about it when we go back to normal."
Pettitt added: "Joe did an excellent job of assuming my responsibilities for the day, and all the staff were impressed with his work.
"I thoroughly enjoyed getting the chance to relive my days as a pupil."