A London primary school has come up with a lucrative business model, with pupils selling original works of art to raise money.
Year 5 pupils from Lansbury Lawrence Primary School have used their school's architecture as inspiration for a range of keyrings, jewellery, pen holders and coasters, which they made during art classes with the help of Haidée Drew, a local product designer.
Pupils sold their designs at a nearby market as part of the project, raising more than £100.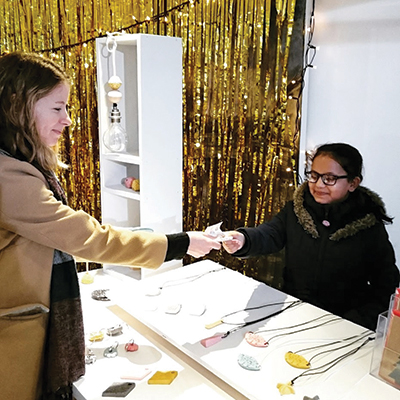 Following their first success, the school has decided to continue the project as a small enterprise business it has called Lansbury Presents, using casts of the pupils' original designs – and making new ones – to sell to the public.
Money raised through sales will go back into the school to fund future art projects, with the pupils given the power to decide which projects they want to do and what materials they want to use.
Kerri Sellens, the school's art and design technology lead, said: "There's always demand for events in school, like the summer and autumn fairs where we can have a stand, and we can become a known brand within Poplar.
"We're trying to get some funds together so we can carry on buying materials and continue this with future year groups. It teaches the kids that art isn't just about a picture on the wall, but that it's a valid career path in lots of different ways."
The pupils are now learning how to fuse glass, which they will add to their expanding creative repertoire.
"We've worked with Jesmonite, alginate and glass, which are materials I've never used in a school context before, so it's been fantastic professional development for me to see whether it is possible, and whether various materials do have a place with young children," said Sellens.
"You have to be very safe, but the pupils are learning how to be responsible and to have awareness of health and safety."