Workload is the "most important factor" for teachers leaving the profession, with government initiatives and policy changes not far behind, research by the Department for Education has found.
The government has published a wide-ranging analysis of teacher supply, which looks into problems at school and teacher level.
As part of the research, the DfE surveyed 1,023 ex-teachers who have left since 2015, and 75 per cent said workload was the reason they left the profession.
Other important factors included government initiatives and policy changes, feeling undervalued by school leaders, Ofsted pressure and lack of support from leadership.
The research also found a correlation between the Ofsted rating of a school and the proportion of teachers quoting issues such as feeling undervalued or unsupported by leadership, Ofsted inspection pressure, disagreeing with how schools are run and poor pupil behaviour as important factors in their departure.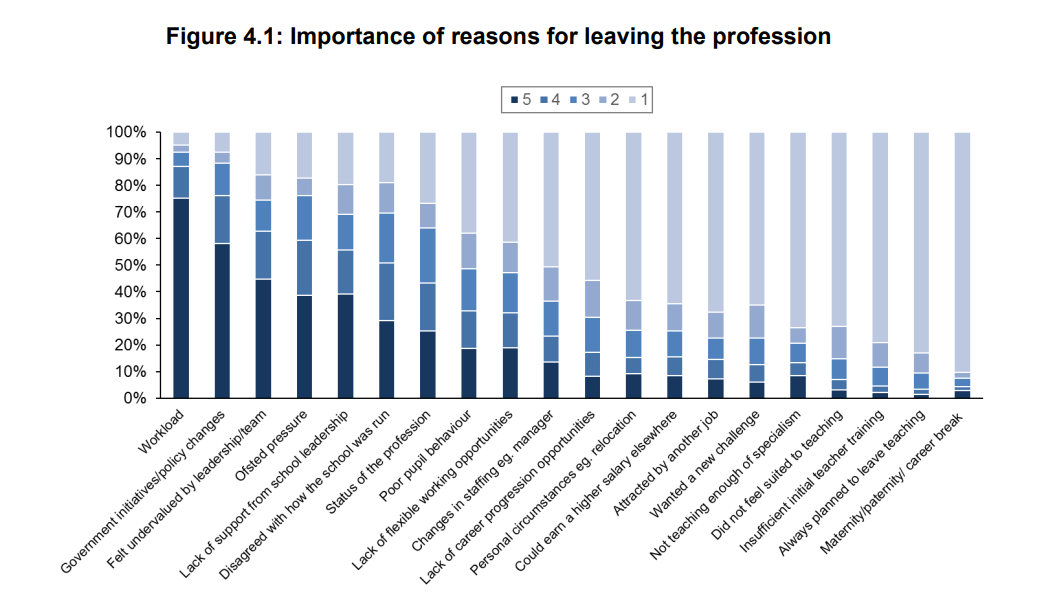 Only 17.1 per cent of respondents said the idea of earning a higher salary elsewhere was a "major factor" in their decision to leave.
In fact, more than half of teachers left for a job that actually paid less than their teaching role. Just one quarter said they went on to earn more.
More than 60 per cent of leavers remained in education, but the destinations of those who did not were "hugely varied", the report said.
Low pay and a lack of career progression opportunities were higher on the priority list for teachers aged between 20 and 30 than for their older counterparts, the research also found.
Workload, pupil behaviour, Ofsted pressure, and flexible working were also higher factors for younger teachers.
The research has been published just one day after the National Audit Office launched a damning new report on teacher supply issues.
The report found half of school leaders have not engaged with the government's flagship 'workload challenge' programme at all, and that only £91,000 has been spent on programmes to support workload or pupil behaviour.