Sir Michael Wilshaw has warned against an over-reliance on data in judging schools, as he listed his proudest achievements at the helm of Ofsted in one of his last speeches as chief inspector.
The Ofsted boss told delegates at an Education Policy Institute event this morning that a purely data-driven school accountability system would save the government £40 million a year, but would not identify problems with safeguarding and leadership.
It follows claims by the EPI that schools which had demonstrated a deterioration in performance were often maintaining a good Ofsted grade, or in some circumstances actually seeing it increase.
Wilshaw, who will hand over the reins to Amanda Spielman at the end of the year, said Ofsted had improved inspections since 2012 by bringing its inspectors in-house, ending the grading of lessons and the creation of the 'requires improvement' grade.
He also pointed to the simplification of inspection frameworks, clearer and more concise reports, a reduction in bureaucracy and Ofsted's recent attempts at "myth-busting" as improvements made during his tenure.
We could do it on a laptop and save nearly £40 million per year
But as he reflected on the challenges ahead for his successor, Wilshaw said Ofsted should not move away from "routine, independent inspection and a judgement-based model", and warned against an over-reliance on data to judge schools.
Wilshaw challenged the EPI's call for a greater focus on the value added to pupil progress, warning that inspection was "not painting by numbers".
"It would be easy enough to set up what might be considered an entirely consistent evaluation system, based purely on published data," he said. "We could do that on a laptop plugged into the Whitehall intranet and save nearly £40 million per year.
"Unfortunately, it wouldn't be any good for the hundreds of schools with small cohorts of children for whom the data is at best inconclusive and, at worst, often meaningless in terms of wider comparison.
"It wouldn't identify when an excellent new leadership team was starting to turn things round. It also wouldn't tell us when schools were providing a low-tariff, dumbed-down curriculum that was failing to stretch the most able.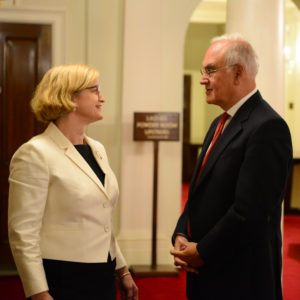 Such a system would also fail to spot "significant low-level disruption in the school" or when children were "being exposed to bullying or were at risk from radicalisation or other forms of abuse", Wilshaw said.
It was the first time since her selection as his successor that Wilshaw had shared a platform with Spielman, who spoke briefly without taking questions.
Much of the speculation around her appointment has been about whether she will be as outspoken as Wilshaw, and whether she will end the watchdog's use of the outstanding grade for the best schools.
Spielman told the event today that inspection grades were not a fair way to rate headteachers because schools with more disadvantaged pupils were "harder to run".
But Wilshaw said he would have felt "insulted" as an inner-London headteacher if he thought Ofsted was "somehow going easy on the schools I led simply because many of the kids came from tough homes".
"I wanted us to be judged on equal terms with the very best comprehensive schools in the country – schools, and there are many of them now, that were attaining highly against the national benchmark, regardless of catchment area."
David Laws, the former schools minister who now heads up the EPI as its executive director, predicted that the government would be hoping that Spielman would be "less vocal a critic" than her predecessor, but warned that any minister expecting her to be a soft touch would be "in for an unpleasant surprise".
Jonathan Simons, head of education at Policy Exchange, urged Spielman to "spend more time reading Sunday Times and less time speaking to it", referring to the incumbent chief inspector's regular interventions in the press which even Wilshaw admits have led him to be labelled as "being abrasive and rather too forthright at times".
But the former headteacher said he preferred to regard it as "plain-speaking and telling it as I see it".
"I hope people will say that I have done a reasonable job of raising awareness of some of the major educational challenges still facing us as a nation.
"I hope, at least, that people understand that I have been motivated by a passionate desire to improve the lives of children and young people."
He also indicated that he wanted to see the current system of four judgment categories maintained by Spielman.
"Inspection is a powerful lever for improvement," he said. "Talk to any decent head and they would tell you the same.
"That is why any move away from routine, independent inspection and a judgement-based model, in my view, risks jeopardising the higher standards that we have all striven so hard to achieve."