The education secretary has been accused of "trying to subvert process to help his political mates" after appointing an ally to a key government role without following usual procedures.
Nick Timothy, Theresa May's former chief of staff, was also made a non-executive director at the Department for Education before officials had received a declaration of his interests.
The public cannot trust a serially incompetent government that is unable even to check for conflicts of interest before making public appointments
Copies of correspondence, obtained by Schools Week under the Freedom of Information Act, show how officials rushed through the appointment at the behest of Gavin Williamson.
The pair are understood to be close allies. The education secretary served as chief whip while Timothy was in Downing Street. The latter was also vocal in his support during Williamson's challenging tenure at defence.
As a non-executive director, the former New Schools Network director will be paid an annual £15,000 for about 24 days' work advising Williamson on policy.
Non-executive board members are usually appointed via a competitive process with multiple candidates considered for each role.
The DfE's business case for Timothy's appointment states that his "direct appointment" was a result of "no other candidates who could match Nick's unique combination of skills, knowledge and experience".
But Kate Green, the shadow education secretary, today called on Williamson to be "open and transparent in future, instead of trying to subvert process to help his political mates".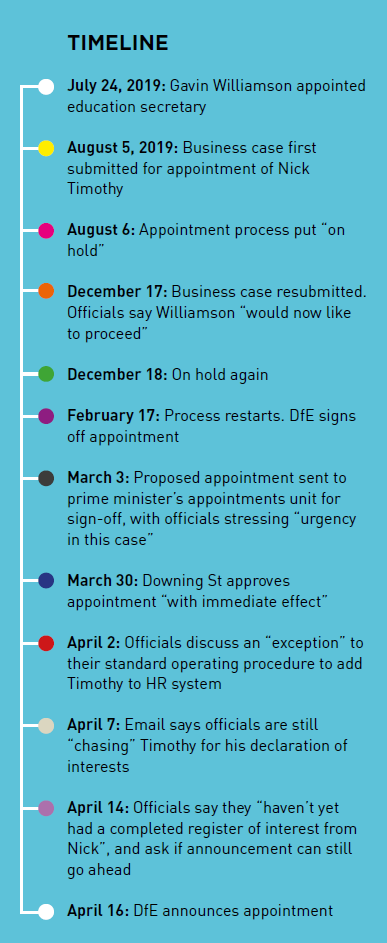 "The public cannot trust a serially incompetent government that is unable even to check for conflicts of interest before making public appointments."
In their due diligence on the appointment, officials highlighted existing allegations of cronyism over Timothy's CBE in May's resignation honours last year and his appointment to the organising committee for the 2022 Commonwealth Games in Birmingham.
Copies of correspondence also show they raised concerns the appointment could attract negative media coverage "particularly given his well-known views on the benefits of selective schools".
Timothy is a vocal supporter of grammar schools. He was at Downing Street when the Conservatives enacted their botched attempt to lift the ban on new selective schools.
However, in its business case, the DfE said the due diligence check "did not find any reasons for concern about the appointment".
The dossier also shows the department did not receive a declaration of interests from Timothy until after his appointment had been ratified. It claims this is because he was appointed directly, and that declarations would usually be made at the application stage.
"Direct appointment would both ensure that we can utilise Nick's skills and experience more rapidly," the DfE's business case said.
"An open recruitment exercise would take several months, which would mean we would miss the opportunity for a new non executive board member to support us with the immediate challenges of implementing the agenda of a new PM and secretary of state."
Timothy's appointment was first proposed last August, shortly after Williamson took over education in late July, It was then put on hold twice before being rushed through earlier this year.
At the time, officials spoke of the need to "move asap" once Timothy was approved by Downing Street, describing his appointment as a "high priority".
One unnamed official who questioned whether Timothy had been through a competitive process was told the direct appointment was supported by Richard Pennycook, the lead non-executive director, Jonathan Slater, the department's permanent secretary, and Innes Taylor, a special adviser.
Timothy's appointment, announced in April, also came shortly after the department expanded the role of non-executive directors to "take more in-depth roles".
Timothy served as an adviser to May when she was home secretary before going on to head the New Schools Network. He left the charity to run May's successful Conservative leadership campaign in 2016, and then served as her joint chief of staff with Fiona Hill until 2017, when both resigned following the Tories' poor election performance.
Since then, he has been a columnist for The Daily Telegraph and released a book, Remaking One Nation: The Future of Conservatism.
A DfE spokesperson it had followed guidance in the appointment and that Timothy's register of interests would be published alongside its annual report.
"As this was a direct appointment, we conducted due diligence checks ahead prior to the appointment."
Timothy was approached for comment.
What the rules say
Non-statutory government guidance states that NEDs are recruited through "fair and transparent competition".
However there's a lack of guidance about when direct appointments are allowed.
Other guidance on public appointments suggests they can only take place in "exceptional cases".