Introverted teachers have five key skills that will help them flourish as school leaders, an assistant headteacher told delegates.
Iesha Small (pictured), of Kings Langley school in Hertfordshire, delivered one of the final festival sessions on Friday when she took delegates through five different qualities she believed introverts — which she said was her personality type — could bring to school leadership.
The first was listening skills. Introverts were "classically not overly-dominating people" when it came to conversations, which allowed them to listen carefully to others.
"If people are listened to, they feel valued and it leads to the other person trusting you.
"For leadership in schools, if you are a good listener you can deliver coaching sessions."
Second, the "quiet passions" of introverts allowed them to have a "long-lasting love of what they do.
"If you are passionate about the students you will constantly do your best and put yourself in situations that you are not comfortable in."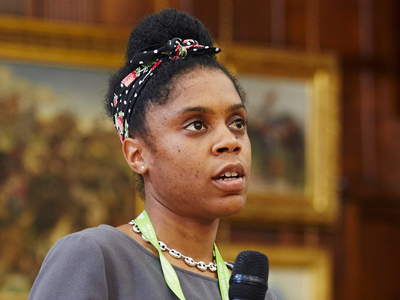 Small said the third trait was a "cautious and considered" nature.
"Introverts can be accused of being a little bit indecisive. We can be a little quiet and not come up with loads of ideas, but when we do come out with something people know it is going to be well considered and thought through.
"This is useful in different situations, particularly in terms of pastoral teams. Whenever there are kids having massive arguments my colleague, who has this trait, is very good at taking a step back and not saying much, to come to a good conclusion."
Small then mentioned "observation and noticing". She gave an example of one student who was constantly sent out of a variety of lessons but it wasn't until she observed the problem that it was acted upon.
"I was able to tell other members of staff from the different subjects that this one student needed a different approach and they were able to work together to find a resolve."
Small said the fifth trait was independence and self-sufficiency.
"If you are a school leader you are going to have to work on your own in some situations and do something that you are not going to like.
"You need to be self-sufficient and not be bothered about what people think of you to make a decision that is best for the school."