The prime minister has announced the approval of a further 49 free schools, the last batch before the general election.
He also revealed that a future Conservative government would create 500 free schools with an extra 270,000 school places.
David Cameron said the free schools programme was the "most successful" programme in recent British history, leaning on a report by think-tank Policy Exchange to support his claim.
The report, published on Monday, the same day as the prime minister's announcement, claimed that free schools increased the performance of nearby weaker maintained schools.
"[Free schools] are creating more good school places for our children. What these schools have achieved is, frankly, remarkable," Mr Cameron said.
"They're more likely to be good or outstanding. In fact, free schools are twice as likely to be judged 'outstanding' as other schools inspected at the same time. And, remember, they've only been going for a couple of years at most."
The UK Statistics Authority last year said it was too early to draw conclusions about the overall performance of free schools, given the small number so far inspected.
Most of the 49 new schools announced on Monday are in the south of England. More than half are in London boroughs.
Areas that neighbour London – Kent, Surrey and Hertfordshire – will also get four between them.
Only one school in the north east was granted approval: alternative provision school Sunderland Centre of Opportunity. And only one free school has been approved in the Midlands. The Olive School in Birmingham, a primary, is part of a chain granted three new schools on Monday.
Twenty-four of the new schools will be secondaries; five of these will be alternative provision. But almost all of the 49 are mainstream schools, with just nine alternative provision or special schools.
Schools minister and Liberal Democrat MP David Laws said the plan for 500 more free schools would "blow a giant £4 billion hole" in the school buildings budget.
"This would condemn thousands more children to inadequate and crumbling classrooms and jeopardise our efforts to ensure there are enough school places
"The Tories have already set out plans to decimate budgets for schools, nurseries and colleges – now they are admitting capital budgets would be under attack under a majority Conservative government as well.
"You simply can't build a world-class system of education unless it is properly funded. We need to protect education budgets in real terms and make sure all new schools are built in the areas where they are needed."
Shadow education secretary Tristram Hunt said: "It's very difficult to know how much these schools are costing. We have seen £250 million wasted on providing free schools in areas they are not needed. That means that parents in areas of high demand can't get their kid into a local school."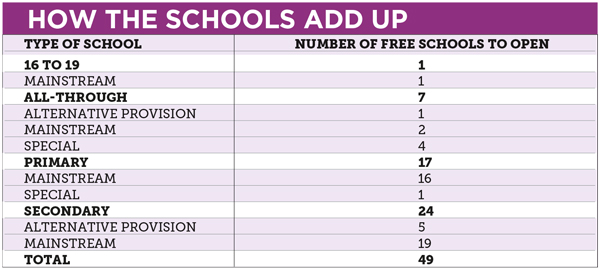 Save