Teacher pension costs are being classed as 'welfare' in tax advice statements being sent out by the government, and teaching unions have reacted angrily.
The Treasury has said that around 24 million people will receive statements breaking down how tax collected from their pay last year is spent, in a move hailed as a "revolution in transparency" by chancellor George Osborne.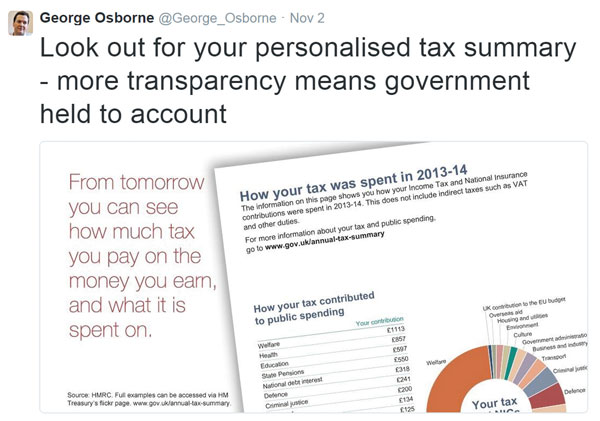 The statements are being sent out at a cost of £5 million with the first letters despatched at the start of this week.
Government spending is broken down into a number of categories in the statements, including welfare, health, education and state pensions.
The Treasury confirmed that the cost of pensions for teachers, along with those for other public sector workers, would feature under the heading of 'welfare' on the statements – a decision described as "propaganda" by Chris Keates, the general secretary of NASUWT.
Independent fact-checking organisation Full Fact said that it would be asking the Statistics Authority whether the letter contravened its code of practice for official statistics.
The decision to categorise pension costs under the heading 'welfare' was described by Full Fact as "not helpful".
Ms Keates said: "This is wrong on so many levels.
"It is increasingly clear that the purpose of these statements is nothing to do with informing the public, but is a crude propaganda exercise in the run-up to the general election. The fact that teachers' pensions will be included under the banner of 'welfare' proves the point.
"Teachers' pensions are deferred salary and nothing to do with welfare.
"It is clear the government is seeking to bump up the welfare figures to seek to gain support for further planned savage cuts to expenditure on welfare."
Mary Bousted, general secretary of the ATL said: "It's not welfare is it? Your pension is deferred pay. As an employee, teachers contribute to that, and it is a joint endeavour between employers and employees."
She said that it did not give her any confidence that the government would not unpick a 25-year agreement on teacher pensions, reached in 2012.
And Christine Blower, general secretary of the NUT, said: "We see the 'welfare' category as a meaningless agglomeration of in-work and out-of-work benefits that is designed to maximise outrage about the UK social security system, not shed light on its component parts.
"The fact that the government has wrongly included occupational pensions – a contractual entitlement and members' deferred pay – as a 'benefit' just confirms
our view".
In a one-line statement, a Treasury spokesperson said: "The headings in our tax summaries are based on internationally recognised (UN) definitions."
The Treasury also said the categories used on the statements had been informed by customer research, carried out by HMRC.
But Sam Ashworth Hayes, economics lead at Full Fact, said: "The Treasury has separated out state pensions from 'welfare', which makes sense: removing that gives a better idea of its relative importance to the budget.
"But keeping teachers' and other public sector pensions within 'welfare' is not helpful. A better option might be to present public sector pensions separately."
The Department for Education said that in 2013/14, pensions for teachers cost £10.6bn.