A private school that used to charge admission fees of up to £4,000 a year has been rated inadequate by Ofsted just two years after opening as a free school.
St Anthony's School, a smaller-than-average primary in Gloucestershire, was found to be inadequate in three of five categories with inspectors raising concerns over weak teaching and pupil underachievement.
The predecessor independent school, St Anthony's Convent, was judged good on its last inspection in 2008 before converting in September 2013.
Another free school, Robert Owen Academy in Herefordshire, was also rated as inadequate on Wednesday. It means a quarter of the 93 mainstream free schools inspected by Ofsted are now either inadequate or requires improvement, prompting questions over Prime Minister David Cameron's pre-election claims that free schools "raise standards".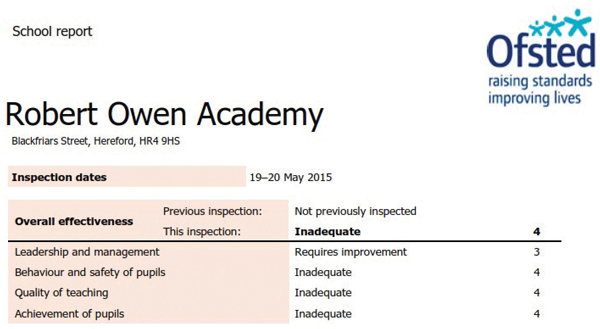 Ofsted inspectors found leaders at St Anthony's had been too slow to tackle weaknesses in the quality of teaching.
"As a result, not enough pupils achieve well and make good progress in reading, writing and especially mathematics," the report said.
Inspectors also said leaders did not track pupils' progress effectively, subject leaders lacked the skills to monitor and improve their subjects and teachers did not expect enough of pupils.
At Robert Owen, inspectors found teaching was not challenging enough and the most able students were not "sufficiently challenged".
The school also had a high number of exclusions – with many pupils excluded more than once – and too many students regularly absent. "Leaders cannot be confident that these students are safe," the report said.
The small 14-19 free school is part of a single academy trust and was one of the first schools in the country to offer the WJEC exam board's Vocational Baccalaureate.
But inspectors found issues over low student numbers and the school's temporary accommodation meant "the majority of students have experienced a limited range of vocational subjects".
However, inspectors said the principal had a "clear understanding" of how to improve.
A third free school Ofsted inspection report was also published on Wednesday. Marine Academy Primary in Plymouth was found to be outstanding across all categories.
Overall, 93 mainstream free schools have been inspected. Five have been rated inadequate, 18 requires improvement, 44 good and 26 outstanding.
Last year the Statistics Authority said free school inspections could not be directly compared with those of maintained or academies due to their small numbers.
A Department for Education spokesperson said: "Free schools are at the heart of the government's commitment to deliver real social justice by ensuring more pupils from all backgrounds have access to a world class education.
"Underperformance at any school is unacceptable. One of the strengths of the free schools programme is that when we spot failure we can take far swifter action than would happen in other schools. We will consider these Ofsted reports in detail and take swift and decisive action to bring about improvements."