Results released today show that 330 state schools are now falling below the 40 per cent 'floor target' of students achieving five A*-Cs in GCSEs, including English and maths.
This means 330,475 children are being taught in underperforming schools in England; compared to 117,000 last year.
However, changes to the data mean this year's results are not directly comparable to previous years.
Chief executive of The Future Leaders Trust, Heath Monk, explained: "The decision to include only first entries, the removal of many vocational qualifications and the use of comparable outcomes to cap GCSE performance have created a situation where this year's results cannot be compared to previous years."
Education secretary Nicky Morgan explained why the changes were made: "For too long pupils were offered courses of no value to them and schools felt pressured to enter young people for exams before they were ready.
"By stripping out thousands of poor quality qualifications and removing resits from tables some schools have seen changes in their standings."
Nationally, there was a dip in the number of pupils achieving the benchmark measure of five A*-C grades, including English and maths – down from 60.6 per cent last year, to 56 per cent this year.
Many media outlets will focus on this drop but at Schools Week we've focused on schools where disadvantaged pupils performed best.
Using the data, we created 'Alternative GCSE Tables', pictured right, to show the ten schools with the highest percentage of disadvantaged pupils achieving the five GCSE benchmark. One included data from all non-selective schools; the second only included schools where at least 20 per cent of the cohort receive free school meals (FSM).
The tables also includes a 'best 8' measure, giving the average grade across pupils' best eight subjects. This is similar to, but not the same, as the Progress 8 measure that will become the main school performance measure next year.
King Solomon Academy in London, run by ARK, appears in both tables, proving how successfully it is educating disadvantaged children. While 67 per cent of its cohort receives free school meals, 95 per cent of those students met the GCSE benchmark.
Tauheedul Islam Girls' School in Blackburn and Darwen also appeared high in both tables and achieved at 'best 8' grade score of A minus.
Speaking of student successes, Ms Morgan said: "We have raised the bar, and I know schools are already rising to the challenge – ensuring our young people leave school ready to succeed not just in Britain, but on the global stage."
GCSEs – Our Alternative Take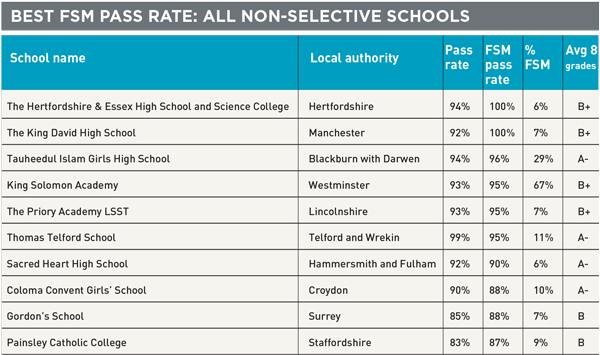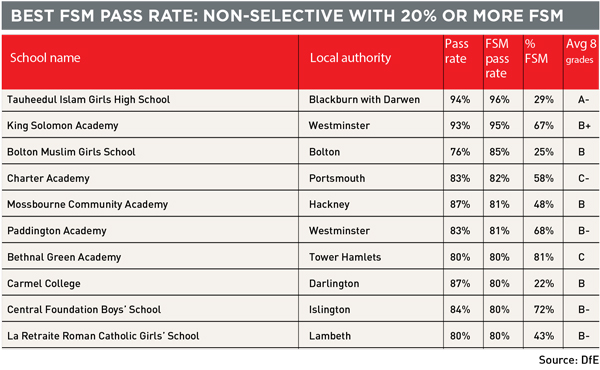 A levels: Who added the most value?
Given the diversity of provision for 16 to 19-year-olds, we looked at the top institutions for both "A-level" and "vocational" value added – and found a surprise.
Central Bedfordshire UTC, rated inadequate by Ofsted last June, has the best value added score for vocational subjects.
Former education secretary Michael Gove asked nearby Bedford College to step in and sponsor the UTC, which specialises in engineering and design, after its poor inspection. The last monitoring report, published in November, said it was on it on its way to coming out of special measures.
Overall, it had a value added score of 1.43 – way above the national average of 0.8.
For A-level value added, the top five state schools are all outside London, with King James I Academy in Bishop Auckland leading the pack.