Parent power has prompted an academy trust to halt restructuring plans that involved making a headteacher redundant to balance the books.
The Diocese of Leicester Academies Trust, which runs 14 Church of England schools across Leicestershire, planned to make Edy O'Connor redundant from his role as headteacher at Swinford Primary School.
DLAT planned to replace him with an executive head to oversee both Swinford and another of its primaries.
But following the protests – which involved parents wearing paper face masks in support of O'Connor (pictured) – the Bishop of Leicester, Right Reverend Martyn Snow, intervened to ensure trustees were "serving both Church and community".
We are not ruling out any options for the future
It resulted in the DLAT board of directors resigning last week, with the new board announcing yesterday they will halt the restructure.
The saga signifies a clash of growing tensions in the education system, including parents coming up against what they believe is a lack of community involvement in decisions made by trusts.
But it also exposes the struggles to keep rural schools financially sustainable as budgets are squeezed.
In May, the Reverend Nigel Genders, head of education at the Church of England, told Schools Week that his organisation remains "committed as a major education provider" to running such schools, but accepted that some may have to close.
A government study published last month, titled 'running rural primary schools efficiently', suggested sharing headteachers to overcome funding struggles.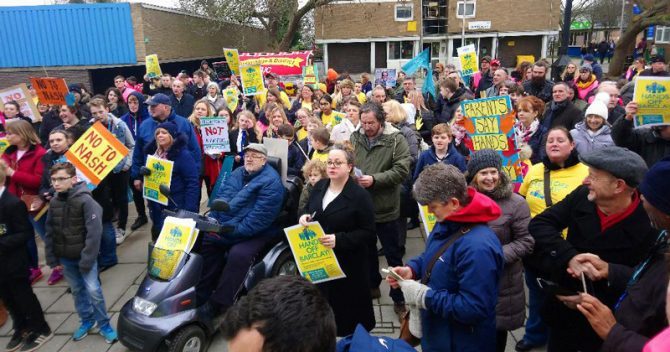 Researchers found rural primaries that "appeared" to have good finances, after further enquiry, were actually struggling to "overcome financial difficulties".
Stephen Adshead, chair of DLAT's new board, said they are undertaking a "full review" of the restructuring plans.
But he added: "We do so acknowledging the fact that our first review of the finances clearly suggests that changes are going to have to be made, and we are not ruling out any options for the future."
He said the restructuring plan came about after "some significant challenges in relation to finances and funding".
Snow had previously said small rural Church of England primaries are facing "unprecedented funding challenges".
But he added the diocese – which founded DLAT – is committed to "keep our small rural schools like Swinford open in the heart of their local communities".
"We hold to our aspiration that this difficult situation can be resolved positively."
South Leicestershire MP Alberto Costa, who has been backing the parents, told the Leicester Mercury: "I have always been clear with DLAT and my constituents, that this process has never been conducted in the appropriate way – for decisions of this magnitude, parents and carers, whose children will be the ones directly affected by these important decisions, must be brought into the conversation, however I am pleased that the new directors have recognised this and have now acted appropriately."