Only three Ofsted inspections into free schools were published in the run up to the election – compared to ten in the same period last year.
Schools Week looked at the number of free school Ofsted inspections published between March 30th and May 7th this year, and the same period last year.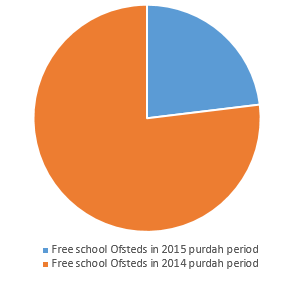 Those are the dates of purdah, which is the period leading up to an election where public bodies must act in a politically neutral manner until a new government is formed.
Ofsted said the publication of operational schools inspection reports is not affected by purdah.
But Schools Week found that while 10 reports into free schools were published last year (when there wasn't a general election), only three were published this year (when there was an election).
The table on the right compares both years.
Of the inspections over the same period last year three were outstanding, three were good and three were requires improvement. One was rated as inadequate.
Here's a table of the free schools inspected last year – courtesy of Free Schools Info.

The three free school inspection reports published after the purdah period so far this year have included one good and two requires improvement.

Free schools are a flagship Conservative policy, and Nicky Morgan re-affirmed this week plans to open another another 500 by 2020.
Also, if you are still hungry for more purdah, here is a cracking blog about it.
This year it resulted in shadow education secretary Tristam Hunt being turned away from an east London school, amid concerns they were breaking the law, and failing schools had to meet "public interest tests" before getting Government help.