Thousands more primary school pupils are being temporarily excluded for attacking teachers and pupils, new figures have revealed today.
Seven thousand more primary school pupils were excluded last year than in 2012/13. The figure for fixed-period exclusion rose from 37,870 to 45,010, government figures show.
The rate also increased from 0.88 to 1.02, which the report described as "considerable".
It adds: "This increase is driven by higher levels of exclusion for assault against an adult, persistent disruptive behaviour and assault against a pupil."
Permanent exclusions in primary schools are also at their highest since 2007/08.
A survey of more than 1,500 teachers last year by the Association of Teachers and Lecturers found more than half of teachers in state schools have faced aggressions from pupils.
And unions have been quick to raise alarm with the new figures. Chris Keates, general secretary of the NASUWT, said the rise is "extremely worrying".
The report also found a third of permanent exclusions were for persistent disruptive behaviour, up nearly two per cent since 2012/13.
Last year Ofsted estimated that up to an hour a day is lost in some schools due to low-level behaviour issues.
This increase is driven by higher levels of exclusion for assault against an adult, persistent disruptive behaviour and assault against a pupil
The government said it has recently appointed behaviour expert Tom Bennett as its "behaviour expert".
He will head a review group to "ensure teachers are fully trained in dealing with disruptive children".
Schools Minister Nick Gibb instead pointed to the overall number of fixed and permanent exclusions falling since 2010.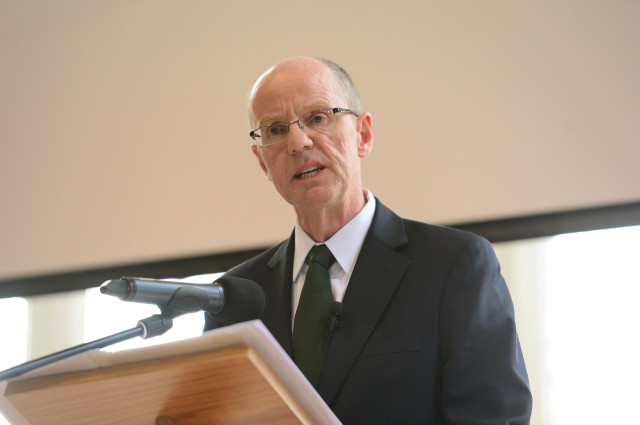 The report found a "general downward trend" in the number and rate of fixed period exclusions since 2006/07.
Mr Gibb said: "The Government is determined to create a school system where every child feels safe and is able to work and study hard without disruption.
?"We have given head teachers more powers to tackle poor behaviour and have ensured they have the confidence to exclude pupils when this is necessary.
"Today's figures show a slight increase in the number of fixed period and permanent exclusions, although overall they are lower than in 2010.
"The new freedoms and greater clarity over exclusions given to head teachers is having a positive impact on behaviour."
But Ms Keates said: "It is simply not good enough for ministers to pay themselves on the back and congratulate themselves on the new freedoms given to schools around exclusion.
"Teachers and other staff are facing the trauma of serious disruption and violence."
The figures show there were 730 permanent exclusions in all schools for physical assaults against pupils. There were 550 for assaults against adults and 410 drug and alcohol related. There were 60 for sexual misconduct.
Figures for fixed period exclusions include 51,240 for assaults against pupils, 18,970 for assaults against adults and 7,660 drug and alcohol related.
The report found pupils with special educational needs (SEN) make up seven out of 10 permanent exclusions.
Pupils with SEN, without statements, have the highest permanent exclusion rate and are around nine times more likely to receive a permanent exclusion than pupils with no SEN, the report found.
The figures:
Why pupils are being permanently excluded: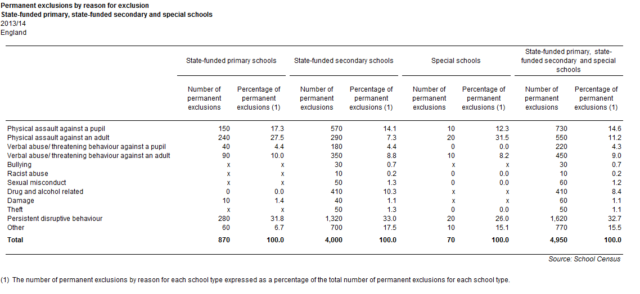 Permanent exclusions over time: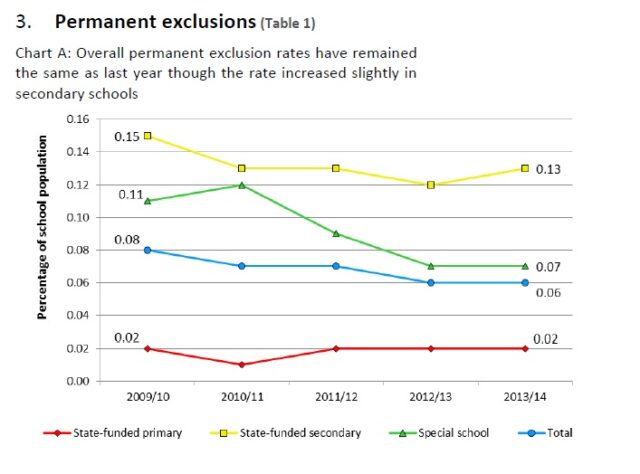 Fixed exclusions over time:
Length of fixed period exclusions: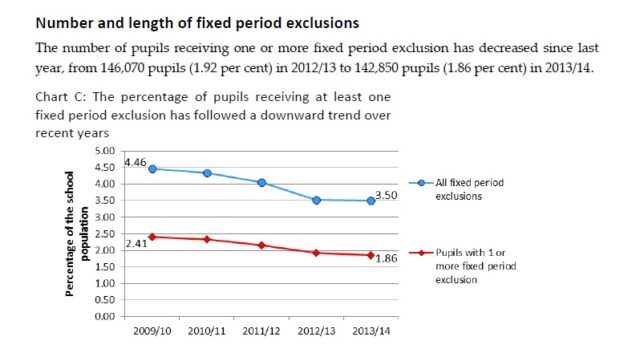 Local authority figures: