Last month the Centre for High Performance – a company created by two academics – received more than 20,000 messages. Unfortunately, most of them were hate mail.
Things looked bad. It was all because a summary document, which was based on a working paper by the two academics and two other colleagues, went viral – rapidly.
From the screenshot that was shared it looked as if the two academics were saying school leaders wanting to successfully turn around academies should "exclude poor quality students" and "improve admissions" (which, as the left-wing children's author Michael Rosen wrote in a blog, sounded a lot like a euphemism for picking the kids who are easiest to teach).
Persistent snarks were shared on Twitter and Facebook as outrage built. Rosen led much of the campaign, harnessing the power of his 86,000 followers. Other campaigners, particularly those in the Anti-Academies Alliance, an online pressure group, called the researchers money-grabbing consultants with the summary document as proof that academies shaft the poorest pupils. At one point, a journalist rang the group's advisory board suggesting the academics were frauds – even asking "are you sure they aren't actors?"
I even received one of those phone calls. Two weeks before the kick-up I had written a Schools Week front-page story about the negative costs of heads behaving in precisely the way the academics were allegedly suggesting. But I also knew the very authors now under-fire were those who had provided the data. I knew they believed the opposite of what was suggested. What they had told me was that target-setting by the government and Ofsted, encouraged practices such as excluding low-attaining pupils so school leaders looked successful. The conclusion of their five-year research was that this came with serious costs. The angry people on the internet had missed this critical point.
After the furore died down I finally met, in-person, the four academics who carried out the original research – Alex Hill, associate professor at Kingston University; Ben Laker, lecturer at Kingston; Richard Cuthbertson, senior research fellow at the University of Oxford; Terry Hill, emeritus fellow at Oxford.
Alex Hill and Laker are keen to put the story straight regarding their website: they didn't mean to offend anyone, they were not promoting exclusions, they are not out to make money. They are simply researchers who want their findings used in the broader world.
"If people won't use the research, we question why we do it," says Terry Hill, a management guru of manufacturing strategy, the eldest of the group, and Alex's dad.
Over the past five years the group collected data from a range of organisations. Laker, as part of his PhD (passed just days before we meet), gathered data on 160 schools that converted to becoming academies in 2010 after being in special measures. Comparing that data led to their conclusions of what people were doing to achieve the stated goals.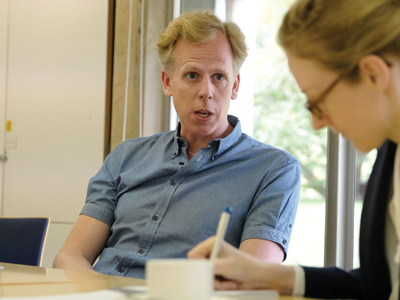 But Alex Hill and Laker are not saying this is what, morally, people should do. They were trying to flag to the government what a target culture pushes people towards.
Targets affect behaviour because they clarify purpose, explains Cuthbertson, whose research usually focuses on retail and consumer service companies at Oxford's Said business school. "Ask any manager, football coach, supermarket leader, and it is clarity of purpose that they use to decide 'I'm in' for an initiative or to say 'this isn't for me'. When targets are set by an outside body that doesn't deliver itself – Ofsted is a classic example – then people may make a trade-off in their decision to achieve functional goals, even if detrimental to overall aims."
Alex interrupts to explain that businesses therefore vary targets based on context: "Research shows different things work in different parts of the country and for different pupils. Could Ofsted have different targets for different schools? Yes. But the DfE says no because they don't want to water down their principles – but it would be better."
"different things work in different parts of the country"
Cuthbertson noted that targets can never be perfect. "Everywhere you have criteria, you may have gaming," he says. Progress measures could be exploited by gaming intake.
Over their years studying different types of organisations the group has learned that expansion comes at a cost. But Alex says that the best school leaders refuse to be pushed into expansion or gaming and instead focus on long-term growth. "They are often fighting off stakeholders who want short-term results. But they have the self-belief to know all will come good in a few years."
We talk for an hour about what can be learned from organisations such as Amazon (end-user focus), supermarkets ("they change targets for their stores depending on the context") or the growing preference for privately schooled individuals to take jobs in the charitable sector, including schools ("this suggests it's where the real power is").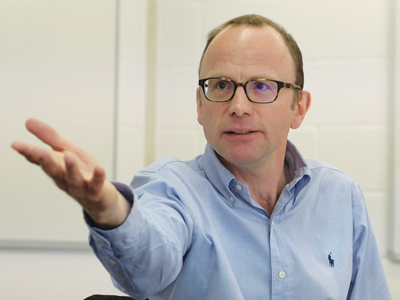 What becomes clear is that, more than anything, they want to warn the schools sector about the dangers of poor management and help it overcome its fear of thinking about schools as organisations that need managing, albeit non-profit ones.
Terry compares education to engineering, the sector he knows best. In the 1960s, a fourth year was added to engineering degrees to give time for learning management skills instead of just "technical" ones, which are what professions prefer to focus on. "Look at the courses now, though, and the fourth year is more engineering," he says wearily.
The fury over the summary document was a reminder that people in schools are not always comfortable with management concepts, with the language of the findings called into question.
Alex admits words can be misinterpreted and is working with an advisory group of heads to avoid such slips-ups in the future. In the meantime Alex and Ben have deleted the offending webpage and an original version of the research has been uploaded to a repository so the findings only exist as an academic document. It was one of the things that prompted people to speculate about their existence, but they say it was done to try and draw a line under the episode.
Though it might be easier for them to turn their back on schools, and focus again on other sectors in which they specialise, Alex is driven by an almost evangelical force to help schools learn the best and worst of management practices.
Only one thing still stands in their way. There is no natural funding stream for research on schools as management organisations. All of which is a shame, as the data they have gathered is some of the most powerful and engaging I've seen in education research – but without funding there's a risk it will sit, unused, on computer servers.
What these four have shown is that managing "performance" isn't unique to schools. It happens across many sectors, and it can be done well or done badly. Whatever the angry people sat at their computers might say, I hope we can learn more about how it is done well.