Awarding someone as close to the corridors of power as Theodore Agnew a knighthood was always going to spark controversy. Here, Freddie Whittaker takes an in-depth look at the man behind the honour and reveals the latest contentions around his many roles.
Sir Theodore Agnew is best known inside the education world as a non-executive director of the Department for Education (DfE) and chair of the Inspiration Trust. Outside it, he is known as a multi-millionaire who pioneered the outsourcing of work overseas, especially to India.
Receiver of a knighthood in the 2015 New Year's Honours, Sir Theodore (pictured, right), who has admitted in interviews that he never passed his 11-plus and that he "doesn't believe in grammar schools", once ran a company that cleaned brothels in Sydney.
Working in business upon his return to the UK in the late 1980s, he claims an identified skills gap in his workforce inspired a renewed interest in education. According to an interview with the Eastern Daily Press, it also developed his interest in outsourcing work to India, where he could employ maths graduates for less than low-skilled workers in the UK.
After funding research into the now-implemented "pupil premium policy" and advising Michael Gove before the 2010 general election, Sir Theodore joined the DfE board when the coalition took office. He also now chairs its Academies Board (see below).
No stranger to controversy, Sir Theodore joined the board of the Future Academies Trust, founded by DfE colleague and Schools Minister Lord Nash, but resigned after Schools Week revealed his position.
In October, he also threatened to make a formal complaint against The Observer after it alleged that Dame Rachel de Souza chief executive of Sir Theodore's school chain, had been given prior warning of an Ofsted inspection.
An initial report into the matter, written by Ofsted's director of quality and training Sir Robin Bosher and released in August, concluded that there was no evidence to substantiate claims that the schools had received an unfair advantage.
Ofsted has since announced a new investigation by an "independent reviewer" following the emergence of what it called "new emails" that were not available during the earlier investigation.
A major Conservative party donor who has given £134,000 to the party since 2006 for campaigning purposes, Sir Theodore has also given substantial donations to schools in his academy trust – including £50,000 a year for five years to fund extracurricular activities in one primary school.
Speaking of this year's honours, a Cabinet Office spokesperson said philanthropy had again been a "theme" among recipients and singled out Sir Theodore as a "generous academy school sponsor".
He was also mooted as a possible replacement to Ofsted chair Baroness Sally Morgan after she was told her contract would not be renewed. She was eventually replaced by former Teenage Cancer Trust chair David Hoare in September.
Clarity sought over Role Played by honours selection committee members
The government has insisted the process that led to Theodore Agnew's nomination for a knighthood was fairly decided despite two close allies sitting on the selection committee.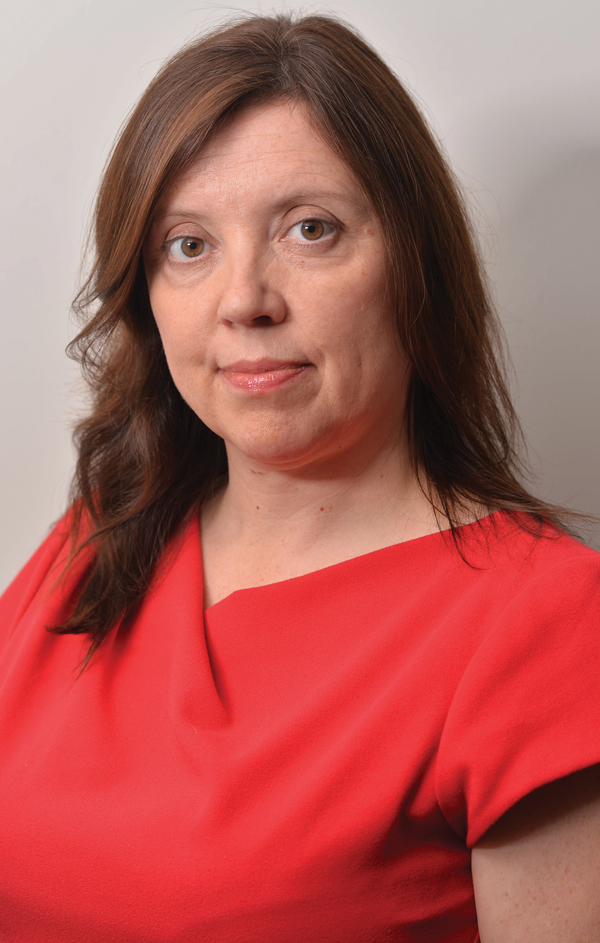 Dame Rachel de Souza, the chief executive of Inspiration Trust, which Mr Agnew chairs, and Chris Wormald, Permanent Secretary to the (DfE), of which Sir Theodore is a non-executive director, are both members of the education committee for the New Year Honours.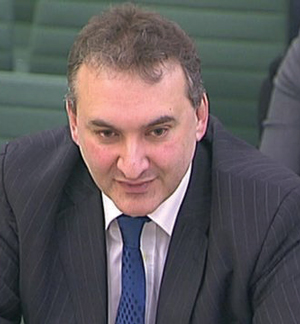 The Cabinet Office, which awards the honours, said that the committee was "independent", and that all nominations were based on merit.
A spokesperson said: "The nomination for Theodore Agnew, like any other, was considered on merit by the relevant independent committee, in this case the education committee."
Inspiration Trust has also issued a statement, telling Schools Week that Dame Rachel was not involved in the decision.
A spokesperson for the trust said: "We are delighted that Theodore Agnew has been knighted for his services to education in Norfolk and at the DfE. It is well deserved.
"Dame Rachel de Souza, who sits on the education honours committee, took no part in any discussions or decision-making regarding Sir Theodore Agnew and was not aware of any decision made about his honour. This is standard practice."
A DfE spokesperson said: "Theodore Agnew has been honoured for his outstanding contribution to educational standards and opportunities for young people, and for his philanthropic activities in the UK and India."
Neither government department would comment on the extent of Mr Wormald's involvement in the selection process.
Agnew's contentious role on the 'academies board'
As a non-executive board member at the DfE, Sir Theodore has chaired the department's Academies Board since it was established. The board, in turn, regulates the Regional School Commissioner who oversees the academy chain that Mr Agnew chairs.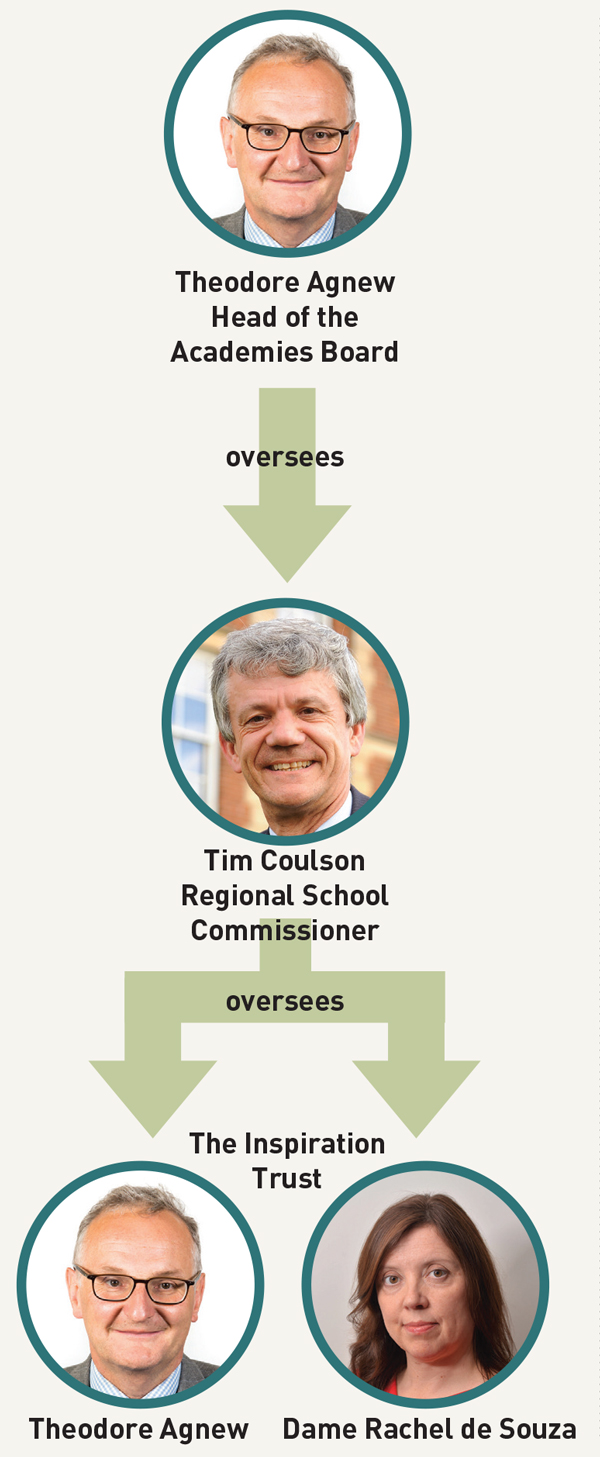 The Academies Board – a sub-committee of the main departmental board – was established to strengthen the department's relationship with academy sponsors.
As chair, Sir Theodore advises Lord Nash, the Academies Minister. He also provides "challenge and support" on the performance of academies and the capacity of chains.
The board oversees the eight regional schools commissioners (RSCs), introduced be the government last September as a layer of accountability for academies.
As reported by Schools Week, RSCs are measured against a number of key performance indicators, including the performance of academies in their area.
In the case of Tim Coulson, the RSC for the east of England, Sir Theodore oversees the body that scrutinises his work, but is also chair of one of the academy chains that Mr Coulson monitors.
The DfE said that in his work with the department, Sir Theodore had no involvement in decisions about the academy trust that he chaired, nor about schools in the areas where the Inspiration Trust's academies are based, or where there could be any perceived conflicts of interest.