This morning the Department for Education (DfE) released the latest pupil projection figures – taking us up to 2024. Here, we breakdown the key points.
1. Primary schools can expect a drop in pressure in four years' time, with the rate of increase in pupil numbers slowing from 2019

2. However, it won't be until 2024 when numbers begin to level out at primary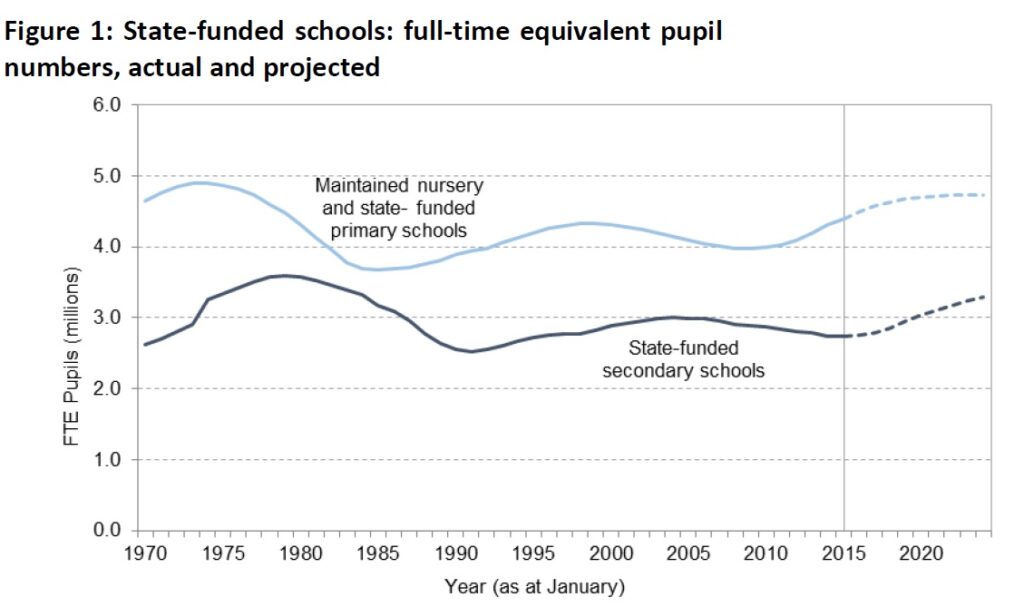 3. Secondary schools are facing a 20 per cent increase in pupil numbers over the next nine years – reaching almost 3.3 million children in secondary schools by 2024.
Secondary school population to increase by 20% by 2024 https://t.co/xbFjX24lBU That's a lot of capital expenditure needed.

— Rachel Gooch (@SchoolDuggery) July 22, 2015
4. But by far, the biggest increase is going to be in special schools – a 31 per cent jump from 2015 to 2024.


5. We also learnt in the same table that secondary schools will face the biggest population increase from 2018 to 2019, with a 3.1 per cent increase between the years (2,861,000 to 2,950,000). This continues into 2020, but starts to slow slightly from 2021.

6. London will see the increase in 11 to 15-year-old population first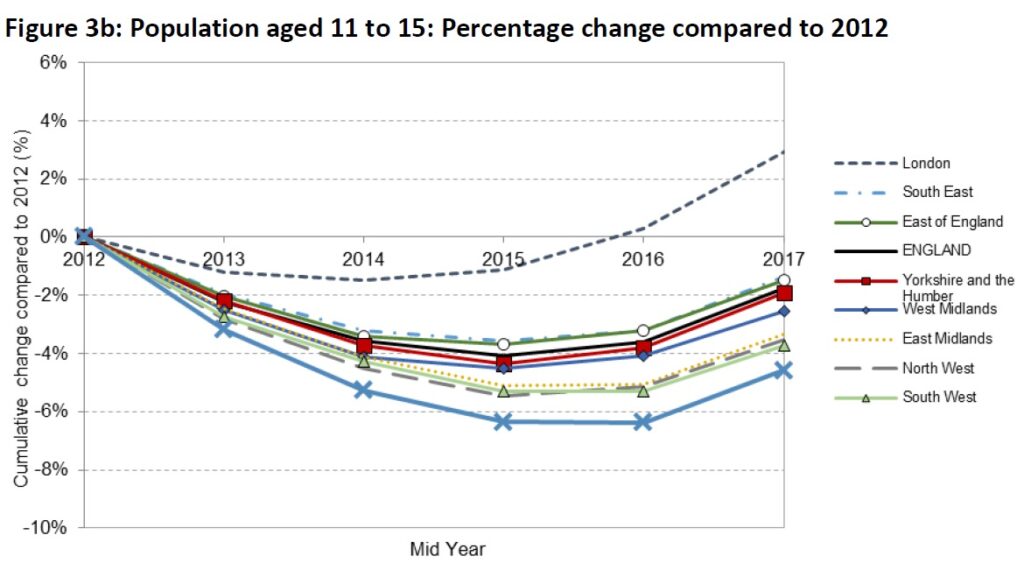 7. And, in response, unions don't think the government has a "coherent plan"
NAHT general secretary Russell Hobby said: "The number of children in education is still rising but the government lacks a coherent plan. Some schools are already stretched to their limits.
"The current system is fragmented and free schools are an inefficient and insufficient way of meeting the numbers. NAHT believes that some local agency should have the strategic role in the planning of places, able to commission new schools and places in both the academy and maintained sectors."
ATL assistant general secretary Nansi Ellis added that this should be a "massive wake-up call" to the government. "It is time for the Government to put down its pride, lay the free school experiment to one side, and come up with a sensible plan for tackling the worsening school place crisis."
8. The DfE says, however, that it will invest £7 billion to create more places by 2021
A DfE spokesperson said: "Despite rising pupil numbers, 95 per cent of parents received an offer at one of their three preferred schools.
"But we recognise that as the population grows the demand for new school places increases. That is why we doubled the funding for school places to £5 billion in the last parliament, which has helped create almost 500,000 new school places. A further £7 billion has already been committed to create even more places over the next six years."