Provisional results of the primary school key stage 2 SATs tests broken down at local authority and regional level have been released by the Department for Education this morning.
Here are the key points from today's new data.
1. London scoops the top results again
London dominates local authority areas in terms of pupils who achieved the expected standard of 100 or above in reading, writing and maths this year: eight of the top 10 regions are in the capital.
The following tables show the local authorities with the highest and lowest scores.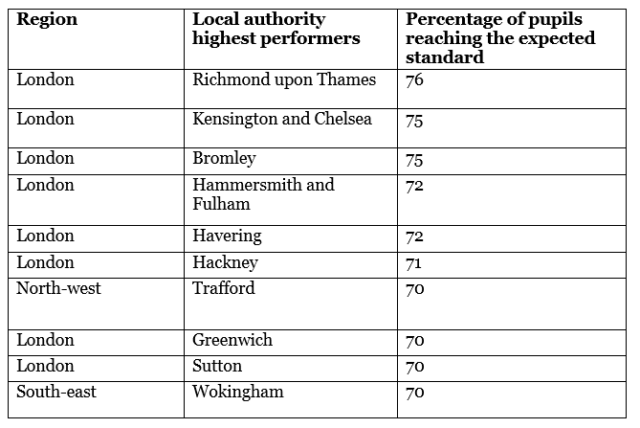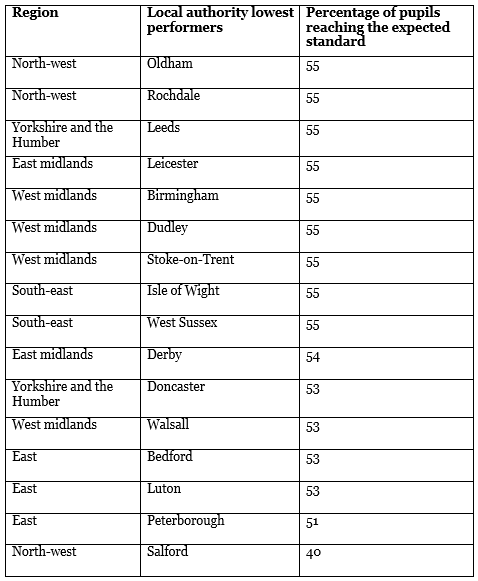 2. Little change to those holding the top spots, but some movement at the bottom 
Kensington and Chelsea and Richmond upon Thames held the top two spots again this year, though they have swapped places – with Richmond scooping first.
Both have seen results increase, with the percentage of pupils achieving the expected standard increasing from 67 to 76 in Richmond upon Thames, and 67 to 75 in Kensington and Chelsea. Bromley held onto third place, but increased its performance from 66 per cent to 75 per cent.
This is in line with an overall national increase: 61 per cent of pupils achieved the expected standard in reading, writing and maths in this year's key stage 2 SATs, up from 53 per cent in 2016.
Gateshead fell out of the top 10, though its performance increased slightly from 61 per cent to 67 per cent. It was replaced by Hammersmith and Fulham, which saw 72 per cent per cent of pupils achieve the government's expected standard this year.
At the lower end, last year's weakest performer, Peterborough, was replaced by Salford, which saw just 40 per cent of pupils achieve the expected standard this year. Salford was not among the weakest-performing local authorities in either 2016 or 2015 – in 2016 it had 54 per cent of pupils achieving the expected standard.
Peterborough and Luton continued to perform poorly in the national context, though they increased their results from 39 per cent to 51 per cent and 43 per cent to 53 per cent respectively.
3. Similar performance at academies and LA-maintained schools

As in 2016, academies and free schools performed similarly to local authority-maintained schools this year, with LA schools again coming out on top by just one per cent for the percentage of pupils reaching the expected standard.
They pipped academies by two percentage points in reading and grammar, punctuation and spelling, and by one percentage point in maths, while writing results were the same.
Converter academies – those rated 'good' or 'outstanding' by Ofsted at the time they converted – had the highest percentage of pupils achieving the expected standard.
4. Girls outperform boys in all areas
In both reading and maths, 75 per cent of girls reached the expected standard, compared with 68 per cent of boys in reading and 74 per cent of boys in maths.
In writing there was an 12 percentage point gap – with 82 per cent of girls reaching the expect standard, compared with 70 per cent of boys. Girls outperformed boys in grammar, punctuation and spelling too, at 81 per cent to 73 per cent.
Boys only managed to beat girls in terms of the proportion reaching the higher standard (110 or above) in maths, with 24 per cent of boys achieving these results compared to 21 per cent of girls.

Schools minister Nick Gibb said today's results show teachers and pupils "have responded well to the new more demanding primary school curriculum".
He added: "Overall, the proportion of pupils reaching the expected standard has improved by eight percentage points, with almost a third of pupils reaching the higher standard in the challenging grammar, punctuation and spelling test.
"Thanks to the government's reforms and the hard work of teachers, pupils are now leaving primary school better prepared for the rigours of secondary school."
To meet the government's "expected" standard, pupils have to achieve 100 in their scaled scores.
Scaled scores are different for each subject, and can change each year.
The marks required for 2017 on each of the key stage 2 SATs tests were:
– Maths: 57 out of 110 (down from 60 in 2016)
– Reading: 26 out of 50 (up from 21 in 2016)
– Grammar, punctuation and spelling: 36 out of 70 (down from 43 in 2016)