The Department for Education (DfE) has come under fire for paying some academy chains more than £500,000 to take over struggling schools – described by a teachers' union as little more than bribery.
New figures suggest the total bill for rebrokering could be as high as £13 million.
The department was ordered by a court to reveal how much it paid new academy sponsors to take over failing schools after a 12-month legal battle ended in favour of transparency campaigners.
The figures – obtained by Janet Downs from campaign group Local Schools Network – show £3 million was paid out between September 2013 and October 2014.
But, while seven academy chains were paid nothing to take over academies, another seven were paid £200,000 or more. The largest amount was £534,300 paid to Fallibroome Academy for its takeover of Winsford Academy, in Chester, in September 2014.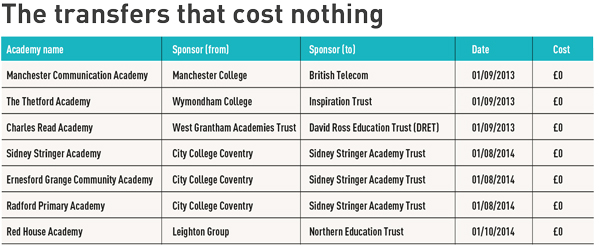 Mary Bousted (pictured below), general secretary of the Association of Teachers and Lecturers, told Schools Week: "These figures show the hidden cost of academisation. I'm not surprised the DfE tried to keep them hidden because they are shocking.
"It really exposes the fact that we have to bribe academy sponsors – which is essentially what these costs are. It shows there is are not a plethora of academy chains wanting to take over struggling schools."
Academy chains have told Schools Week the cash was negotiated to fund school improvement intervention, continuing professional development (CPD) for staff and to cover budget deficits.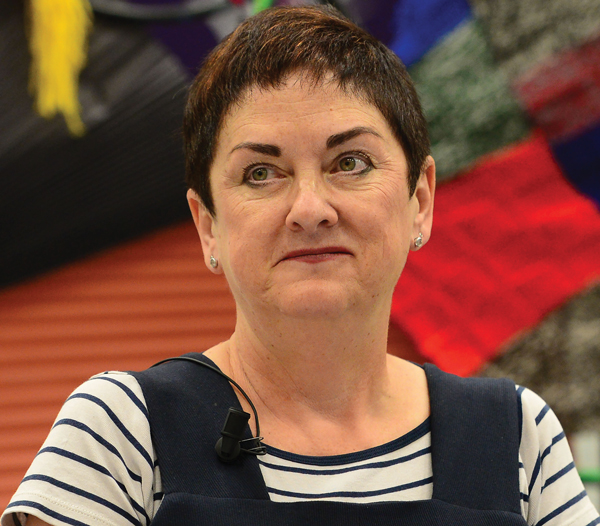 Peter Rubery, executive principle at Fallibroome, said the sum included a one-off capacity grant for new sponsors and funds for restructuring.
Two academies, formally sponsored by millionaire businessman Brian Scowcroft's Richard Rose Federation, were transferred to United Learning for £245,825 per school.
United Learning said the trust provided educational and financial support to the schools, adding: "This is reflected in the rebrokering cost alongside payment towards the deficit we inherited at the academies."
Both schools are now out of special measures.
Another £110,000 was spent to move free school Minerva Academy, in London – which only opened in 2012 and had fewer than 90 pupils on roll – from CET Primary Schools to REAch2 Academy Trust.
The chain said this was used for additional school improvement, CPD and business management support.
The average cost of rebrokering – moving a school from one chain to another – was £131,000 for the 23 academies. If this average was applied to the 104 rebroker transactions – the number ordered by the department up to August last year – it would suggest the total bill is more than £13 million.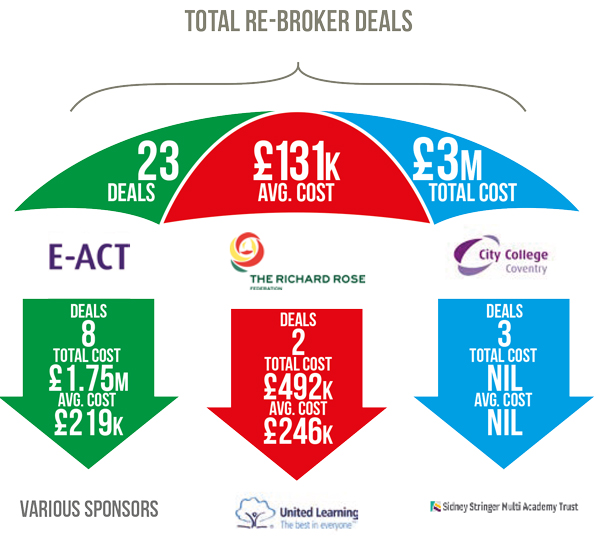 Ms Downs told Schools Week: "It's difficult to understand why some of these transfers cost so much. The DfE said new sponsors were being asked to take on the most struggling schools. But this wasn't the case in the top three most expensive transfers."
She pointed out that The Winsford Academy, Stamford Welland Academy and Dartmouth Academy were all rated by Ofsted as requires improvement, rather than inadequate.
Two of those include schools stripped from the E-ACT academy chain, following concerns raised by Ofsted. The chain had eight schools included in the data release, with rebrokering costs totalling £1.75 million.
A spokesperson for the trust said all academies were transferred in line with the Education Funding Agency's (EFA) technical note.
The DfE originally tried to withhold the data, claiming it would "put off" future sponsors if they learned other trusts had been given more cash. But the appeal judge said this suggested a "bewildering blend of naivety and financial opportunism" on the part of academy sponsors and overturned the DfE's refusal.
When asked about the takeover costs, Dame Rachel de Souza, chief executive of the Inspiration Trust, said: "The most important thing is making sure we get the best possible match between schools and sponsors so that all children get the best education they can."
Thetford Academy, in Norfolk, was transferred from the sponsorship of Wymondham College to Inspiration Trust in September 2013 for no cost.
Another academy chain chief, who did not want to be named, called for transparency and fairness for all trusts. "Particularly those taking hard decisions to balance the books – and I suspect that is in the mind of the EFA too."
A DfE spokesperson said: "We do not tolerate failure and the strength of the academies programme is that it allows us to intervene swiftly, including replacing sponsors where it is in the best interests of the school. We will not apologise for taking decisive action where needed."
What are rebrokering costs?
The costs are cash paid by the DfE to new sponsors as part of the takeover of schools normally judged to be in the "most challenging of circumstances".
They are decided on a case-by-case basis and are not published. However not all takeovers command a rebroker fee – only those where there is evidence that it is required. For instance, where an academy has a deficit funding or needs building maintenance.
The DfE, in its submission to the tribunal judge, said getting the right sponsor to transform education relied on a "delicate negotiation" with potential sponsors, "both to persuade them to take on the school and to agree the support that they will need to make improvements for pupils".