A programme that pairs teenagers at risk of disengaging from school as mentors to young children has been run in Norfolk for the first time.
Launched in February for 18 weeks, a small group of year 9 and 10 students from City Academy Norwich have spent one afternoon a week out of school working with children at nearby West Earlham infant and nursery school.
The Teens and Toddlers scheme combines work experience with classroom training, and aims to teach interpersonal skills to the older pupils while "building their confidence" and their "sense of responsibility".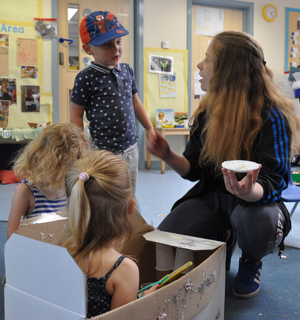 James Daley and Pauline Wiltshire, programme leads at West Earlham, report positive impacts on both sets of pupils.
Wiltshire says: "The aim is for the young people to explore their potential. Supporting the toddlers provides an opportunity to develop their communication skills and to demonstrate their responsibility and commitment.
"These are transferable skills that they can then use with their families, friends, in their relationships with teachers and peers at school, and in the world of work.
"It's gone really well. The young people have been so amazing with the children, they really do empathise with them, and they've come out of themselves and shown their commitment and responsibility."
Abi Gray, a year 10 City Academy Norwich student, says she has reaped the benefits of the programme.
"Even if I am having a bad day, the children cheer me up.
"I feel happy because I've made them happy and come in and made things different for them. I've learned how to be patient. You've got to talk to them in a sensible way, you've got to be nice and calm."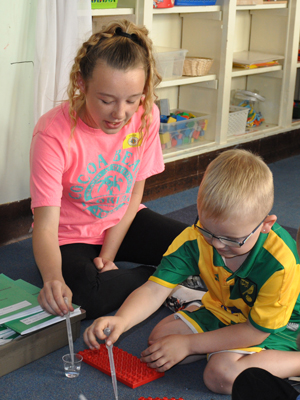 Shania Hoban, a year 9 student, added: "Whatever's going on at school, coming to the infant school takes my mind off everything, it helps me.
"Seeing the children and being able to spend time with them is fun and it's nice when you can see that they like it and they're happy.
"It's making a difference to them. Some of the children find it harder to learn than others and being able to help them is fun."
As part of the Teens to Toddlers programme, the students are working towards an entry level three award in personal and social development.
After they complete the programme at the end of the summer term, they will be invited to an awards event in London to celebrate their achievement.
Main picture: City Academy Norwich student Charlie Marshall working with children at West Earlham infant and nursery school