Three in ten teachers have reported a surge in non-Covid-related persistent absences, with the problem more acute in the most deprived schools.
Polling by Teacher Tapp for the Centre for Social Justice think tank has found that 30 per cent of teachers said they had experienced more persistent absences that weren't to do with illness or shielding than usual in the first five weeks of this academic year, while only 6 per cent said they had experienced fewer.
Truancy is shredding our most vulnerable pupils' prospects at alarming speed
It comes amid growing concern about learning lost during the coronavirus pandemic, and promped a warning from the think tank that truancy is "shredding our most vulnerable pupils' prospects at alarming speed".
Teacher Tapp polled over 6,000 teachers and leaders for the CSJ about issues relating to absence, behaviour and exclusions on October 6 and 13.
The research on October 6 found that rises in truancy were felt more acutely in secondary schools, with 38 per cent of teachers in the secondary phase saying persistent absences were up, compared to just 24 per cent at primary level.
Teachers were also more likely to report a rise in persistent absences in the most deprived schools (37 per cent) than in the most affluent (26 per cent).
There were also large differences between types of school. Between 26 and 28 per cent of teachers in local authority-maintained schools said persistent absences were on the rise, compared with between 35 and 36 per cent of teachers in academies.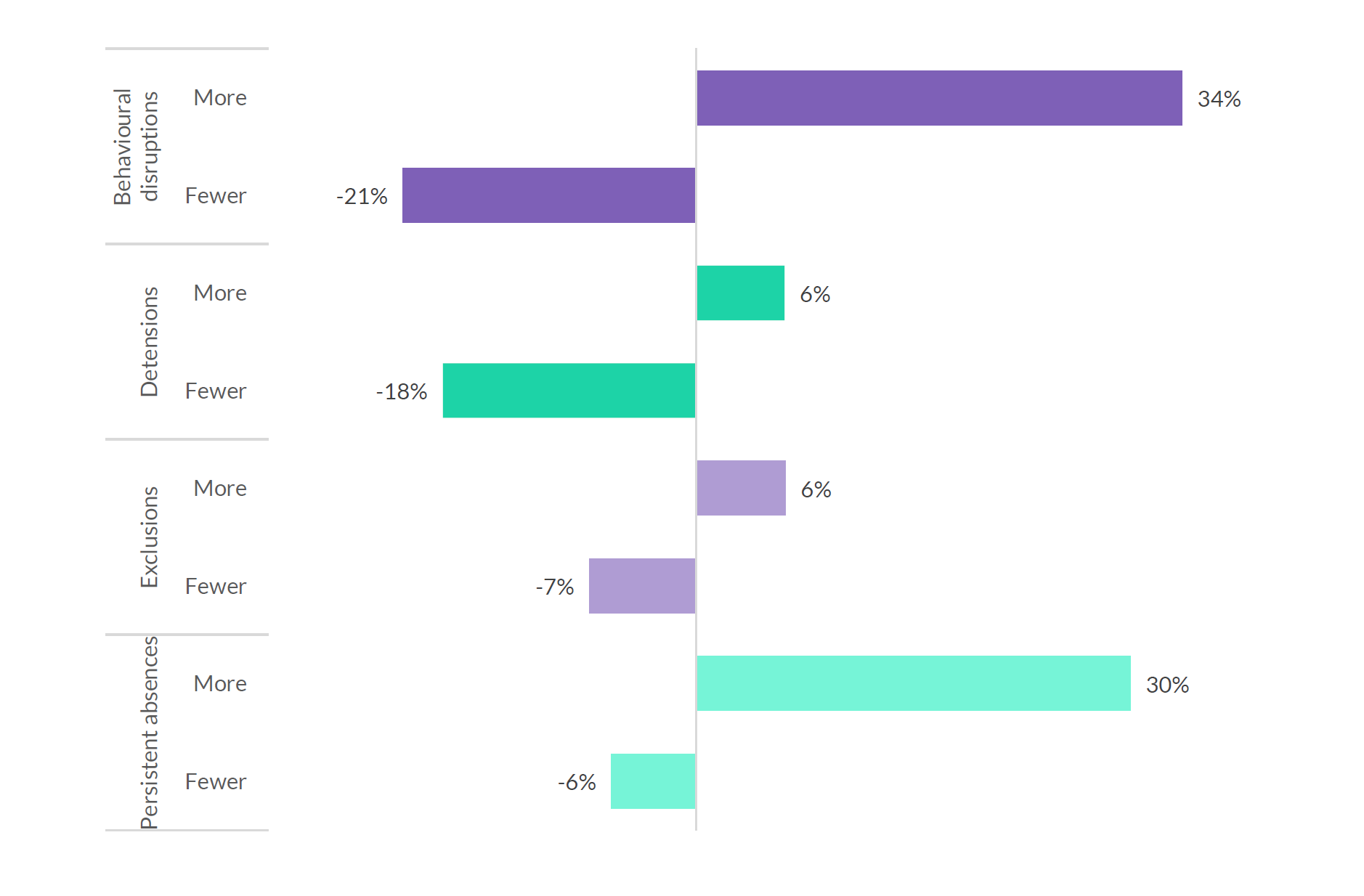 Less-experienced teachers were also more likely to report a rise in absences than their more experienced colleagues, and middle leaders were more likely to say there had been a rise (33 per cent) than classroom teachers (30 per cent) or headteachers (24 per cent).
The most recent government data, from the autumn term of last year, showed persistent absence was already on the rise. During that term, 13 per cent of enrollments were persistently absent, up from just under 11 per cent in the same term in 2019.
The latest Teacher Tapp data has prompted concerns that more vulnerable pupils could be slipping through the net, at a time when Covid-related absences are also harming pupils' life chances.
James Scales, head of education at the CSJ, said: "Truancy is shredding our most vulnerable pupils' prospects at alarming speed.
"If we do not urgently support them back to school, they will lose touch at a time when no pupil can afford to fall further behind. They also run the risk of school exclusion and from here, many face a bleak future."
The polling also found that 34 per cent of teachers said they had experienced more behavioral disruptions than usual this term, while 21 per cent said this had decreased.
However, the pandemic appears to have affected punishment. When asked about detentions on October 13, 28 per cent of secondary teachers said there had been fewer as a result of bubbles not mixing, and 14 per cent said there had been a decrease due to unavailable classrooms.
The results have been published to coincide with the release of the first annual report of the IntegratEd group, a coalition of partner organisations "working to reduce preventable exclusions and improve the quality of education for children excluded from school".
The organisation's partners include the Ambition Institute, Aspire AP, the Centre for Social Justice, The Difference, FFT Education Datalab, the Education Policy Institute, the Fair Education Alliance, the Inspiration Trust, Teach First and Whole Education.
The report found that so far only four of the 30 recommendations made in the landmark Timpson review of exclusions have been implemented, while 10 have had some action taken and 16 have seen no action at all.
Key recommendations that haven't been enacted include the raising of the profile of AP to attract high quality staff, making schools accountable for the results of excluded children, changing the school census so it records the use of off-site AP and investment in improving and expanding AP facilities.
It also follows the launch of an all-party parliamentary group for school exclusion and alternative provision. It is co-chaired by MP Andy Carter and Liberal Democrat education spokesperson Lord Storey.
Other members include former children's minister and exclusions review author Edward Timpson, education committee chair Robert Halfon and former education secretary Baroness Morris.