Sex education will be made compulsory and teachers will be trained to tackle homophobic bullying, shadow education secretary Tristram Hunt said today.
Speaking at Little Ilford School in London this afternoon, Mr Hunt announced Labour's plans to tackle lesbian, gay, bisexual and trans (LGBT) bullying in schools.
The plan, which has the backing of the charity Stonewall, will involve training all teachers to tackle homophobic bullying, making sex and relationships education compulsory in all schools,  promoting mental health services for young people affected by homophobic bullying and establishing a national "best practice toolkit".
Mr Hunt said: "The presence of homophobic bullying in our classrooms, playgrounds and dinner halls is deeply troubling, and it is very real.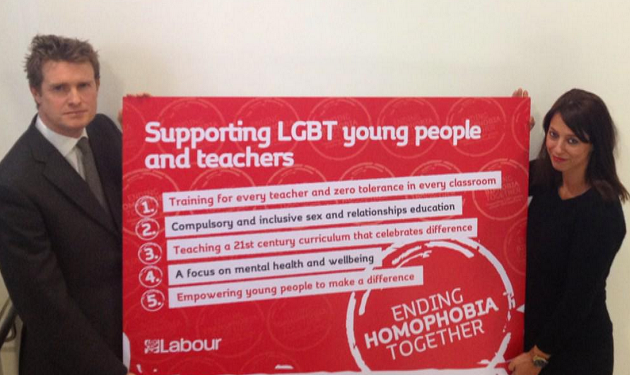 "The use of homophobic language and other forms of homophobic bullying is damaging the life chances of so many young people. It has a daily effect that limits learning, and causes people long term damage.
"There is no place for it in our society – and never should it be ignored in our schools. Schools have a duty to show a zero tolerance approach to the use of homophobic language and bullying."
Mr Hunt says the only way to rid schools of the "shadow of section 28" – the rule which banned schools from "promoting homosexuality" – is by introducing new measures.
He added: "The legacy of section 28 – a most pernicious piece of legislation – casts a shadow over our education system, both for those that are new to the schools workforce and for those who worked in schools whilst it was in operation.
"That is why repealing section 28 alone, is not enough. We need new training for new and long-standing teachers, and others in the school workforce. Strategies for education, dealing with both prevention and resolution. And we need to act urgently to prevent the plight of homophobic bullying that is damaging the lives and life chances of thousands of pupils."
Hannah Kibirige, senior education officer at Stonewall, said: "Homophobic bullying and language are endemic in Britain's schools, with a devastating impact on young people's health, wellbeing and attainment.
"Through our work with more than 12,000 schools across the country, we know that teacher training is vital to tackling the problem. We have seen progress under this and the previous Government, but more still needs to be done.
"We welcome this commitment and will be calling on future governments to ensure that every teacher is equipped to tackle homophobic bullying and that every young person can reach their full potential."
It comes after education secretary Nicky Morgan last year announced a £2m fund for organisations set up to combat homophobic bullying.
Ms Morgan added: "Homophobic bullying can blight young people's lives. It not only affects young people's happiness and achievement at school, but can have severe consequences for their mental health.
"That's why we made a tackling homophobic bullying a priority in the Coalition Agreement and since then we've invested in projects to train more teachers on tackling homophobia in the classroom and set out clear guidance on the importance of tackling all types of bullying, including homophobic bullying.
"We're pleased that teachers are now reporting lower rates of homophobic bullying compared to five years ago and greater confidence in tackling this bullying."
Labour's plan also follows an Ofsted report which last month identified problems with homophobic bullying at a north east Christian school and placed the school into special measures.
Grindon Hall Christian School, which has complained about its inspection, was warned about "discrimination through homophobic language" in its report, dated January 19.