Applications for teacher training have surged as the pandemic fuels interest in the profession, with new figures showing applicant numbers have reached their highest in at least six years.
UCAS data shows a 16.7 per cent annual increase in applicants during the 2020 recruitment cycle for courses in England and Wales.
Experts said the figures highlighted the difficult wider labour market during the pandemic, and called for further investigation after the figures showed white applicants were almost 50% more likely to be accepted onto courses than black applicants.
Here are some of the key findings from the latest statistics on applications and admissions last year amid the Covid crisis.
1.Highest teacher training demand since at least 2014
UCAS received applications from 52,480 people in 2020, an extra 7,510 applicants compared to the 44,970 reported in 2019. It is the latest evidence of the scale of surging interest in teaching since Covid hit.
Last December, separate Department for Education figures also showed a 23 per cent jump in individuals starting initial teacher training courses. It helped the government meet its secondary teacher recruitment target for the first time in eight years.
The total number of applications in 2020 was the highest recorded since at least 2014, with data reported differently in earlier years. However, data for 2014 also included undergraduate applications for Scotland before they were recorded separately from 2015, which may have pushed up the numbers.
"The surge in overall application numbers reflects the substantial uncertainty in the labour market that makes 'recession-proof' teaching a relatively attractive career option," said Jack Worth, school workforce lead at the National Foundation for Educational Research.
2. More applicants secure places
More than two-thirds of applicants last year were accepted onto courses, marking an increase on acceptance rates the previous year.
34,910 applicants had confirmed places in 2020, compared to 28,630 confirmed places the previous year.
67.7 per cent of applicants last year were offered places, including conditional and unconditional offers either accepted or outstanding, an increase on the 65.3 per cent rate for 2019.
3. Ethnic divide in admissions
The figures reveal striking divides in acceptance rates between UK-based applicants from different ethnic backgrounds, however.
White applicants were the most likely to be accepted onto courses, with 71.8 per cent accepted by training providers.
Applicants classed in the "other" category were the least likely at just 47.9 per cent, with no further breakdown or details available. They were closely followed by black applicants at 48 per cent.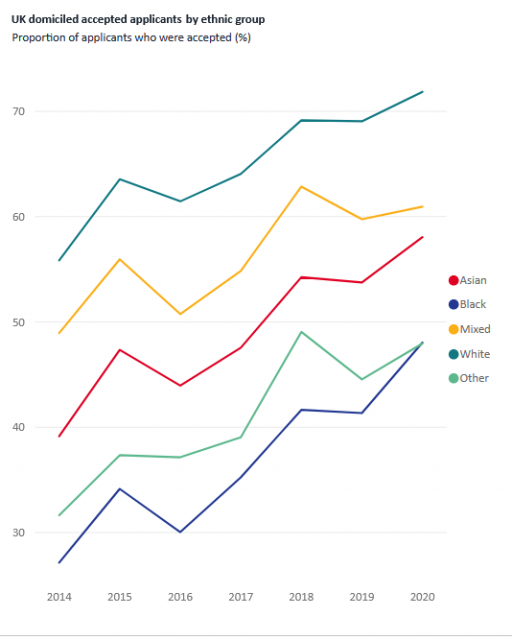 Meanwhile applicants who reported "mixed" heritage had the second highest acceptance rate at 60.9 per cent, followed by those of Asian heritage at 58 per cent, and "unknown" or "prefer not to say" at 56.2 per cent.
"Such large disparities in acceptance rates between applicants from different ethnic background merits further investigation and attention," said Worth.
4. Non-EU applications leap
Training providers received applications from 1,350 individuals from outside the EU, up sharply on the 930 seen the previous year.
The 45 per cent surge on the previous year is a much larger jump than for applications as a whole, suggesting increased global interest in teaching in England and Wales.
Applications are now more than twice the levels seen in 2015, and last year was the third year in a row of increased non-EU applicant numbers. 2019 had also seen a 16.2 per cent jump.
Applications from EU countries saw a smaller increase of 14.3 per cent, after a slight decline in 2019.
5. Regional and national divides in applications
The UCAS data is broken down based on where individuals were living at the time of application, and points to divergent trends across the UK.
Every area saw increased applicant numbers for courses in England and Wales, except Northern Ireland where 680 people applied, 4.4 per cent less than in 2019.
Meanwhile the biggest jump was in applicants from Scotland, up 28.6 per cent to 210.
London saw the second largest rise in applicants, up 19.3 per cent to 9,450 applicants. The capital also had the highest applicant numbers in total.
The UCAS figures are not broken down based on the location of courses within England and Wales, and don't include application numbers for training courses in Scotland or Northern Ireland.
6. Persistent gender divide
The latest figures also underline the persistent gender divide in applicant numbers, though the gap narrowed slightly in 2020.
The number of male applicants was just under half the number of female applicants for a fourth year in a row.
17,060 men applied in the 2020 cycle, up 19.4 per cent from 14,290 the previous year.
It marked a faster rise than the 14.5 per cent seen for women, with a rise in applicants from 30,680 in 2019 to 35,420 last year.
7. Spike among recent graduates
The figures show a particularly large increase in interest in teaching among recent graduates compared to other younger and older applicants.
The highest recorded jumps were among 23 and 24-year-olds, up 16.6 per cent and 17.1 per cent respectively.
By contrast, those aged 21 and under saw only a 9.6 per cent increase, and the 40+ bracket saw a 12 per cent rise.
"With job opportunities compromised elsewhere in the economy, especially for younger people, we'd expect to see interest in teaching increase, and this seems to be borne out by various recent findings," said Timo Hannay, founder of education data service SchoolDash.