Two teachers from York are taking on Band Aid and letting themselves dream of a Christmas No 1.
Robin Parmiter and Ian Wilson, both teachers at Huntington School, will re-form pop duo Disco Mister in an attempt to seal an amazing year.
The two came to prominence when they released their song Bring It Home during the World Cup earlier this year.
The song quickly became a favourite of fans and had the backing of celebrities such as Clare Balding and Jack Whitehall.
It also lasted longer than the England team did in the tournament to become Amazon's most downloaded World Cup 2014 song.
Now the pair want to follow in the footsteps of Slade and Wizzard with their Christmas offering, Everybody Dance (Happy Christmas).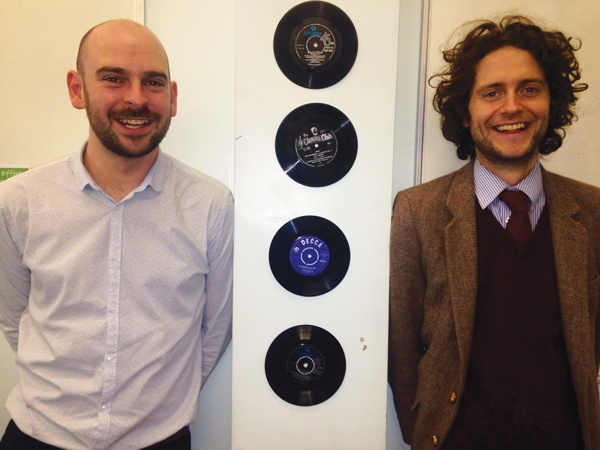 Ian, 28, who is a music technician and also teaches some music at the school, said: "We want people to celebrate and party with us, and what bigger party is there than Christmas time?
"It's a big challenge trying to ignore the clichés and create something new, so we've focused on making a song that gets people dancing and gets them even more excited for the holidays."
His music partner Robin, 33, has been teaching for six years and currently teaches philosophy. "It's reminding everybody of the magic and mystery of the season," he says.
"It's the best time of year when family and friends get together to dance, drink and be merry."
The pair have recorded the video for Everybody Dance with Karl Elwell, who directed their previous videos, and they plan to release it in time for the song to compete for the coveted Christmas No 1 slot.
"We hope the video makes people smile and captures a bit of the mystery of the season." Ian says. "It ends on a question – and we'd love to hear people's answers."
Like Bring It Home, the festive song will raise money for charity, this time helping to build and equip a school in rural western Kenya.
They have teamed up with the York-based Webcertain, which specialises in international campaigns, and joined its charity venture Build a School in Africa.
"We want to raise money that supports education for people who desperately want it, and need it. People may grumble about schools in this country sometimes, but we're so privileged really. This money will help a community fight poverty for themselves." Robin says.
Ian adds: "We hope the song and video brings a bit of Christmas cheer and gets everybody in the mood for this magical time of year."
Huntington headteacher John Tomsett said: "I'm very proud of Disco Mister's creative and charitable Christmas song. Their effort, energy and exuberance add something fun and uplifting to our school culture and the wider teaching profession. I'm always delighted to see members of staff pursue projects that bring them (and others) meaning and joy."
Main pic: Disco Mister duo Ian Wilson (left) and Robin Parmiter (right) record the music video to 'Everybody Dance'