The rate of teachers dropping out of the classroom increased for every single subject between 2015 and last year, new figures show.
The Department for Education has published its latest analysis of data on teacher supply, retention and mobility. The analysis is published twice a year.
Officials analysed the school workforce census data and initial teacher training statistics, and looked at the retention of newly qualified teachers, the numbers of former teachers who are returning to the profession, and which schools are offering Teacher Subject Specialism Training.
Schools Week sums up the main findings.
1. Teacher drop-outs rise in every subject
The rate of teachers leaving the profession increased in every subject between 2015 and 2017, researchers found.
The largest increases were in classics and modern foreign languages, and the smallest were in chemistry and art and design.
Teachers under 35 were more likely to leave the job than those between 35 and 54, for every subject except computing and food.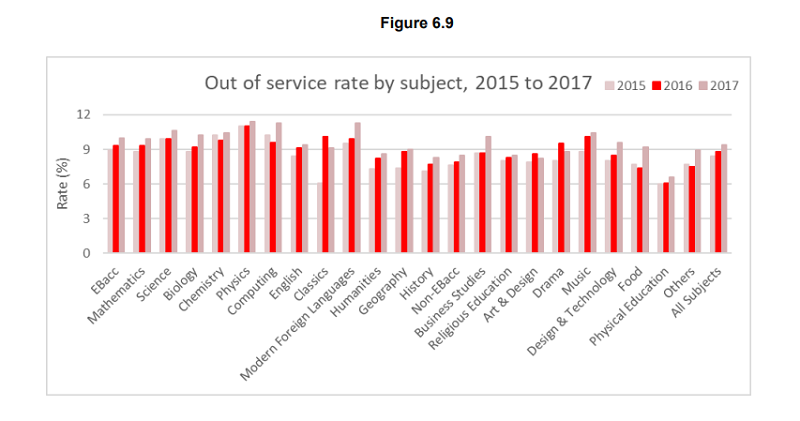 2. Thousands more teachers leaving the classroom than joining …
The number of teachers leaving was at least 3,000 higher than the number entering the job in each year between 2015 and 2017.
More teachers left the profession than entered it in every subject except mathematics and Physics in 2017, and in 2016 this was the case for all subjects except English, physics and history.
Analysis of when teachers leave the profession showed that March, August and December were the most common months to end a contract, with August being the most popular overall.
For teachers returning to the classroom, January, April and September were the most likely months, with the highest peak in April for most recent years.
3. … But more teachers are returning to the job part-time
While the number of trained teachers coming back into the classroom dropped from 21,217 in 2014, to 19,865 2015, the data shows that figures rose again in 2016 to 19,992.
However, only 60 per cent of returning teachers have permanent contracts, compared to around 95 per cent of those who have stayed in the job. The report suggests this trend may be due to "childcare reasons" and a need to come back to work on a more flexible basis.
As well as taking on more temporary employment, returning teachers are less likely to work full-time. Just over 60 per cent of returners enter the workforce on a full-time contract, compared to over 90 percent of newly qualified teachers.
4. Most returning teachers are in EBacc subjects
Most returning teachers hours in the classroom (between 60 and 64 per cent) are spent on EBacc subjects. This is higher than the proportion of teaching hours in EBacc subjects for remaining teachers who haven't left the profession, which is between 54 and 59 per cent.
EBacc subjects include sciences (general science, physics, chemistry and biology), English, mathematics, modern foreign languages, geography and history.
5. More female secondary teachers return to the classroom
Around 80 per cent of returner teachers are women, and most of them come back to teaching after only a few years.
Only 24 per cent of men return to teaching within five years, compared with 31 per cent of women.
6. Fewer teachers are entering D&T and computing
The number of new teachers entering the profession remained stable in most subjects between 2015 and 2017. Design and technology and computing had the greatest drop in new teachers, while most EBacc subjects saw an increase over the three years. Biology and geography were the most popular.
Newly-qualified teachers made up more of the new entrants for EBacc subjects than non-EBacc.
7. Around 350,000 qualified teachers are not teaching
The figure has risen slightly in recent years, but has remained reasonably constant from 2007-8 to 2015-16 (the latest available year of data).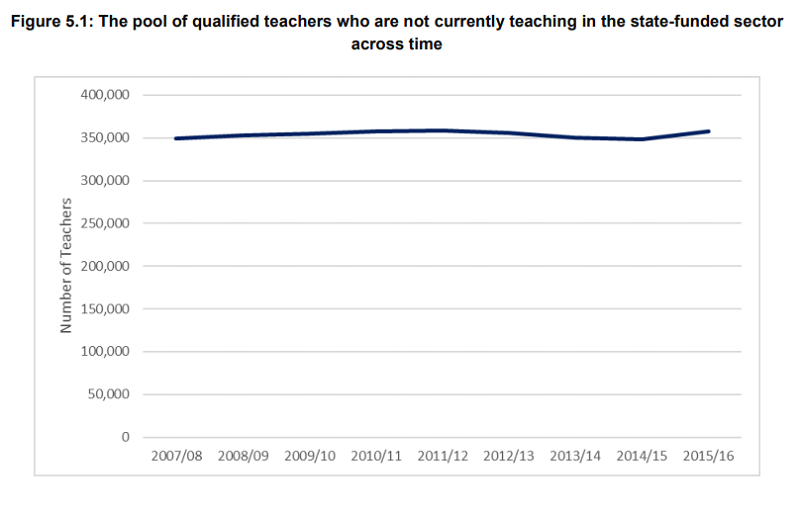 Around 44 per cent or 155,000 of teachers not currently teaching are secondary school teachers, while primary teachers numerb are 125,000. the rest are special school or all-through teachers.
8. More ITT providers offer subject knowledge enhancement – but only online
Subject Knowledge Enhancement (SKE) courses are offered to intitial teacher training (ITT) trainees who need extra training in their chosen subject, for example if they have done a degree that is related but not exactly the same as what they will be teaching.
While the majority of univerisities have been offering SKE courses for trainee teachers for some time, they are now becoming  more common in school-centred initial teacher training (SCITT) too. Just under 200 ITT providers used SKE courses in 2017-18, and around 130 of these were SCITTs.
SKE courses are mostly being offered online now. In 2014-15, 43 per cent were delivered online, but this had risen to 70 per cent in 2017-18, while the proportion of face-to-face courses has decreased.
9. Teachers are brushing up on Spanish and maths
Teacher Subject Specialism Training (TSST) is given to boost the subject knowledge of non-specialist teachers and teachers looking to return to the profession. It aims to increase the number of hours taught in secondary maths, physics and modern foreign languages (MFL) in particular.
In 2016/17, 605 participants were recruited to TSST courses in MFL and 2,899 in science, technology, engineering and maths (STEM). Of these, 592 and 2,838 completed the courses respectively.
In MFL, Spanish had the highest number of participants (281), followed by French (262) and then German (60).
Most STEM applicants took maths at secondary level (1,602), followed by physics (678) and then cross-phase Maths (619), which is often taken by teachers looking to convert from primary to secondary school.