Poorer pupils lag behind their wealthier peers in all English Baccalaureate (EBacc) subjects, new research released on the eve of GCSE results day shows.
The new study, by teacher trainer charity Teach First, found that in every EBacc subject, pupils going to school in disadvantaged areas were much less likely to pass compared to their wealthier peers.
Thirty eight per cent of pupils attending schools in disadvantaged areas did not achieve a grade 4 (which the government defines as a 'standard pass') maths GCSE , compared to 20 per cent of those receiving an education in the richest postcodes.
Meanwhile, only 11 per cent of disadvantaged pupils got the top three grades (7-9), compared to 22 per cent of advantaged children.
Russell Hobby, chief executive of Teach First, said: "A child's postcode should never determine how well they do at school, yet today we've found huge disparities based on just that. Low attainment at GCSE is a real cause for concern, as it can shut doors to future success and holds young people back from meeting their aspirations."
Last month it was revealed that the education disadvantage gap had stopped narrowing for the first time since 2011, with children from poorer backgrounds finishing a year and a half behind their peers by the end of GCSEs.
The new analysis shows that 15 per cent of the poorest pupils failed to achieve a standard pass. This worked out as three times as many as their wealthier peers who fail to pass biology (five per cent) and more than double those who didn't pass physics (six per cent) and chemistry (seven per cent).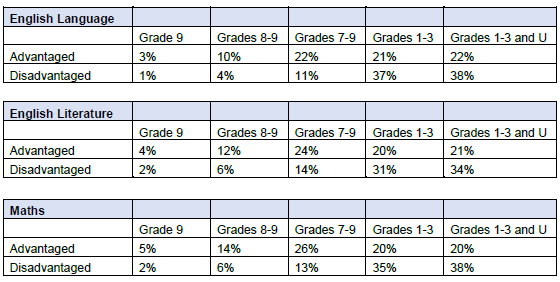 Using key stage 4 results data for 2018, Teach First analysed how pupils from communities with the highest proportion of poverty performed in EBacc subjects compared to those attending schools in the richest postcodes.
Schools in Birmingham, Middlesborough and Enfield were among those with some of the most disadvantaged intakes, with their counterparts being in areas such as Surrey, Warwickshire and Stratford-upon-Avon.
In maths, 13 per cent of poorer pupils achieved grades 7 to 9, compared to 26 per cent of wealthier ones.
In geography, 50 per cent of disadvantaged children failed to get a level 4, compared to 27 per cent of the richest pupils.
Hobby urged prime minister Boris Johnson to give more money to schools serving poorer communities, as well as boosting teacher starting salaries to encourage more people to enter the sector.
Paul Whiteman, general secretary of the National Association of Head Teachers (NAHT), added young people from disadvantaged backgrounds will "always face an uphill battle" unless there is an immediate multi-billion-pound emergency investment in education and additional services that schools and families rely on, such as health, social care and police.
The Department for Education said the government's £2.4 billion pupil premium is helping disadvantaged children, but acknowledged that more needed to be done.
A spokesperson said: "The prime minister has committed to increasing school funding so we can level up all parts of the UK and close the opportunity gap.
"We will continue to drive up school standards right across the country, and do more to continue to attract and retain talented individuals in our classrooms as well as giving teachers the powers they need to deal with bad behaviour and bullying."