Teacher supply agencies are making millions of pounds while sending schools unqualified and inexperienced staff, a special Schools Week investigation has found. Jessica Hill reports…
The recruitment crisis and soaring sickness have led to big profits for teacher supply companies, with an analysis of annual accounts showing the country's seven largest agencies recording £68.4 million in gross profit.
But the recruitment squeeze has led to a scramble for staff, with hundreds of agency adverts for unqualified teachers to run classrooms, and a spike in demand for cover supervisors, who have less experience.
While some supply staff report earning as little as £50 a day, one company claims an agency recruiter could earn more than £100,000 a year with paid-for holidays abroad. Previous all-staff trips included to Ibiza and Mallorca.
Schools Week reveals how the recruitment crisis-driven rise in supply cover has led to a "deregulation" of the profession's graduate status by the back door…
Share of supply staff spirals
The government has failed to hit its secondary teacher target for nine of the past ten years, with estimates suggesting just half of the required teachers will be recruited for September.
Meanwhile, 3.2 million teaching days were missed because of sickness last year, up 56 per cent on the around 2 million pre-Covid and more teachers are quitting the profession – leaving schools struggling to staff their classrooms.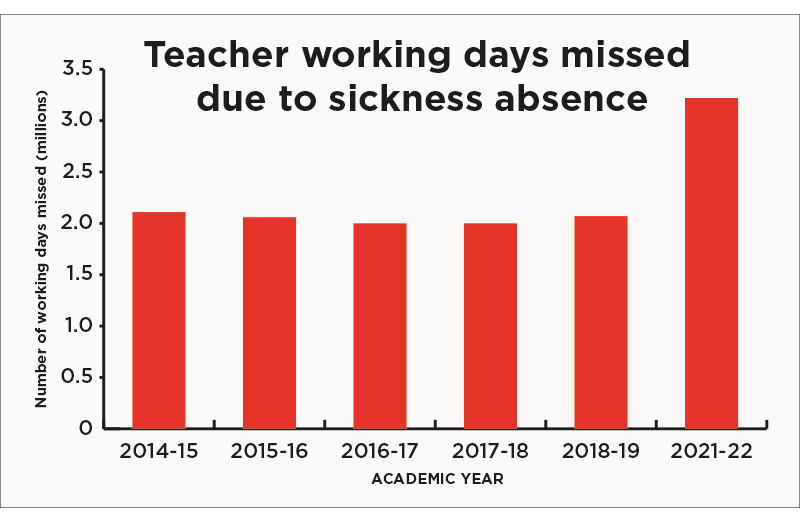 A TeacherTapp and SchoolDash report this week found half of primary teachers reported at least one class in their school was being taught by a temporary agency or non-qualified teacher. In secondaries, 22 percent of teachers said their department lacked suitably qualified teachers, up from 20 per cent in 2019.
DfE workforce data this week shows the number of temporarily-filled posts increased to 3,308 as of November (five per cent of all roles), compared to 2,247 the year before (three per cent).
But with fewer teacher recruits, where are all the supply staff coming from?
Schools take on 'cover supervisors'
A search on Jobs site Indeed for supply teachers in England last month brought up 9,447 ads. Worryingly, more than 1,000 specifically mentioned "unqualified school teacher".
While academies are allowed to employ unqualified teachers, maintained schools are not.
But many are, often taking them on as "cover supervisors", but then expecting them to teach.
Cover supervisors often have no teaching qualifications apart from a one-day agency training course, or teaching assistant credentials.
SchoolDash analysis of job advert boards from 5,238 secondary schools and sixth-form colleges in 2021-22 showed a 102 per cent increase in cover supervisor mentions since 2018-19.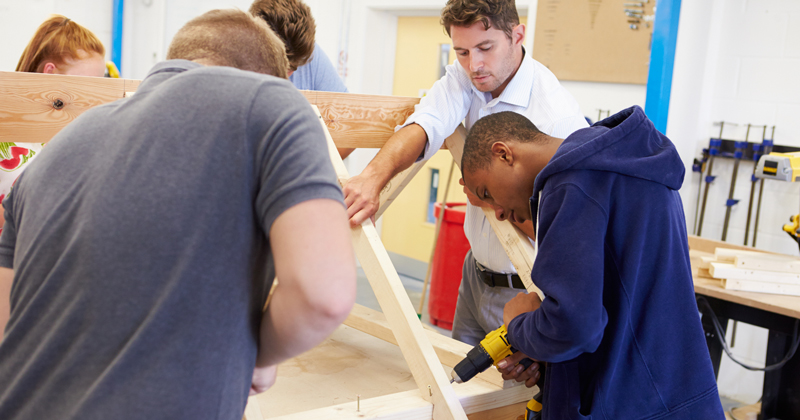 One head of a maintained school, who employed an unqualified teacher on a cover supervisor rate for months to teach design and technology, said deregulation was happening "by the back door out of necessity".
Marios Georgiou, who founded the agency Step Teachers in 2000, believes demand for cover supervisors initially came from schools in a bid to save money.
Their pay is typically between half and a third of a supply teacher, he said. But "more and more, it's because there aren't the teachers to send".
"It's scary. I don't think parents are aware how many of their children's lessons are covered by someone who just sits there."
The situation is having an impact on pupils' education, and is making some children less inclined to want to attend school.
Tia Carr, 16, left her secondary school last year for Leeds City College's 14-16 provision, after feeling disillusioned at being taught by a string of supply teachers.
"I remember every lesson I had was a substitute teacher who wasn't trained in any subjects," she recalled. "So we'd sit there and do nothing…and they'd pile us with homework to do at home because they didn't want to teach us in lessons.
"In my last year I did no work because teachers couldn't be bothered…there were fights every single day, which made me feel unsafe."
Agencies hunt for unqualified teachers
Three-quarters of supply teachers worked through agencies in 2021, rising to 89 per cent last year, survey data from the NASUWT union shows.
Despite marketing themselves to schools as providers of trained teachers, Schools Week found some supply agencies are actively seeking out unqualified teachers.
A LinkedIn advert from Prospero Teaching specified it was looking for an "unqualified supply teacher" for secondary schools in Camden, north London. "No previous experience" was required.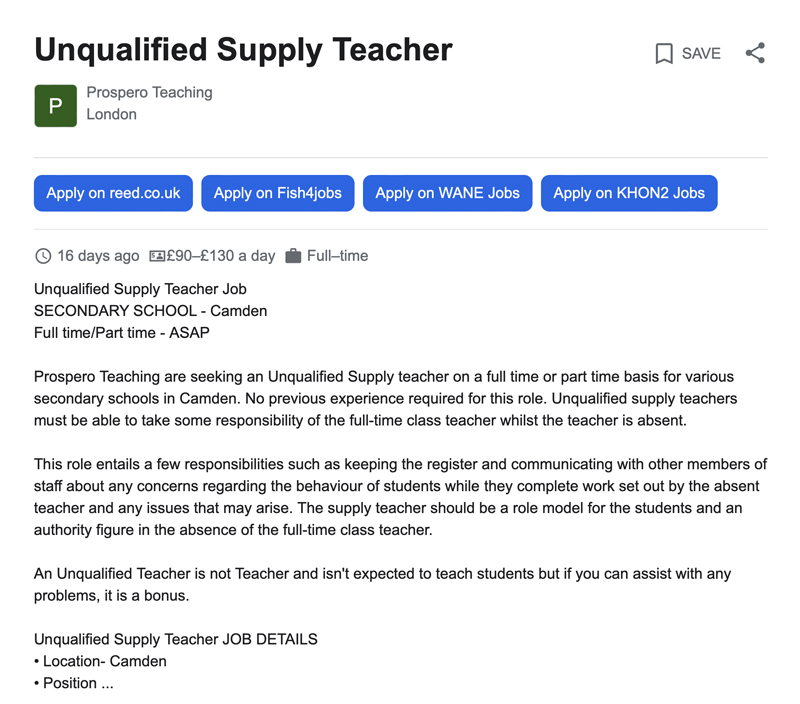 The agency, which has been working in education for more than 20 years, markets itself as having "an extensive network of registered and qualified candidates" and "the ability to provide any number of qualified staff".
Agency TeacherActive states online "all teachers must have QTS" [qualified teacher status]. But a recent advert for a primary teacher in Birmingham says that while that was "desirable", it would "consider unqualified teachers". It did not respond to a request for comment.
Agency says advert was 'misleading'
Protocol Education has also advertised for "enthusiastic unqualified teachers" for schools in Kent.
Protocol told Schools Week the staff it provides are based on the requirements of schools it works with.
Meanwhile Prospero said it had "identified which consultant was responsible for this advert and they have apologised for constructing a misleading advert, which wasn't their intention".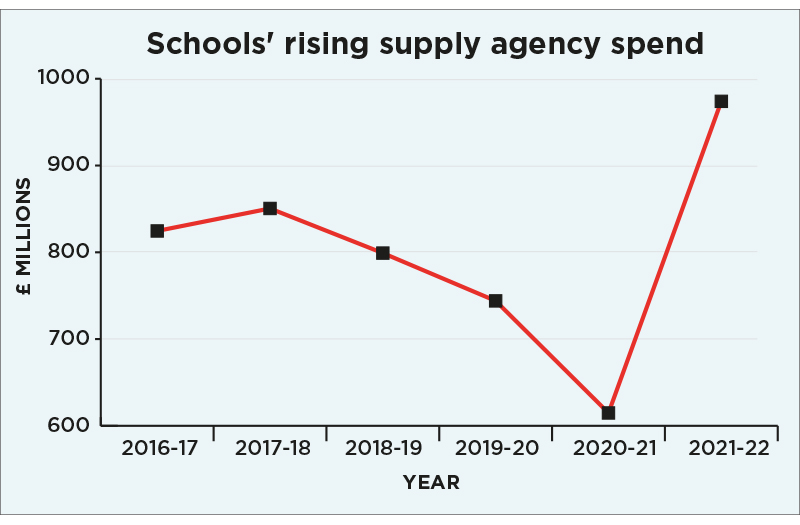 However, the advert remained live after our enquiry.
The government set up a national pool of "trusted" supply teacher agencies in 2018, to ensure schools have "protections in place … including guarantees [the agencies] will have adequate qualifications and have undergone the right level of background checks".
But we found at least 15 of the 113 "approved" agencies on the list are actively recruiting unqualified teachers.
'I sent away two 18-year-olds'
Jamie Barry, the head of Yew Tree Primary School in Walsall, said supply teachers from agencies now "don't have strength in their teaching ability or planning you'd expect teachers to have.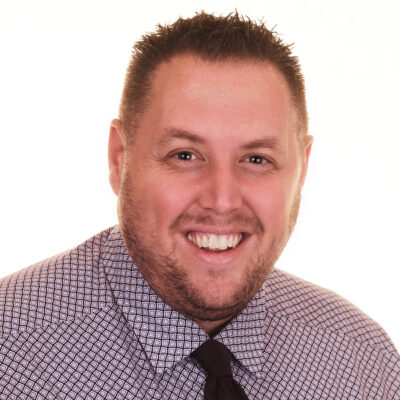 "We've taken them because sometimes you just have to take who's available."
Glyn Potts, the head of Newman RC College in Oldham, said he "sent away" two 18-year-olds an agency recently sent to his school.
"They're just chaperones with a DBS who are normally very young."
But one trust chief executive told Schools Week they would "take anyone at the moment because we just need adults in the classroom".
Teacher vacancy rates nearly doubled in the academic year up to February compared with pre-Covid, NFER research found.
Tanya Ovenden-Hope, an education professor at Plymouth Marjon University, describes the rise of untrained teachers as "one of the [sector's] biggest problems… [that] denigrates the status of teaching".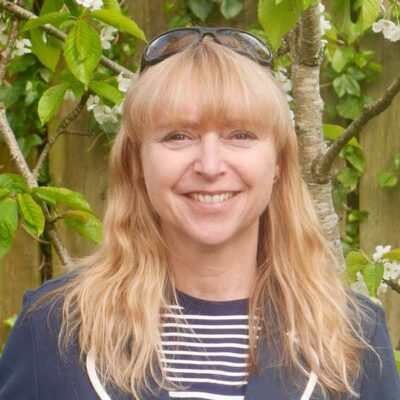 "If you bother to get your QTS and you're working alongside people that haven't, but you're getting paid the same amount of money, where's your motivation?"
However, Neil Carberry, chief executive of the Recruitment & Employment Confederation (REC), says agencies "would say that the drive for unqualified teachers is coming from schools".
"Schools are asking for people to fill slots, and we know there aren't enough teachers out there. So they're saying, look, what can we do with for instance a TA with some experience?"
'Schools looking for teachers without experience'
Schools Week tested out agencies' willingness to take on unqualified candidates by purporting to be such a jobseeker.
A recruiter from Hays Specialist Recruitment said a "lot of secondary schools are actually just looking for teachers who have not got teaching experience, so you would not necessarily have to have a teaching qualification".
"As long as they've got teaching experience, they're happy to employ them."
When asked whether this was for a cover supervisor or teacher, we were told "as a teacher".
A job advert from agency GSL Education said it was "looking for an unqualified music teacher" for an academy in Southend-on-Sea, Essex.
After calling the company, we were told there were "more schools [in that area] that could also have some [positions] available" as an unqualified teacher.
GSL did not respond to a request for comment.
A Hays spokesperson said a "speculative conversation about possible opportunities does not determine registration with Hays … which follows strict protocol with an education consultant".
Prospective candidates would be required to attend an interview where their "depth of experience, background, skills, and qualification would all be discussed, and appropriate references sought".
Profits soar after Covid lull
New analysis of government data suggests schools spent £974 million on supply teachers from agencies in 2021-22, up 18 per cent on the £825 million in 2016-17.
According to the NEU Supply Teachers Network, 365 supply agencies are operating in the sector this year.
Of the top 10, based on the NEU member survey, seven operated solely in education. Those seven alone increased their yearly turnover by an average of 28 per cent and posted £68.4 million in gross profit, our analysis of their most recent annual accounts covering year ends in 2021 or 2022 shows.
Supply Desk, which posted £3.7 million profit for the year up to December 2021, said "demand for short-term sickness cover and…catch-up learning supported the post-closure recovery of trading volumes".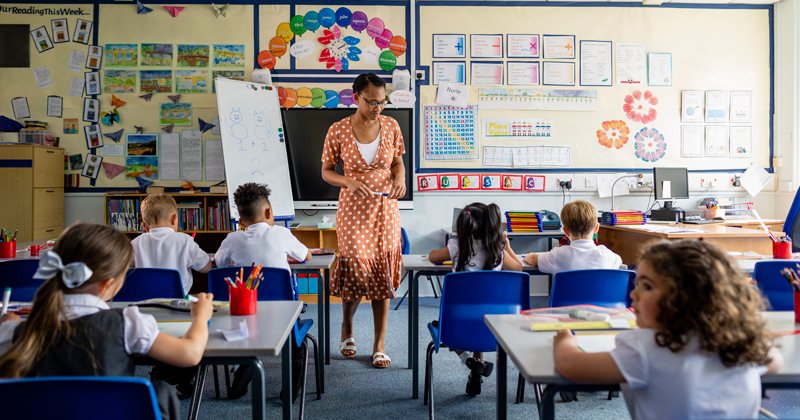 Tradewind Recruitment, which posted £11.3 million profit in the year ending August 2021, said it was also "expecting to report strong growth next year".
Teaching Personnel, part of the Hood Topco Group, posted the biggest gross profit of education-specific agencies that year (£21.9 million), with its turnover up 26 per cent on the previous year to £108.8 million.
Prospero Group, which also recruits for health and social care, posted a £18.8 million profit in the year to 2022, up 207 per cent on the previous year.
Gross profits at TeacherActive rose 62 per cent from £6.8 million in 2020 to £11 million in 2021. A loss of £2.6 million at Protocol Education for the year ending November 2020 rose to a £6 million profit in the year ending November 2021.
Commission and paid-for holidays
The profit boom means recruiters can be paid handsomely.
Smile Education is offering a new regional recruitment consultant "uncapped commission", with "top billers earning £100k+".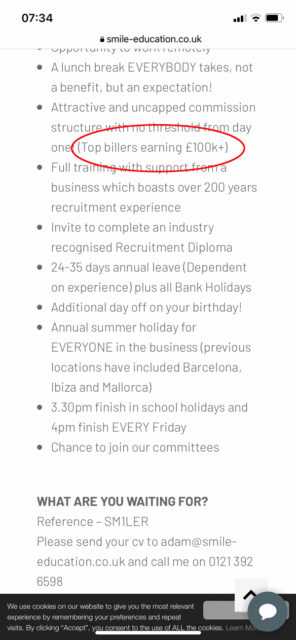 Employees also have a paid-for holiday abroad together once a year, the advert stated.
Private agencies have taken over market share from local authority supply pools. The NEU's supply teachers survey found only 2 per cent secured work from council pools in 2021, down from 11 per cent in 2010.
"We could put [supply] back into local authorities' hands," says Carberry, "but the local authority wasn't getting up at 6.30am to find someone to fill your vacancy for a teacher who's been up all night vomiting. The agency [worker] absolutely is."
His members are reporting more "good, experienced teachers coming out of schools to work for agencies" because "employment relations in schools have got worse … not through the fault of heads. But because we've underfunded our schools."
Daniel Dawkins, a director of Aspire People agency, says teachers are "leaving in droves to come to agencies" because of "there is a lot of pressure on them in schools".
An ad by Engage Education for a primary cover teacher in Bradford says the teacher can make a "positive impact" while "avoiding the responsibilities of being a full-time class teacher".
"If it gets tough, they can move on," Dawkins says.
Almost all agencies also offer "refer a friend" bonuses of between £75 and £500 for introductions to teachers.
But Carberry says no one changes jobs because of a refer a friend fee – "the teacher who made that decision was already thinking about it".
Poor schools lose out in supply 'dating game'
Daniella Kemp, an experienced supply agency teacher in London, compares agencies to a "dating agent" matching candidates with the right schools.
But, as in the dating game, that leaves some schools more attractive than others.
A TeacherTapp survey found 79 per cent of teachers knew of problems their school had getting supply staff since September. But this rose to 89 per cent in schools with lower Ofsted ratings.
And while 78 per cent of teachers in the most affluent schools reported problems, it was 85 per cent for those in the most deprived areas.
"Every candidate has a list of schools they won't go to," says Dawkins, with placements in deprived areas "more difficult" to fill.
Potts, whose school is in Greater Manchester's most deprived borough, estimates that 90 per cent of his emergency teaching cover is unqualified teachers.
Supply teacher rates as little as £50 a day
But as agencies rake in millions, how much are they paying their supply staff?
Supply teachers employed directly by a maintained school or by a council's supply pool must be paid 1/195th of the annual pay rate they would receive if directly employed.
However, there is no mandated rate for temporary agency supply, meaning their rates are normally lower and vary wildly.
While the government's 2022 school workforce report found the average teacher salary was £42,358 – equivalent to £217 a day – a NASUWT supply teachers survey found 1 per cent were paid less than £50 a day.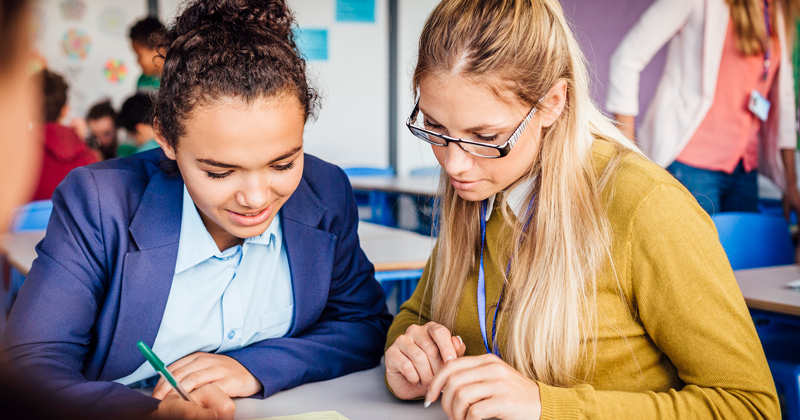 The survey from last year found about 25 per cent of respondents were paid between £51-£119 a day and 50 per cent between £120-£149 a day.
Schools pay between £40 and £60 on top to agencies, according to Oliver Parsons, who runs the digital supply booking platform Teacher Booker.
Schools Week was unable to obtain rate cards for agencies. But the Mowbray Education Trust says the average rate it is charged by agencies for a teacher in primaries is £215, and between £220 and £260 (both plus VAT) in secondaries, although it is charged £299.98 for one teacher it uses regularly.
One secondary recently paid an agency £305 for an experienced RE teacher, which the head describes as "outrageous – but what choice do we have".
'Something wrong with the current model'
Parsons says rates are "at the agency's discretion and have little to no bearing on a teacher's actual experience".
"There is clearly something wrong with the current agency model that is keeping teacher wages low in order to maintain margins and competitive pricing."
Stuart Irving, chief negotiator for the National Supply Teachers Network, claims it has been a "race to the bottom on standards" since council supply pools have all but disappeared.
"Because the market is not regulated, everybody is just chasing price. A lot of schools are no longer checking the quality of the teachers they are getting."
However, Dawkins says agencies pay "the same and sometimes better" than teachers get working directly for schools "because it's a competitive market".
According to Agency Worker Regulations 2010, after 12 weeks agencies have to start paying candidates the same as they would get if employed directly for the school.
But Niall Bradley, the NEU Supply Teachers Network's chair, claims some try hard to get out of it, sometimes wrongly telling candidates they are ineligible because they "don't have a form tutor group or don't do planning" or moving them on to other schools.
In the last four years, the NEU has claimed £250,000 in backpay for its members over the issue – £94,000 of which has been since the start of this academic year. Every claim put in has been paid out.
Some agencies also charge schools a fee when they take candidates on permanently, usually set as a percentage of their salary.
The NASUWT says this can be in excess of £10,000, which "denies supply teachers access to permanent work" and can be "extortionate and inappropriate".
Shifting market
But technology is providing schools with new ways to avoid high fees.
Gross profits at Zen Educate, which provides an app for schools and teachers to connect with "no teaching agencies necessary", rose from £1.3 million to £3.3 million last year. The company also raised £11.2 million from investors.
My New Term, an applicant tracking system and advertising service that schools can subscribe to without finders' fees, is now used by 130 trusts, compared with 15 three years ago.
The Academies Enterprise Trust expects its agency spend will be £180,000 this year, down from £1 million in 2021-22. The trust set its 57 schools the task of eliminating any agency spend, which one school has all but done by combining classes.
Meanwhile, Potts is trying to curb his reliance on agency cover by appointing and training up two graduates with "aspirations of becoming teachers, who alarmingly couldn't get on a local ITT course".
"We can't get teachers by recruitment, we can't get cover teachers of any worth. So we're trying to find better avenues. That's something a lot of schools are now doing."