A new farm-based project that aims to teach life skills to students who are "on the brink of exclusion" has been launched in north Shropshire.
Fordhall Farm has joined the Plunkett Foundation, Shropshire Wildlife Trust and the Field Studies Council to create Growing Confidence, a campaign to encourage pupils aged between 13 and 16 in disadvantaged areas to become "practically involved" in landscape management.
A spokesperson for the campaign says students get involved with all aspects of work on the farm, including conservation and green wood working.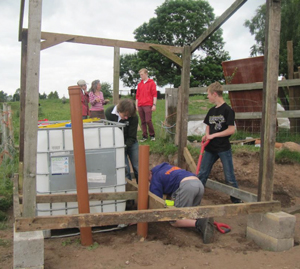 They are also taught to cook their own lunches – in the kitchen, on a campfire or in the clay wood-fired pizza oven – using produce from the farm.
Tom McAleavy, a teacher at Thomas Adams school in Shropshire, which was involved in a pilot of the project, says he would "strongly endorse" other schools to work with Fordhall.
"The project has allowed constructive mentoring to build self-esteem, and provide employment pathways."
The campaign has been given almost £1 million of funding over five years from the Big Lottery Fund's Our Bright Future.