A student that turned down a sixth-form place at a grammar school in favour of staying at his local secondary modern earned an A* and two A grades at A-level today.
Martin Lynch (pictured), a student at St Joseph's Catholic High School, received an A* in business, and two As in economics and history, after deciding to remain at the same school where he took his GCSEs.
This year's cohort of A-level students at the school achieved an average grade of C in their GCSEs, and 77 per cent got A* to C in their A-levels.
Another success story is Nancy Smyth (pictured below, far right). After studying at her local grammar school from year 7 through to 11, she was not accepted into the sixth form.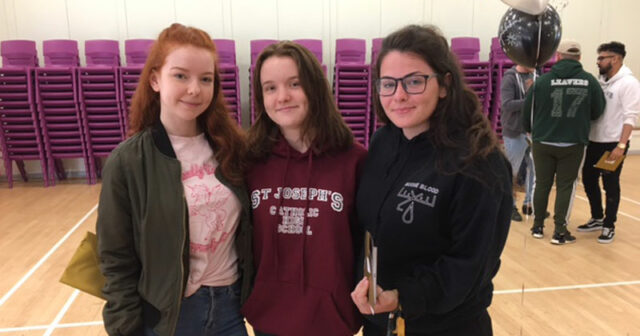 She took up a place at St Joseph's and today received a B and a C, and will now go on to study a medical foundation course.
The secondary modern in Slough fought its way out of special measures in 2013, when it had just 24 sixth-form students, and received a 'good' Ofsted rating in January last year. Its sixth form now caters for 125 students.
Lou Baker, its head of school, said: "We are really proud of our students getting such good grades and going to university, especially as so many are the first generation in their families to go.
"We are particularly proud this year of the number of students that have gained excellent grades and are opting for apprenticeships with businesses such as O2, BA and Fujitsu."