A North London 16 to 19 free school which specialises in science, maths, engineering and technology has been branded inadequate less than two years after it opened.
STEM Academy opened in Islington in September 2013 as part of the government's plan to encourage more 16-19 academies, but has been ordered to improve by Ofsted following its first inspection in January.
Inspectors raised concerns about teaching and leadership, and said the academy was not equipping pupils to protect themselves from "extremism and radicalisation".
In its report, the watchdog criticised learner outcomes at the 150-pupil academy, including a statistic that, in 2013/14, just over half of the learners who started AS-level courses completed them successfully, with a "very small minority" achieving high grades.
It went on to say: "Performance management is inadequate. Managers' evaluation of the impact of teaching on learners' progress is not accurate and, as a result, too much teaching, learning and assessment require improvement or are inadequate.
"Teachers do not plan learning that takes account of learners' individual needs, so learners make insufficient progress and those who need extra help are not always given sufficient support.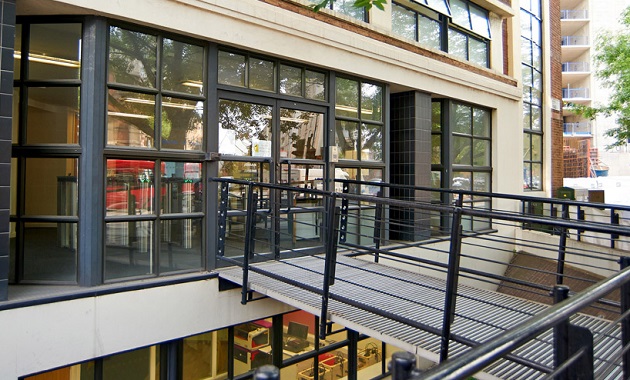 Learners have insufficient opportunity to develop their skills for employment through work experience placements; managers and teachers have not established enough links with local employers."
It also said that learners were not given "accurate and appropriate" advice and guidance about courses when they enrol, and that self-assessment was "not sufficiently critical", adding that the academy did not adequately identify the impact of poor teaching and inadequate leadership on learners' progress.
It added: "Governors have not ensured that senior managers have sufficient time or support to ensure that learners receive good teaching, learning and assessment and make good progress Teachers do not do enough to develop learners' understanding of the diverse nature of their local community to prepare learners for living in modern Britain."
The academy also faced clashes with teacher unions last year after staff threatened to strike over their contract conditions.
But Ofsted's latest report did include some praise for the academy, particularly its work-related courses, which approximately one fifth of learners are studying.
It said: "Learners develop their self-confidence and self-esteem very well as a result of the welcoming atmosphere of the academy. Learners who are on work-related qualifications make good progress.
"The curriculum is generating local demand for qualifications in science, technology, engineering and mathematics (STEM) subjects and, as a result, the number of applications has almost doubled."
Alongside improvements in teaching and learning, Ofsted said it expected teachers to increase student understanding of the "diverse communities", so that they are "better prepared for life in modern Britain" and to protect them against extremism and radicalisation.
STEM Academy Education Trust has said it is disappointed with the result and that it was undergoing leadership changes when the inspection occurred.
A statement from the trust stated: "Since January's inspection we have continued to make considerable changes and improvements, including the development of a robust post-inspection Action Plan which has been accepted by both Ofsted and the Department for Education (DfE). An organisational restructure is also underway and we have had valuable support and challenge from Ofsted and the DfE during this process.
The trust expressed confidence that their actions are already improving the academy's performance.