Schools serving deprived communities are more than two-and-a-half times more likely to encounter barriers in getting university access help for their pupils than schools in the private sector.
The Barrier to Access report, published today by the education charity The Brilliant Club, calls for providers of university access opportunities to "go out of their way" to help to close the gap.
More than half of the private school teachers surveyed by Teacher Tapp as part of the study (51 per cent) said they had not encountered any barriers to getting opportunities for their pupils to learn about university.
That went down to 20 per cent in state schools.
Teachers in schools with the most free school meal pupils, who did get help, were also more than three times as likely to say that opportunities were not designed to meet their needs (19 per cent) compared with teachers at private schools (6 per cent).
Dr Mary Bousted, the joint general secretary of the National Education Union, said: "Access to the most selective universities is another example of the deep inequality in Britain today. This research demonstrates one key reason why that inequality persists – schools serving the most privileged young people still find it easier to take advantage of opportunities to prepare them for university."
One in 50 of the "most disadvantaged" fifth of young people attend a highly selective university, compared with a quarter of the "most advantaged".
The survey of 3,000 teachers found the main barriers to university access help for state schools were time and logistics, as well as cost and the availability of opportunities.
Richard Eyre, the co-author of the report and the chief programme officer at The Brilliant Club, which aims to increase the number of poor pupils in selective universities, said "young people who most need this support are losing out.
"Everybody working in university access needs to make sure that the funding is there and what we're offering is relevant and accessible for the schools that are underserved."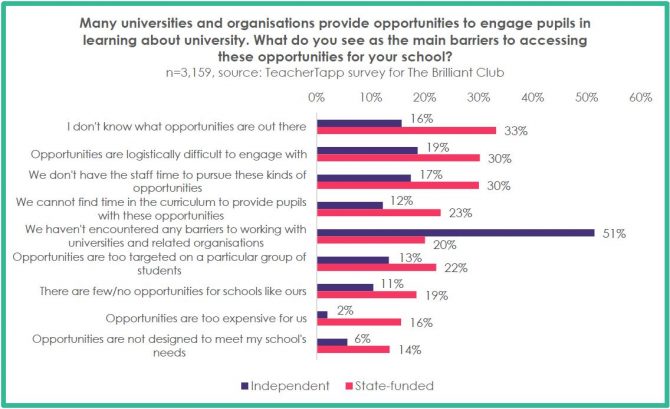 The report recommends that providers of university access opportunities go out of their way to reach schools that are being underserved and engage with pupils in primary school.
State schools should also be helped to boost their capacity to engage with universities, the report said.
Sarah Stevens, the head of policy at the Russell Group, said the group of elite universities wanted students from disadvantaged backgrounds to receive the sort of advice and support that pupils at private schools "take for granted".
The group's Advancing Access initiative uses digital open days to provide teachers from schools in less affluent areas with support to help their pupils make successful university applications.
A Universities UK spokesperson said that it was "committed" to widening access to higher education, citing partnerships such as the National Collaborative Outreach Programme that brings together universities, colleges and other local partners to deliver outreach programmes to young people in years 9 to 13.
In May the University of Oxford pledged a new access programme to ensure that by 2023 one in four of its intake would be from the poorest backgrounds.
The Department for Education said it has announced grant funding of more than £200,000 to directly support school partnerships and that proposals that specifically target support to children from disadvantaged backgrounds would be "welcomed".